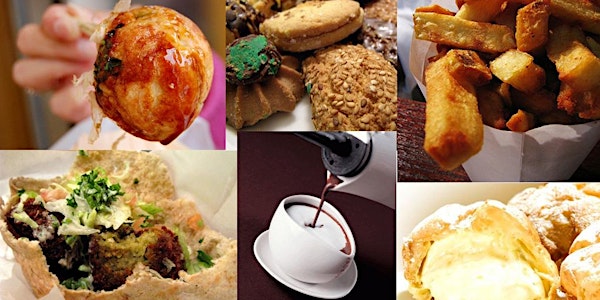 The Original E. Village Food & Culture Tour™-Taste the diversity of NYC $65
The Original E. Village Food and Culture Tour™ $65 - Taste the diversity of New York City!
About this event
Are you ready to taste the diversity of New York City?
The East Village has the greatest diversity of cultures concentrated in one area in all of New York City. Ethnic groups residing in the area include Japanese, Chinese, Jewish, and Ukrainian. Within walking distance, you can have the best ethnic foods of the City, experience the tastes of the world, and discover the history, culture, and development of a historic neighborhood.
Your food-tasting journey includes delicious tastings of the following:
Sichuan Signature Dish: United Nation declared the capital of Sichuan Province in China to be a city of gastronomy to recognize the sophistication of its cooking! The dish is pungent, and packed with flavors you may not have experienced before!
Mexican Taco & Chips: everything made from scratch including its tortilla and chips. Feature its signature taco, Al Pastor, made from a spit oven, named the best from Timeout New York.
Middle Eastern Falafel: crispy and savory snack from the original gourmet falafel shop in the city.
Flavored Mochi: freshly made with yuzu, chocolate ganache, matcha, or black sesame filing at one of the best and most authentic Japanese tea houses.
Italian Cannoli: creamy and crunchy from the best and one of the oldest Italian bakery restaurants in the city, established since 1894!
A Surprise Stop: can be one of the most popular Japanese appetizers in Little Tokyo or traditional Ukrainian food from a hidden kitchen in Little Ukrainian! 
If you enjoy the diversity and taste new flavors or textures, this is the tour for you. Join us today! All tastings are included in your ticket price of ONLY $65! Small and personal group size! [Note: We will also pass by the oldest bar in NYC!]
You should be full by the end of the tour! We don't recommend a lunch plan right after the tour.
For more info, visit http://foodtoursofny.com. We are looking forward to touring with you!
Tour Information
Terms and Conditions: Must Read! By submitting this order, you affirm that you understand and agree to New York Food Tours'sTerms and Conditions and Waiver and Release of Liability.
Duration: 3 hours
Dress: Wear comfortable shoes and clothing.
Weather: Takes place rain or shine.
Food:
Most are taste on the go and some are seated. There should be plenty of food to eat. Note: food tastings are subject to change without notice.
Capacity: Small group size. Max12 persons per tour.
Number of Attendants: If the total number of attendants is less than 4 persons, the tour is subject to cancellation.
Gratuity: A standard NYC tip is 18-25%.
Vegetarian Substitutes: Available