Description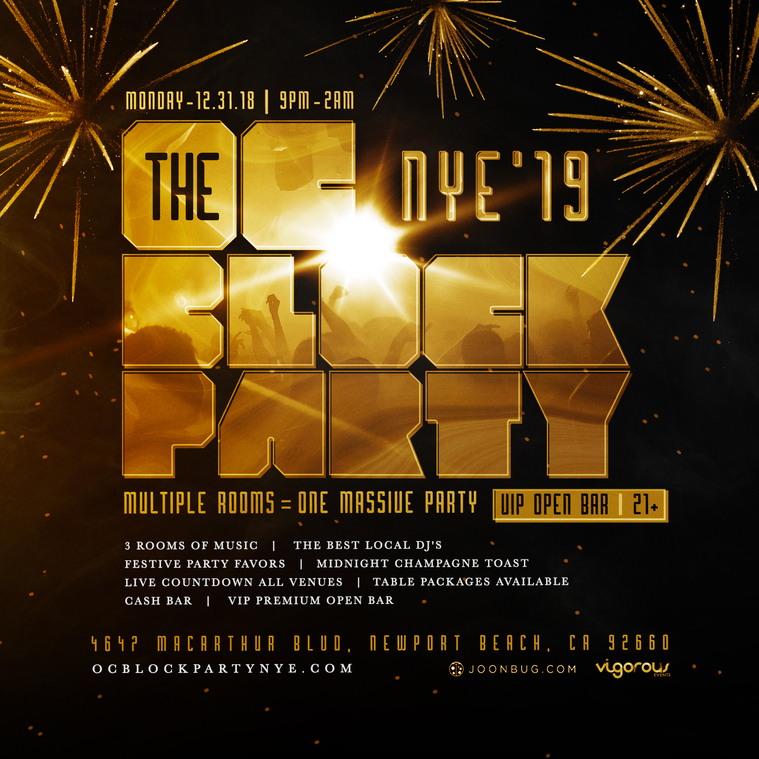 You can have it all this New Year's at the Orange County NYE Block Party. Debuting this New Year's Eve, two hot O.C. venues turn up the volume in one all-access New Year's bash. One ticket gets you exclusive access to both New Year's parties at the trendy TEN, and exclusive Envy Lounge. You'll have the run of the town with two high voltage parties in the heart of California's famous O.C.
Hit Multiple hot New Year's parties in one night at the O.C. NYE Block Party. This package deal turns three nightlife hotspots into one massive New Year's party. Turn up the party mood at the 5-hour cash bar or 5-hour open bar. Hit the dance floor as a live DJ performance takes the night higher, spinning open format Top 40, Hip-Hop, House, and Mash-Ups. Then gear up for the live DJ countdown to midnight and ring in the New Year with a complimentary champagne toast and complimentary NYE party favors.
At the O.C. Block Party, you have the freedom to settle in at one venue or hop around to both, but wherever you find yourself, your ticket gets you the VIP perks of your choosing. Whichever ticket calls your name, you can choose your New Year's Eve experience at the O.C. NYE Block Party.
TICKET INFORMATION:
We have EARLY bird tickets starting at $29.99 and will go up as we sell out.
BOTTLE PACKAGE INFORMATION:
We have Bottle packages starting at $400 + table admin fee
VIP TABLE PACKAGE NOTES:
For Every Packages:
A major credit card and valid photo ID must be presented prior to being seated the night of the event
· Sales Tax on liquor is included in the package price
· Table Administrative Fee is a mandatory charge paid to the venue on the night of the event. It is NOT included in the package price
· Tickets and Table Service Purchases are NON-REFUNDABLE
These tables WILL SELL OUT QUICK & are on a FIRST COME / FIRST SERVE BASIS.
Reserve your table by…
1) FAX / EMAIL a completed CC Auth Form to rcbgrp@gmail.com or contact 323.445.5683
2) IN PERSON: Bring a completed Deposit Form with Cash, Check or Credit Card to Rick Blackmon
3) ONLINE: All table packages are listed on www.OCBlockPartyNYE.com There will be an additional service fee when you place your deposit online.
To avoid the service fee, we can send you a form that would need to be filled out and the table balance would have to be paid in full.
Tickets and Table Service Purchases NON-REFUNDABLE
To avoid any processing/transaction fee online for tickets, please pick up hard copy for tables s0c auth form