The Oral Instructions of Mahamudra - Training in Five Stages
This extraordinary retreat offers the opportunity to gain deep experience of training in the five stages of Mahamudra.
About this Event
During this retreat, we will explore the profound and uncommon practices of the Ganden Oral Lineage as presented by Venerable Geshe Kelsang Gyatso Rinpoche in the text The Oral Instructions of Mahamudra. Each of the five guided sessions will focus in turn on the five stages of training in Mahamudra meditation as they are presented in this extraordinary text.
The first session of each day will be taught and guided by Gen Rinzin, and will be made available on demand for later viewing. The two daily unguided sessions give an opportunity to strengthen the concentration practice of the morning session. Participants can submit questions at any time during the retreat, and Gen Rinzin will answer them the following morning.
Saturday - Monday, January 23 - 25 - Introduction available to view
Tuesday, January 26 - Tranquil Abiding
Wednesday, January 27 - Superior Seeing
Thursday, January 28 - Central Channel
Friday, January 29 - Indestructible Drop
Saturday, January 30 - Yoga of Wind
Highest Yoga Tantra practitioners, as well as those who have a sincere wish to receive their Highest Yoga Tantra empowerments soon, are welcome to participate.
About the Teacher
Gen Kelsang Rinzin was ordained as a Buddhist monk in 2004 and taught at Heruka Buddhist Center in Fort Collins for 15 years. He was appointed to the Resident Teacher position at Kadampa Meditation Center Washington in October 2020. Gen Rinzin communicates his love of Dharma with a down to earth approach and humor that helps others to appreciate and understand the teachings and put them into practice. His teachings are clear and practical so that the listener can readily integrate the methods for developing a peaceful mind into their busy, modern life.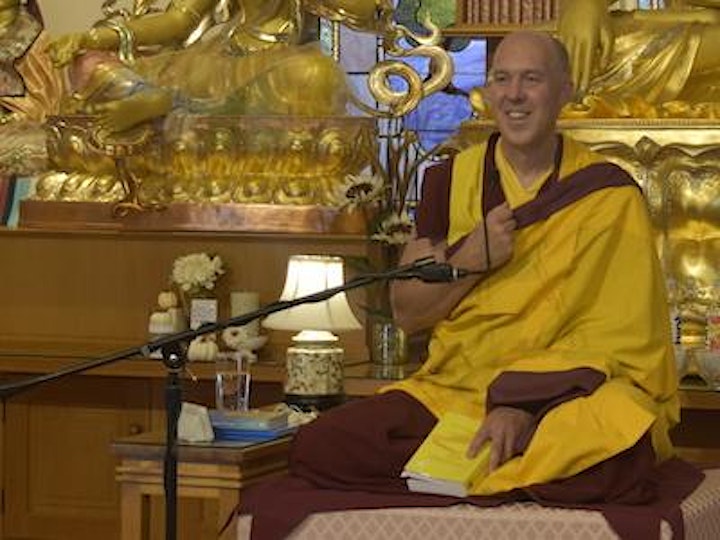 Session Schedule
Introduction
Please view the introductory session, which will be available starting at noon on Saturday, January 23. Viewing the introduction will make the sessions much more powerful and meaningful.
Tuesday, January 26 through Saturday, January 30
All sessions will use the sadhana The Hundreds of Deities of the Joyful Land According to Highest Yoga Tantra.
7:30-9:00am - Guided sessions*
10:00-11:30am - Unguided session
7:00-8:30pm - Unguided session
*The first session of each day will also be available on-demand; recordings will be posted within two hours of the end of each live session.
Registration
This event is being offered by live-stream for those in the Pacific Northwest region of the US (including WA, ID, MT & AK; outside this area? Find a Kadampa Center near you). Registrants will receive a link enabling them to watch and listen by phone, tablet or computer.
Cost: $50 ($25 for seniors, students & supporters of Kadampa Meditation Center WA)