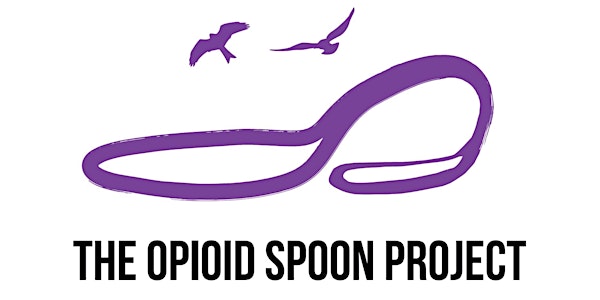 The Opioid Spoon Project Fundraiser Event with Artist Domenic Esposito
Join The Opioid Spoon Project for a two-day fundraiser event with artist Domenic Esposito and socially engaged/activist special guests.
When and where
Location
Piano Craft Gallery 793 Tremont Street Boston, MA 02118
About this event
In connection with artist and activist Domenic Esposito's solo exhibition, Vox Clamantis (Jan. 7-30), The Opioid Spoon Project will host a two-day, fundraising event on January 21 and 22, 2022, featuring socially engaged/activist artists, musicians and writers working to educate the public, and bring awareness about the opioid crisis.
The Opioid Spoon Project is a vital, artist-led, all-inclusive movement, educating, creating awareness and pushing for change to address the opioid crisis that continues to devastate so many individuals, families and communities everywhere. The organization gives a unified voice to all victims and survivors of this tragic, destructive force. Providing a safe, supportive resource and network so that everyone is seen, heard and understood, The Opioid Spoon Project seeks social justice and true accountability for the architects of this global epidemic. The Opioid Spoon Project is a 501(c)(3) registered charity.
The events will take place at Piano Craft Gallery in Boston and are free and open to the public, with a suggested donation of $20.00 at the door. All proceeds benefit the Memorial Doors Project, an upcoming public memorial sculptural program honoring all those who are casualties of addiction.
For more information and to register to attend, please visit here.
January 22 events and guest lineup
1:00 PM – Discussion with "Coach" Mike Ferullo, clinical social worker and founder of Boston Bulldogs Running Club promoting wellness and recovery.
2:00 PM – Noted journalist and author Sam Quinones will join us virtually to discuss his latest book The Least of Us: True Tales of America and Hope in the Time of Fentanyl and Meth.
3:00 PM – Danielle Allen, a 20-year nonprofit leader and gubernatorial candidate, will join in a fireside chat to discuss the topic of harm reduction and its impact on individuals, communities and cities.
4:00 PM – Performance by Matt Ganem, recovery advocate and award winning poet and author.
About the guests:
"Coach" Mike Ferullo is a clinical social worker from Boston and founder of the Boston Bulldogs Running Club, an independent co-ed non-profit 501(c)(3) club operated through the Road Runners Club of America. He created the club to provide a resource that promotes wellness and recovery in a safe, anonymous, and supportive community for all those adversely affected by addiction.
Sam Quinones is a freelance journalist and author of four books of narrative nonfiction. His latest book, The Least of Us: True Tales of America and Hope in the Time of Fentanyl and Meth, was released in November 2021 and chronicles the epidemic's evolution from opioids into illicit synthetic drugs. In 2015, he published the bestselling book, Dreamland: The True Tale of America's Opiate Epidemic, which ignited awareness of the epidemic that has cost the United States hundreds of thousands of lives and became the deadliest drug scourge in the nation's history. Having previously worked at The L.A. Times and as a freelance writer in Mexico, he is a veteran reporter on immigration, gangs, drug trafficking, and the border. For more information, please visit here or follow on Twitter.
Danielle Allen is a democracy advocate, a proven implementor, and a nonprofit leader with 20 years of public service under her belt. After seeing the leadership vacuum that left so many people without support during the pandemic, Danielle traded in her day job as a professor at Harvard to answer a call to service — running for governor to build a green and healthy next-generation democracy in Massachusetts, and rallying our communities to come together as One Commonwealth to build solutions.
Danielle was an early national leader on pandemic response, pulling together a team of multidisciplinary experts to create a roadmap through COVID, and driving key pandemic response policy that has since been adopted by the Biden-Harris administration. Previously, Danielle led a $60 million division at the University of Chicago and the $6 billion Mellon Foundation, built a civic education provider that now supports students and educators across the Commonwealth, and advocated on issues ranging from cannabis legalization to democracy reform. Danielle is part of a wave of Black women who are running to make history in 2022 as the country's first Black women governors, and if elected, she will also be Massachusetts' first woman governor. To learn more go to Danielle Allen for Governor and follow on Twitter @dsallentess Facebook @allenforma and Instagram @allenforma.
Matt Ganem is a recovery advocate and CEO of Aftermath Addiction Treatment Center in Wakefield, Massachusetts. In recovery himself for more than 14 years, he is also an award-winning poet and author of The Shadow of an Addict. In 2015, he was recognized by the Massachusetts Organization of Addiction and Recovery.
Domenic Esposito's Vox Clamantis solo exhibition runs from January 7-30 at Piano Craft Gallery in Boston. For more information, please visit here.
***All Domenic Esposito/Vox Clamantis events at the Piano Craft Gallery will be in compliance with Boston's COVID and health and safety mandates.***
"Individuals will be required to show proof of vaccination against COVID-19 in order to enter certain indoor spaces. People working in those locations will also be required to have received their vaccines. Face masks are required in all indoor public settings." For more information, go to the City of Boston website.