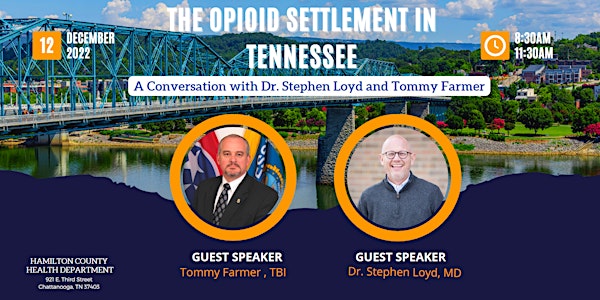 The Opioid Settlement in Tennessee
A Conversation with Dr. Stephen Loyd and Tommy Farmer
When and where
Location
921 E 3rd St 921 East 3rd Street Chattanooga, TN 37403
About this event
This event will be live-streamed on the Hamilton County Health Department's YouTube channel. Click the video below to subscribe and get a notification when the event begins.
Presentation Overview
The Hamilton County Regional Health Council invites you to a conversation about Tennessee's Opioid Settlement with TBI Special Agent in Charge Tommy Farmer and Addiction Medicine Physician, Dr. Stephen Loyd.
Dr. Loyd, the inspiration for Michael Keaton's character in Hulu's mini-series "Dopesick", and Tommy Farmer, who has 23 years of experience in the field of drug enforcement, have been appointed to serve on Tennessee's Opioid Abatement Council which is working to decide how best to spend dollars received from lawsuits related to the opioid crisis in Tennessee.
Tommy Farmer and Dr. Loyd will discuss:
The role pharmaceutical companies, marketers and others played in creating an opioid epidemic in America.
The purpose of Tennessee's Opioid Abatement Council and how this will impact local communities.
What Hamilton County needs to know about fentanyl, which was either a cause or a contributing factor in 74% of overdose deaths in Hamilton County since January 2021.
How counties and cities will determine where settlement funds will be utilized.
What families can do to help their loved ones seek treatment.
Who should attend:
Government officials
Healthcare professionals
Law-enforcement
First responders
Faith-based organizations
University students
Members of the public
Agenda
8:30-9:00am - Sign-In & Refreshments
9:00-10:30am - Presentation
10:30-11:00am - Q&A
11:00-11:30am - Networking
Parking
Please park in the parking garage across the street from Erlanger's Emergency Department and bring your ticket in for validation.
In preparation for this event we recommend watching Hulu's mini-series "Dopesick" which takes viewers to the epicenter of America's struggle with opioid addiction, from the boardrooms of Big Pharma, to a distressed Virginia mining community, to the hallways of the DEA.