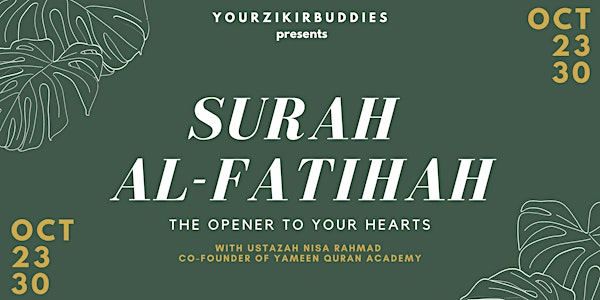 The Opener of Hearts
A two-day event where we will discover the secrets behind Surah al-Fatihah.
About this event
Surah al-Fatihah is called Umm Al-Kitab (Mother of the Book), because the Quran starts with it and our prayer is started by reciting it.
Beyond that, Surah al-Fatihah is a prayer taught by Allah Himself as a favour to us. At least 17 times a day, we converse with Allah, turning to Him for help and asking Him for guidance to navigate this life. A dialogue between us and Allah where every line we utter is responded with His appreciation and acceptance. And this beautiful Du'a that we make daily is captured within Surah al-Fatihah.
Come join us with Ustazah Nisa as we refine our recitation of this seven oft-repeated verses, and delve deeper into the surah to understand the essence of our daily conversation with Allah (SWT).
This two-day event is open to every one of all ages.
Day 1: Refining your recitation of Surah al-Fatihah
Date: 23 Oct 2021, Saturday
Time: 9am - 11am (2hrs)
Day 2: Introduction to Surah al-Fatihah
Date: 30 Oct 2021, Saturday
Time: 9am - 12pm (3hrs)
For more info & updates, please visit our official IG account: @YourZikirBuddies