Sales Have Ended
Ticket sales have ended
If sales have closed please email: marilyn@tranceformationsTM.com for further information and updates.
Sales Have Ended
Ticket sales have ended
If sales have closed please email: marilyn@tranceformationsTM.com for further information and updates.
The ONLINE TranceFormation Introduction to Huna & Ho'oponopono Workshop
About this event
INTRODUCTION TO HAWAIIAN HUNA & HO'OPONOPONO WORKSHOP 
NEXT LIVE WORKSHOP: REGISTER YOUR INTEREST BELOW
+
ONLINE ON-DEMAND VIDEO WEBINAR WORKSHOP
(For those who live across the globe you can attend via Video Webinar.
For On-Demand instant access go to:
https://tranceformationstm.newzenler.com/courses/introduction-to-huna-ho-oponopono
If you missed the Live Workshop & Remote International Huna Sessions but would like to register your interest, should I run another live event CLICK HERE or use the EOI ticket option below. I will be running both an in-person Workshop in Watford in Spring 2019 plus a Live Global Video Webinar Workshop which means you can join us from around the world online. 
For those who previously registered their interest I have emailed over the possible dates.  Once those have been collated I will add the final dates to this page.  
Are you held back by old patterns or mental programs?  
Do you feel that no matter how hard you try or no matter what you do, the same old habits and beliefs keep persisting?  
Looking for a simple yet powerful and effective ways you can take charge and change and transform your life forever?  
Do you feel that your past is dictating or negatively impacting and affecting your future?
If you missed the live event you can register you interest to attend the next one using the EOI ticket option below.  I am also running a live Video Webinar version of the Workshop will contain the same content as the in-person event.
WHAT ARE WE COVERING ON THE 1-DAY WORKSHOP?
INTRODUCTION TO HAWAIIAN HUNA
Having cleared and shifted energy, judgements and beliefs in the morning using Access Consciousness, the afternoon will focus on Hawaiian Huna.  Topics to be explored include:
What is Huna and why choose it as a path
The Huna lineage an ancient history
The power of the Huna chants and their hidden meanings
The correspondences to Huna with other spiritual paths
Real-life experiences of Huna magic
An experience of the Huna symbols in action
An introduction to Higher Self Therapy and Ho'oponopono (The Forgiveness Process)
The Waking Meditation
The basic Ahi Ritual for releasing what you wish to be free of
Practical Huna processes you can incorporate into your daily life
A mixture of theory, background and practice, participants will leave with tools and practices that they can immediately apply in their day-to-day life.  There will also be a series of group energy processes and clearings so that everyone also gets to experience some Huna magic in action, and have an opportunity to release and let go of some emotional, ancestral, and physical baggage.
What is Huna?
 Huna is the modern label given to an ancient system.  Meaning secret or hidden knowledge, it is said to encompass one of the original forms of healing and spiritual development.  It is believed to be over 35,000 years old, and part of the original teachings which shaped the world in which we live today.  Originally called Ho'oman; Ho'o means to make, Mana means life force, taken together the word Ho'omana means empowerment or to empower.
Not aligned to any religious belief system, Huna is about personal empowerment and enlightenment, helping you to more profoundly experience a physical, emotional, mental and spiritual connection to the world and energies around you.  It is about awakening those who were meant to 'live' Huna in this lifetime.
With the combination of the Huna and Access Consciousness, we are clearing old issues in minutes, and my clients often notice the different immediately.  We will also cover an introduction to Access Consciousness. See below.
INTRODUCTON TO ACCESS CONSCIOUSNESS 
Created by Gary Douglas and Dr Dain Heer, Access Consciousness is about unlocking old judgements, beliefs and energy so that you can be more in touch with who you really are.  I have found the Access Consciousness to be a great complimentary piece when used in conjunction with the Huna so you will get a brief overview and then be on the receiving end of several experiential sessions to clear old thoughts, judgements, and limitations.
What is Access Consciousness?
The process of Access Consciousness is about asking questions to bring up the energy of anything that isn't working for you, keeps you stuck, or causes some form of judgement or limitation in your life.  Having identified the energy you then run the 'clearing statement' to wipe the limitations out of existence and to undo any limiting beliefs.
Access has been described the by the founder Gary Douglas as "wild, weird, wacky and it works!"  I have to admit the first time I came into contact with it I had to concur, however I couldn't deny that despite my scepticism and that of some of the people I used it with, there were definite benefits and changes.  
Access is about energetically locating all of the places and levels where you are keeping yourself stuck and limiting your abilities or awareness, and simply clearing and releasing those energies and beliefs using the Access 'Clearing Statement.'  Each clearing statement takes just a couple of minutes.  All will be revealed and explained at this exciting Introductory Workshop!
The morning will focus on loosening up the energy and shifting, changing, and releasing old judgements and beliefs.  
Sessions to be covered in the morning include:
What is Access Consciousness
Fundamental principles and points of view
The Access Clearing Statement – what it means and how to use it
How to destroy and un-create limitations and judgements
An overview of Access Bars
In addition to exploring the background to Access Consciousness we will also run a series of live group clearings throughout the day to start the process of: 
Resolving old limiting beliefs
Clearing out blocked physical and emotional energy
Creating a space where you can forgive yourself and others
Letting go of old judgements and self doubt
Paving the way for new opportunities and ideas to show up
Releasing yourself from the past and old genealogical and ancestral patterns that hold you back
One of the beauties of this work is that you don't even have to know exactly what it is you are trying to clear, with Access it is about unlocking the energy source, your conscious mind doesn't have to try and figure it out or get in the way. 
HOW IS THE DAY STRUCTURED?
The day will be a mix of theory, practice, and historic background regarding Huna, and will also include a blend of other methodologies together with both group and individual belief change sessions and processes.  There will be 3 distinct parts to the event, which blend together throughout the Workshop. You have the option of attending either in-person or via the Video Webinar Workshop.  Both events will be held separately.
HOW DOES THE WEBINAR WORK?
The Video Webinar will also be run as a full 1-Day Workshop which you can either attend live if your time zone permits, or via the Webinar Replay Recording.  For an idea of what to expect with the Webinar platform you can watch the first live event I ran using it earlier this year: https://www.bigmarker.com/tranceformations-tm/Marilyn-Devonish-Money-Breakthrough-Programme-Test-Webinar
There is unlimited access to the Replay Recording should you want to revisit the material. 
WHY IS THE WEBINAR THE SAME PRICE AS THE IN-PERSON WORKSHOP?
One question I have been asked is why the Video Webinar is the same/similar price as the live Workshop, which it will be once the pre-launch and launch prices are over. 
With a hotel venue you pay them once.  Run the event.  End of story.  The Webinar Replays however have to be hosted long after the event itself is over.
Webinar platforms are not free.  They incur either a monthly or annual cost depending upon your subscription plan. 
You get to revisit and review and refresh the material whenever you choose, an option that isn't possible when attending a live Workshop.  With regards to unlimited access, see point number 1 about hosting fees.  
They also from a practical point of view save you money because you don't have to travel, pay any hotel accommodation costs, purchase lunch, dinner, etc., so with the technology we have available today I see it as a win-win option for attendees.  I will be using BigMarker to run and host the Webinar if you want to check them out.
It also goes beyond the pocket of time in question and is about the skills, knowledge, information, wisdom, TranceFormation, Coaching, insights, and Training being provided. 
WHO IS THE FACILITATOR FOR THIS EVENT?
Your facilitator for this amazing day is Huna and Access Consciousness Practitioner Marilyn Devonish.  Marilyn is also a Certified Master Practitioner and Trainer of NLP, Hypnosis and Time Line Therapy.  She is also a Certified PhotoReading™ Instructor, and Practitioner of EFT, EmoTrance, DNA Theta Healing, Energetic NLP, and Archetypal Profiling.  With over 12 years Coaching, Training, and Workshop Facilitation experience, Marilyn has the ability to expertly guide participants on a deeply transformational journey.  Even in a space of just a few short hours, Marilyn can deliver lasting impactful and change.
THE POWER OF THE RECORDINGS
Following the success of the live and recorded Huna and Access Consciousness Teleseminar sessions, these Workshops provide yu with the opportunity to participate from anywhere in the world.  Previous attendees will tell you that the energy travels even if you are joining remotely or catching up via the replay recordings.
Want a fast, simple and powerful way to banish old beliefs and stuck energy out of existence within minutes?   
Want to change and transform old emotions immediately without getting tangled up in trying to logically figure it all out? 
Would you like to have a deeper and clearer connection with yourself? 
Looking for something that you can do in one sentence and the time it takes to breathe a few breaths?
Want to start creating your future in ways that you didn't even dream were possible?
We will be doing all of this and more at the unique Hawaiian Huna and Access Consciousness Introductory Workshop.  As far as I am aware this really is a world first, and combines 2 very powerful change and transformation technologies, infused with over 17 years of other esoteric practices.
Below is a short Huna Introduction Video. If is isn't showing on your mobile device go to: https://youtu.be/9SdrGiszTbw  There is also a 50-minute version available:
Places are limited because I want to be able to work with each attendee individually in addition to the group processes.  I will also, with your permission, be doing a remote tune in and energy reading in advance of the main day so please book your place early. 
For those who have previously attended the Intro I also have some special rates should you want to do the full monty and go out and do the 2-week Huna Level 1 Course out in Hawaii so do email me if that is of interest and I will over the details. 
WHAT IS THE REAL LIFE IMPACT OF THESE TECHNIQUES AND APPROACHES?
A super short animated video sharing client experiences is below; if it isn't showing on your mobile device go to https://youtu.be/3Z1rIaW_W4s:
I recently received a telephone call from a friend who was travelling back from a particularly traumatic dental appointment and was in severe pain.  In tears, they asked if I could send some Huna over while they were driving.  Within a couple of minutes of my starting the remote Huna process, the crying had stopped and the pain had almost disappeared.  It was one of those days where prior to the call I found myself pondering if 'this stuff' really works.  I do love the way that the universe answers!
Not only will we be working with whatever is up for you when you attend this 1-Day Workshop, I'll also be sharing how you can do some of this for yourself. 
A PAYRISE OUT OF THE BLUE
I had a client who was being bullied at work and knew that they were being underpaid, even when compared to people working at a lower grade.  We did a 2-hour Huna and Access Session.  A couple of days later I received a phone call out of the blue.  She had gone into work and her boss called her into the office and she thought: "Oh here we go again."  Her boss then explained that they had done a review and were giving her a pay increase.  It wasn't pay review time.  It wasn't appraisal time.  It just came out of the blue. She called me up pretty much in shock to say thank you.
FROM SUICIDAL TO PEACE
I had another client who was struggling to get over a relationship breakup and was feeling suicidal.  Late that night I did a remote Huna Session and used particular symbols for calm, peace, balance etc.  The next morning I received an e-mail.  They hadn't been able to sleep for several weeks but said that night, at the EXACT time I was doing the Huna (which they wouldn't have been aware of) they fell asleep and had the most peaceful night's sleep they'd had in weeks. It was at that point I really realised that it was just as powerful doing this work remotely. 
FROM CONFLICT TO 'HE'S GONE!'
I had another client who called me while driving, well he actually pulled over to talk to me.  He was pretty much at the end of this rope with a situation with a neighbour which had almost come to blows regarding a rusty vehicle which had been left sitting outside of my clients property for several months with no signs of moving.  We did some Huna right there whilst talking and I also continued to do some remote work later in the day.  He called me at 10.30am the next morning.  The car had miraculously gone.  There's a lot more to this story so I will share it with on you the day because it's pretty amazing. 
FROM NO WORK TO "CAN YOU START TOMORROW?"
A friend called me up having heard about the amazing work I had done with someone that he knew.  He explained that despite his best efforts contract work had dried up and things which should have been a 'sure thing' were continually falling through at the last minute. I did some Huna while we were on the phone and then some in-person work a few days later.  He called me the next week to say that one of the contracts that had disappeared had somehow been reinstated and they basically wanted him to start right away.  Because it was such a such he deferred his start date to the end of the week just so that he had time to prepare himself. 
I know that it does seem to be the stuff that dreams are made of, however there are several more client stories and testimonials just like these. 
WHAT HAVE OTHER PEOPLE EXPERIENCED USING THIS DYNAMIC COMBINATION?
What have people said at the teleseminar version?
Feedback from the teleseminars, where I had no contact with anyone on the call,  they were simply listening in, and no idea what they looked or sounded like included:
"Thank you so much for yesterday's session.  Wow!  It was so liberating every single subject you touched on for releasing was relevant to me personally.  I didn't realise that I had so many unresolved issues.
I look forward to continuing the clearing and for all of the amazing change, healing and growth that I will be experiencing."
"I just wanted to thank you for this evening's session and give you permission for clearing later.  I'm not sure if this is something to note, but my hands were tingling during the session.
I will continue to observe and will update  you accordingly.
Thank you and wish you well as you continue your good work."
"Great session -thank you, am looking forward to receiving the recording so that I can listen to all of it.
Please take this email as permission to include me on the extra remote Huna session tonight, thought I would do this in case I miss your email asking permission :-) "
"Just like to say thank you very much for a fantastic call. You were amazing.  I shut my eyes while listening to your Hula breath and got a bit of a fright when you started talking! It was amazing and I felt so relaxed. 
I am willing and open to receive energy work tonight please and any future energy you might think I need."
"Thanks for tonight's call.  Will certainly report back to you changes as a result of tonight's transmission.  And you have my permission to send me healing at anytime!!"
"Thanks for the call and the cording which is to be sent, feel very serene now. 
I welled up/eyes released water at holding onto past or something like that statement and weirdly my housemates dog who was in the hallway, started whimpering outside door when I started call, got louder and louder (mostly zoned her out while clearing statements said) then at huna part she started full-on barking ( she never does that) then back to loud whimpering at the end. When I let her into the room after the call ended, she greeted me like never before !?! All very odd. She's not even my flaming dog!"
"I also found your Access Consciousness clearings very powerful as many of the issues you dealt with I  had and was not even aware of."
This was just some of the amazing feedback received from people who took part in the Teleseminar version.  I can only begin to imagine what will happen during this live and interactive version where we work together for an entire day!
What have people said about the mp3 recordings?
The following testimonial is from Farhan Rehman who was not able to make the live call so simply listened to the recording afterwards:
"Just finished listening to your recording. Energetically, it was full on!
As soon as you had finished describing the explanation of the statement, and I gave my consent, I suddenly connected with this massive flow of energy (it may also have been because I then applied it directly to my health right after you had finished describing it).  But then as you finished describing Huna, and were about to start the 'actual' process, I figured I had better sit down, and really focus! (Was washing up dishes when I started listening!) 
Anyways, as I connected, and you started the process there was so much inter-dimensional stuff I was connecting with, as well as all the other participants.  As outside of the dimension of time, I was connected to the same collective group energy and resonance, it was most surreal. At moments, I literally saw the edges of people's spaces.. or their energetic bio-signatures, and holographic, multi-dimensional beingness, as the statements were unravelling, and things were shifting with each statement.
It literally felt as if you were addressing me directly, and that everything was personal, to me, and my issues, so definitely value in using and re-using the recording with others."
What have people said about the live in-person processes?
I now also incorporate the Huna and Access Consciousness Clearings as part of my PhotoReading Accelerated Learning Workshops.  The feedback has been amazing, and it has really helped people more powerfully integrate the learning.
"Initially I was cynical about the eliminating beliefs session.  But just as long as you're open and receptive you are able to feel the changes!  Really valuable in this course!"
"The belief change session for me was one of many highlights of the PhotoReading course.  It safely enabled me to accept the limiting belief I 'had' and then to simply let it go and trust myself that I can now move on.  Thus realising my true potential and skill base."
"The belief change session has honestly changed my outlook on life.  If you have only been doing this at the past few sessions, then it is DEFINITELY going to be part of your future PhotoReading workshops. :-)"
"I've had an interesting removal of a blockage which has increased in my confidence in expressing myself since the course, I've been struggling with this for ever, I've been thinking there was magic going on in our Friday night clearing session!!"
What can you expect to work on during this live and interactive day?
Huna and Access Consciousness is great for:
Resolving old limiting beliefs
Clearing out blocked physical and emotional energy
Creating a space where you can forgive yourself and others
Letting go of old judgements and self doubt
Paving the way for new opportunities and ideas to show up
Releasing yourself from the past and old genealogical and ancestral patterns that hold you back
Creating more energy, clarity and vitality
What I have found with running the group clearing processes is that even though I might be talking to one person, yet the whole group is benefitting at the same time and the energy and beliefs are cleared simultaneously.
You don't even have to know exactly what it is you are trying to clear, with Access it is about unlocking the energy so it's perfect because your conscious mind doesn't have to try and figure it out or get in the way.  With the Access and Huna combination we are clearing stuff in minutes and people often notice the difference immediately.
Spaces on this Introductory Workshop are be limited because I want to have the opportunity to work with those in attendance on a one-to-one basis in addition to the group processes.
VIDEO TESTIMONIAL FROM HUNA & ACCESS 1-DAY BREAKTHROUGH CLIENT 
Currency Trader and Nu Skin Consultant Marc Foster took the plunge and did my 1-Day Huna and Access Breakthrough Session. The session is a combination of Huna, Access Consciousness, and some of the powerful techniques, approaches and change technologies that I have been using and training in over the past 12 years.  In the video below Marc shares his experience of the session and some of the benefits he has received as a result.
Marc said of the sessions:
"I've tried a lot of different things and was frustrated with some of the same issues holding me back.  I was sick to death of stressing out about work, felt burnt out and frustrated and got to the point where enough is enough.  When I heard about Marilyn's Access Breakthrough Sessions I was both curious and excited about clearing out old energy.  I trust your approach and the fact you are always looking to improve.  
During the session Marilyn made it as comfortable as possible as I confronted some old stuff that had been holding me back for some time.  I felt you explained everything that was going to be done, and I was also aware that I didn't need to understand what you were doing, I mean, where had my rational self got me so far?  You were picking up on things that you couldn't have known about me (during the intuitive energy clearing).  You made it as much fun as possible so that made me relaxed.  The Access Clearing Statement does make me grin and laugh but I gradually felt better throughout.  
Immediately after the session I felt different, I can't put my finger on what that was. I felt lighter, everything just felt easy and calm because I can be a bit of a stress head.  I feel nothing, like a weights been lifted off me. I woke up the next day feeling awesome. I have started attracting effortlessly the sort of people I want to work with and the situations that work with that. I have a lot more clarity and calmness despite the chaos going on around me.  You did give me a way of splitting my day in a way that suits my personality - I did enjoy the personal approach. 
I was able to project my future vision forward and I fully believe it's gonna happen; it has started already. Things that felt hard for me in the past, they just weren't there. Everything's just different, I am so much more calm. People are responding differently to the way I am, it's totally positive. I do feel like a different person. For anyone thinking of doing these sessions with Marilyn I have just 2 words, DO IT!!!  Just do it.
You must come with an open mind and have a willingness to change things. Prior to the sessions I was literally banging my head against a brick wall, and that need was enough to break down my analytical mind.  Marilyn will give you the tools to achieve whatever you want to achieve to move forward. Just be completely honest with yourself and ask, (doing what I've always done): Am I any better off than I was 5 years ago?  Understanding why this works isn't necessary, I just know it does. You just need to be open and prepared to move forward.
I am so thankful that I know Marilyn and I am super happy I did the session.  It was a brilliant day, totally, totally, worth it."
MARC FOSTER, NU SKIN GENE TARGETED CONSULTANT
If you would like to speak to Marc about Nu Skin please e-mail: marc_jdi@yahoo.com
FREE ACCESS CONSCIOUSNESS CLEARING STATEMENT
If you would like a Free Copy of the Access Consciousness Clearing Statement and Starter Questions   e-mail: marilyn@tranceformationsTM.com and put 'Access Statement' in the subject line or go to my FREE Resources page where you can download an mp3 recording of one the the teleseminar calls in addition to a host of other mp3's, interviews, and eBooks.  Go to: http://tranceformationstm.com/resources.php
You will find additional information about PhotoReading and the Friday Evening Belief Change Session Taster at: http://secretofphotoreading.eventbrite.com/
THE HUNA & ACCESS CONSCIOUSNESS BREAKTHROUGH SESSION
The sessions will be individually tailored, and the way it tends to work for me is that I am tuning into the energy of each individual and picking up on what needs to be specifically cleared from there.
HOW LONG ARE THE SESSIONS? 
The sessions will be 1-day in duration (approximately 10am-4pm) with a follow up telephone sessions a couple of weeks after the main day.  There will also be a Pre-Session Questionnaire to complete in advance. 
Sessions can be done in person, or via phone or Skype.  If you are abroad, please state which time zone you are in.
HOW ARE THE SESSIONS STRUCTURED?
The sessions will be a combination of the NLP and Hypnosis Breakthrough Session combined with Access Consciousness and elements of Huna.  The Access seems to speed things up quite dramatically so we should be able to cover quite a bit of ground in the time available.  With your permission there will also be a remote Huna Session in advance of the main day.
The day is individually tailored however it will typically include:
A discussion around the issue you wish to focus on
How you will know the issue has been resolved
Design of personalised Access Consciousness Clearing Statements
Access Consciousness Clearing Session (used throughout the day)
Huna Energy Clearing Session
Access BARS energy session
Results testing
Action steps and post session tasking
WHO ARE THE SESSIONS DESIGNED FOR? 
First of all, I think it might be best to say who they are NOT for.  They are not for those people who love talking in detail about every nuance of their issue or problem because of lot of this work is content free, it's more about connecting to the energy of the problem and resolving it immediately.  They are also not designed for those who feel they need to logically understand everything before they can resolve things.   
These sessions ARE for those people who have a an open mind, a willingness to do something new, and are interested in resolving their stuff even if they don't consciously understand everything being used to create that change.
HOW DO YOU BOOK A SESSION AND WHAT IS THE INVESTMENT?
One-Day Breakthrough Sessions are £850.
FURTHER INFORMATION
If you have any further questions or queries, or would like a Free copy of the Access Consciousness Clearing Statement and Starter Questions e-mail: marilyn@tranceformationsTM.com  (Put 'Access Clearing' in the subject line).
ABOUT MARILYN DEVONISH
Marilyn is a Certified Trainer of NLP, Certified Trainer of Time Line Therapy, Certified Trainer of Hypnosis, Certified PhotoReading Instructor, and practitioners of Huna, EFT, EmoTrance, DNA Theta Healing, Energetic NLP, and Archetypal Profiling.  She is also a Freelance Magazine Writer, radio host, and keynote speaker.  She has been coaching and training others for over 14 years.
Website: http://tranceformationstm.com/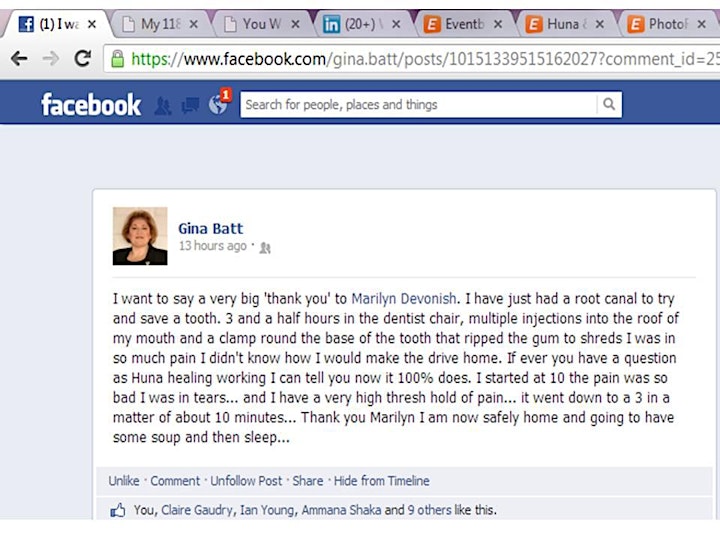 Organizer of The ONLINE TranceFormation Introduction to Huna & Ho'oponopono Workshop
Trance FormationsTM offers Training, Coaching, NLP Facilitation, PhotoReading and Accelerated Learning & Development courses to corporations and individuals.
A pioneer in cutting edge change technologies, and with over 20 years industry experience, Trance Formations offers Coaching and Events that enable people to tap into their own innate potential.
Contact Information:
For details of PhotoReading one to one coaching sessions and corporate training courses, you can contact Marilyn Devonish on: 
Tel: +44 1923 337282
E-mail: Marilyn@tranceformationstm.com  Web: www.tranceformationstm.com