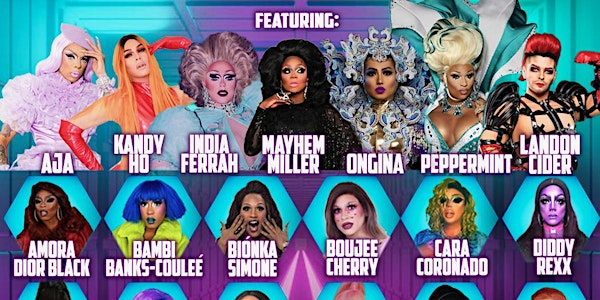 The Online Drag Event
A FREE Online Drag Show
About this event
Join us Sunday May 31st at 4:30PM PT/ 7:30PM ET
for an Amazing Online Drag Show!
Pre-Show Dj Set w/ Dj-Invisible Manuel Mejia 4:30 PT/ 7:30 ET
Type in Twitch.tv/TheOnlineDragEvent into your browser to access the FREE stream.
(Be sure to make your free online Twitch account BEFORE the Live Stream)
$10 US Suggested Cover/ Donation (Can be made anytime)
Cash App: $OnlineDrag
paypal.me/OnlineDrag
Venmo: @OnlineDrag
*Each Performers Donation Handles will be on the screen during their Performance
IG: @TheOnlineDragEvent
Hosted by: Sasha Devaroe
Featuring :
From The Boulet Brothers Dragula
Landon Cider (Landon Cider)
From RuPaul's Drag Race
Aja
Kandy Ho'
India Ferrah (India Ferrah)
Mayhem Miller (Mayhem Miller)
Ongina (JUST ANNOUNCED)
Peppermint
Amora Dior Black
Bambi Banks Couleé
Bionka Simone
Boujee Cherry
Cara Coronado
DIDDY REXX
Faye Mennon
Gia Metric
Jaymelah Moore
Judas Joe Manson
Katana Rei
Kiara
Nicki Jizz
Primadonna
Sara Converted
tenderoni88
ZODI
We all know the current crisis has left many many entertainers Jobless. Please help support these Performers by joining the stream, donating, and spreading the word! ❤️ This is a donation based stream and all donations are greatly appreciated.