This night we will address the facts, the fiction and the friction related to vaping; nicotine and cannabis.
About this event
THE NIGHT
6:30PM PST. INTRO by ONE FOUNDER & COMMUNITY PARTNERS.
6:45PM PST. DR. TIMOTHY FONG PRESENTS ON ALL FACTS VAPE.
7:45PM PST. THE RESOURCES AND THE Q/A PANEL.

THE EXPERT.
Dr. Timothy Fong is a Clinical Professor of Psychiatry at the Jane and Terry Semel Institute for Neuroscience and Human Behavior at UCLA.
We are so honored to have Dr. Fong present to the community. He is an expert on the effects of Vape on the body and minds of our culture. He is also a part of the faculty leadership of the UCLA Cannabis Research Initiative, a multidisciplinary effort to examine the full impact of cannabis on the body, mind and brain.
Dr. Fong completed his undergraduate and medical school at Northwestern University in Chicago. He then came to UCLA and finished his residency in adult general psychiatry in 2002 and was the first accredited addiction psychiatry fellow at the UCLA Neuropsychiatric Institute (2002-2004).
Since 2009, he has been the director of the UCLA Addiction Psychiatry Fellowship, a one-year accredited program that provides clinical training in addiction psychiatry. He is a dynamic presenter and possesses the knowledge we are all seeking.

THE PANEL.
LEGAL, PHYSICAL , SOCIAL AND EMOTIONAL ASPECTS.
DR. TIMOTHY FONG.
DR. DON GRANT. Dr. Don Grant is an internationally award-winning media psychologist, researcher, and Doctoral Addictions Counselor.  He is the Director of Outpatient Services at Newport Healthcare, Chairman of the American Psychological Association (Division 46) "Device Management" Committee, and has been commissioned by APA to write the only book on "Healthy Device Management" they plan to publish. NEWPORT HEALTHCARE
BRITTANY COHEN. As Executive Director of Ascend Healthcare, Brittany oversees all aspects of Ascends treatment programs. Brittany is a Licensed Clinical Social Worker who has spent nearly 10 years serving both administrative and therapeutic roles in the treatment of adolescent mental health and substance abuse disorders. Brittany holds a BA in Psychology, and a Masters in Social Work, with an emphasis on children and families, from the University of Southern California. ASCEND HEALTHCARE
JOHN LIEBERMAN. MA. John Lieberman, Director, Visions Teen. John is an integral part of the fabric that makes up Visions. He joined in 2002, creating the initial building blocks to ensure Visions became the preeminent provider of adolescent treatment for substance abuse and mental health disorders it is today. John is a nationally recognized expert in adolescent treatment, intervention, and family dynamics. VISIONS TEEN TREATMENT  
VLADIMIR ANDERSON. District Investigator for the Newport Mesa Unified School District and the Irvine Unified School District. Vladimir has a 28-year career in law enforcement. He dedicated 12 of those years as a SRO Officer; a sworn officer responsible for safety and crime prevention in schools. He served his Country in the Marines and continues to serve this community.
THE ONES HIGH SCHOOL AMBASSADORS share the pressures of Vape and offer support and feedback.
THE COMMUNITY PARTNERS:
RJ ELIZARRAZ. OAK FOREST RECOVERY. Available to answer questions on young adult trends and challenges.
LUCAS BROWN. SUMMIT BEHAVIORAL HEALTH CARE. Available to answer from first-person perspective the struggles for young people and adults in this area.
You may submit questions in the chat throughout the presentation.


COMMUNITY PARTNERS.
ADOLESCENT AND YOUNG ADULT RECOVERY PROGRAMS.
ADULT PROGRAMS.
FAMILY/SIGNIFICANT OTHER SUPPORTS.
NONPROFIT PARTNERS.
CLICK LINK ABOVE FOR TICKETS. If you would like to make a donation to ONE, the 501c3 nonprofit you may do so at that time. We are grateful for any and all support.
You will then receive an email with the presentation link.  
ONE architects prolific experiences from art shows to awareness campaigns that are geared at shifting the course of lives. We engage visionaries, mavericks and experts in their chosen field to share their path, art or expertise with us; these are our Conscious Contributors.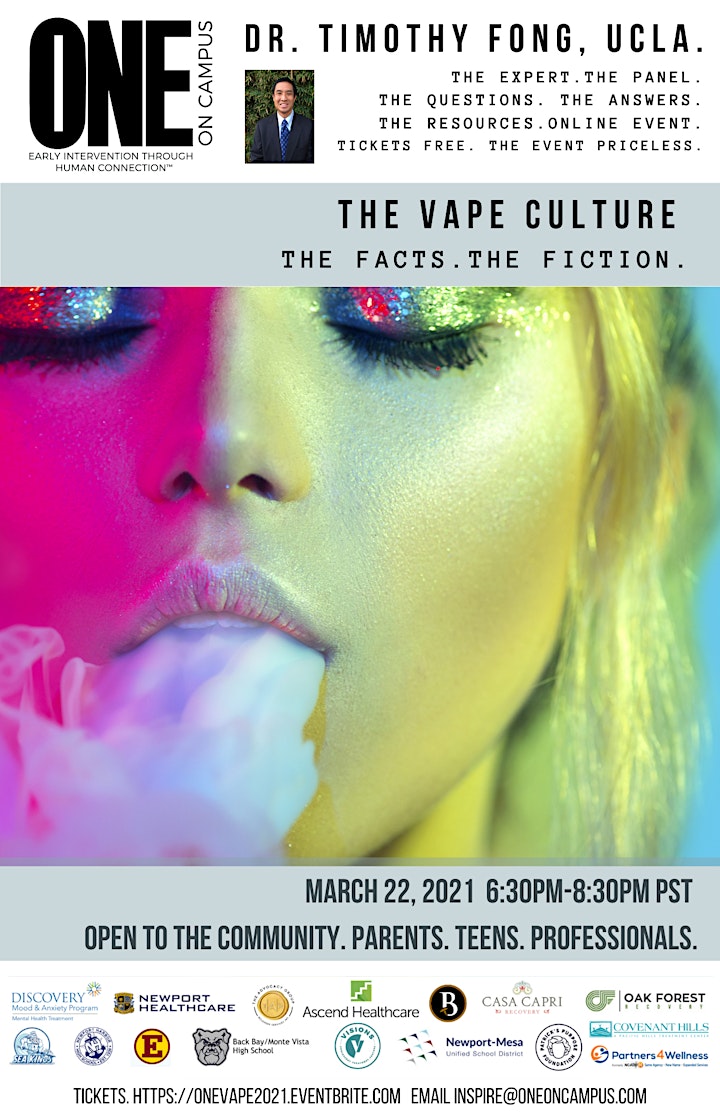 Organizer of THE ONE VAPE. DR. TIM FONG, UCLA.
ONE Recovery is a 501c3 non-profit organization. The premise is as simple as it is powerful. There is ONE recovery from all struggles and that recovery resides in the connection of humans.
 ONE has three distinct lines of support; community, online and ONE ON CAMPUS. 
 ONE is dedicated to the inspiration of young people, their loved ones, and conscious members of the community looking to raise their awareness. There is no struggle necessary to attend; only a desire to be inspired.
Get to know the works of ONE. Instagram @oneoncampus