Description
THE ONE TRUTHINESS { Oakland:1 }
A performance series engaging difference in a whole new way.
Live painting.
Life performance.
And you read the story.
THE ONE TRUTHINESS is one of those rare events you have to experience first-hand to fully appreciate.


A painting in wax on glass is created in response to a text read aloud by the audience, drawn from Facebook, Twitter, neighborhood newsgroups, personal interviews, and The One Truthiness blog, exploring current issues of local concern.
Different experiences of similar situations are put in conversation with each other, revealing a range of voices that (like life) don't always agree.
...............
Audiences say:
"In the midst of a complex and challenging societal discourse, it is so rare to find a space to look at the dialogue from a new and illuminating perspective."
"The most interesting, thought-provoking, creative performance I've ever been to."
"I've never seen anything like it"
"I am changed by your work"
"When are you doing it again?"
...............
"THE ONE TRUTHINESS" PROVIDES AN EXPERIENCE OF A WORLD WHERE OUR INDIVIDUAL TRUTHS ARE CONSIDERED SIDE-BY-SIDE AND LAYERED ON TOP OF EACH OTHER
The world is breaking into factions.
We are pulling away from each other.
Our definition of community is narrowing.
Whose version of reality wins?
Even when we don't want to live in the same world as "those others," we are still all in the picture together.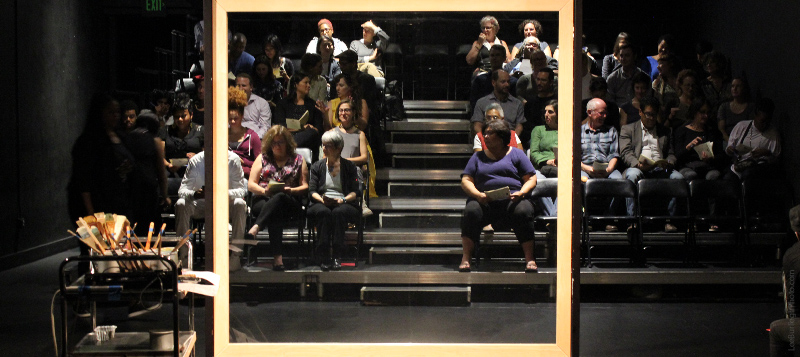 ...............
A QUARTERLY SERIES IN AND ABOUT OAKLAND
The text and images will evolve every three months to reflect changing issues, different voices, and up-to-the-minute events.
...............
YOU HELP SHAPE THE CONTENT OF FUTURE SHOWS
Each live experience includes a post-show conversation where your reactions, stories, and comments help shape the content for future versions.
...............
Presented by Lower Bottom Playaz, Oakland oldest North American African Theater Company
Produced by Ayodele Nzinga
Created by Charlie Levin
...............
Participate in the Conversation online.