About this Event
THE ONE.
Half of the proceeds raised for this play will go to relief in the wake of the Bahamas Hurricane Disaster. The other half to the Austin Veteran Arts Festival, AVAFEST 2019.
This play is a monodrama, a one man, one act play written by the late great Dr. Oliver Pitcher whose works appear in numerous published anthologies and poetry books. There is no intermission and the THE ONE has a run time of about 65 minutes.
You may live a lifetime but never see a play quite like THE ONE or see a character like Mr. Boo-Boo. Fearless, frightful, valiant and pathetic are all rolled up into one character. Despite all of these dimensions, strengths and frailties, in the end you may begin to think of him as a philospher, of sorts.
The lead character, Mr. Boo Boo is a passionate quixotic man. He has what they called "Battle Fatigue" in the WWII era from which he hails. Today we call it PTSD. His war related illness though is not not only from his involvement in the organized fighting of WWII, but his other war that is about his existence as a Black man in America. Mr. Boo Boo, has been forced to live in an American reality that has been torturous for him. Is he crazy for making the choices to live as the recluse that he appears to be now after what he has seen and experienced? Or is the world that he came from the real lunatic? That is the question this play strive to ask and answer.
Attending this play may prove to be one of the most interesting moments you may ever have in life as a theater goer. THE ONE. A masterpiece written by Dr. Oliver Pitcher and presented by actor, Glenn Towery, directed by his alter ego, Dasch -Hadu-.
Half of the proceeds raised for this play will go to relief in the wake of the Bahamas Hurricane Disaster. The other half to the AVAFEST 2019.
Because this is part of a festival designed to uplift veterans who suffer with PTSD we discourage negative reviews of our shows from professional reviewers. We welcome everyone to attend.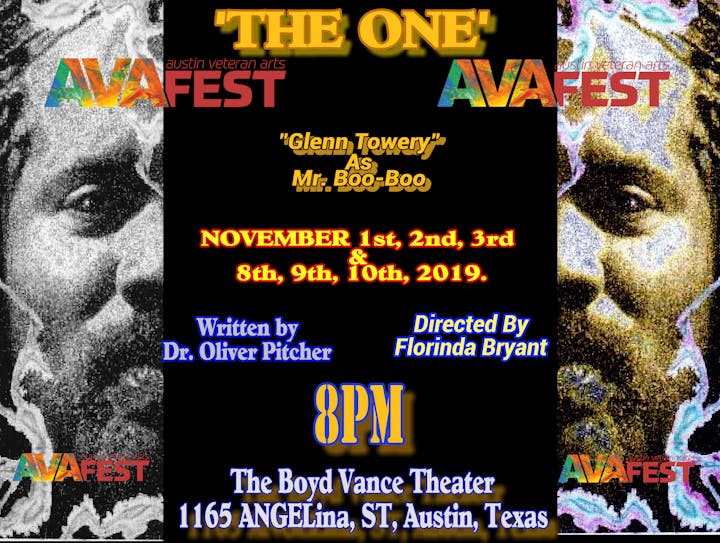 Black Soldiers fought in the American military during World War II at a time of "JIM CROW" and dangerous racism in America. They were fighting to secure rights for others that were denied them in their own country for no other reason than the color of their skin. America lynched them without punishment and althoughnthey jhad been forced to come to America hundreds of years beore most European immigrants African Americans were still considered to be beneath most of them. What dopes it do to the mind of a person who has to li9ve under these types of conditions? Mr. Boo-Boo gives us some insight in the play THE ONE. However, THE ONE is not only about racism in America. THE ONE is at war and each performance is a battle to save humanity.