Description
Don't wait to get your tickets to one of the BEST comedy shows in the area! Each month, the house is packed, the comics are on tilt and the audience is on fire and ready to laugh! No one goes home grumpy. It's the PERFECT mid-week break to an otherwise mundane work week!

!!!!!!! TOY DRIVE FOR FOSTER KIDS IN WESTERN MASS !!!!
GET $10 OFF REG TICKET PRICE by bringing a new & unused toy to the show! Use TOY in the promo code and bring your toy the night of the show! All toys and 100% donations will be directly distributed to The Kids Net Program (MSPCC)
Doors: Open at 6:00 pm | Starts at 7:30 pm
Tickets: $15 at the door or BUY ONE GET ONE FREE (off regular admission).
Use BEAMAN in the promo code!
For group rates of 10 or more, please contact us for more information. Parties less than 6 will have shared seating.
ALL veterans & active duty military get in for FREE with ID with available seating!
Want to get discounted or FREE TICKETS before anyone else? Sign up for the newsletter at www.jessmillercomedy.com or click the link below and become a VIP.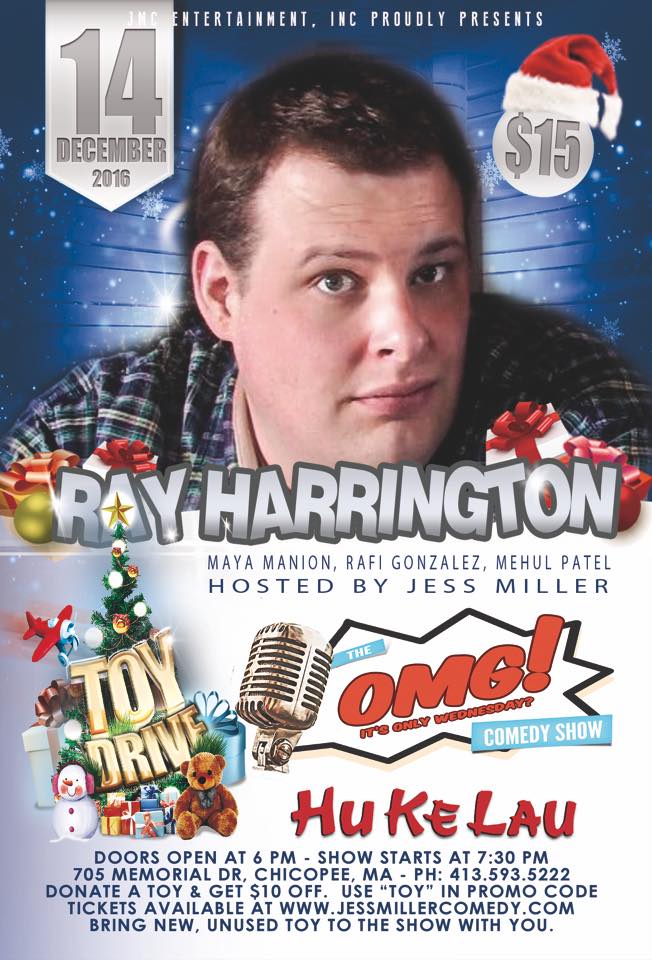 Ray Harrington is headlining December's OMG Comedy Show!!
Ray Harrington is an infectiously likable New England born comedian who has performed from L.A. to London, England along with comedy clubs, festivals, and colleges across the country. Harrington has turned his awkward and un-led stumble into manhood into hilariously irreverent material and marvelous improvisational riffing that embraces the uncomfortable and the absurd with a smile. Ray has been signed to national record label, Stand Up! Records. His debut album, The Worst Is Over, was named 'New and Noteworthy' on iTunes and debuted at Number One on Amazon.com and Number Two on iTunes.
Ray was named Best Comedian by the Providence Phoenix, was selected for Comedy Central's 'Up Next' Showcase, and was a finalist in the Boston Comedy Festival. He was awarded Best Actor, Best Film in the 48 Hour Film Festival, and was invited to host the International Filmapalooza Awards in Hollywood. Ray has been heard on nationally syndicated radio along with Sirius/XM and he's been seen on ABC, FOX, and CurrentTV.
"Wickedly funny with a slightly dark sense of humor." – Dispatch Magazine
"Pure comedic delight." - Under The Gun Reviews
"A college favorite all over New England." – The Maine Campus
"Ray Harrington creates as he performs." – The Portland Phoenix
"A seriously funny comic to watch." – Encore, Sun Journal
Also on the lineup: Maya Manion and Rafi Gonzalez, with special guest Mehul Patel. Hosted by Jess Miller.