Description
OS Winter Ball - Limited 93/94 Magic (Day 2 - Sunday):
Dice City Games is proud to host the big North American Old School Magic event of the Winter: a two-day paper Old School extravaganza in the Washington, D.C. Metro area on Saturday, February 2nd + Sunday February 3rd, 2018. THIS IS THE REGISTRATION PAGE FOR DAY 2: LIMITED. For Day 1 (EC Constructed) Registration, see here.
Pre-registration (Required)
– Tournament entry for Sunday is $113. This fee will be used to cover each player's pool of increasingly rare sealed vintage Magic product, compensation for special guests and staff, unique Old School prizes, and give-aways. A portion of funds will go to Poplar Spring Animal Sanctuary, a 400 acre non-profit refuge in Montgomery County, MD that offers care, rehabilitation, and permanent sanctuary for neglected, abused or abandoned farm animals, as well as a protected habitat for wildlife. The entry fee is non-refundable.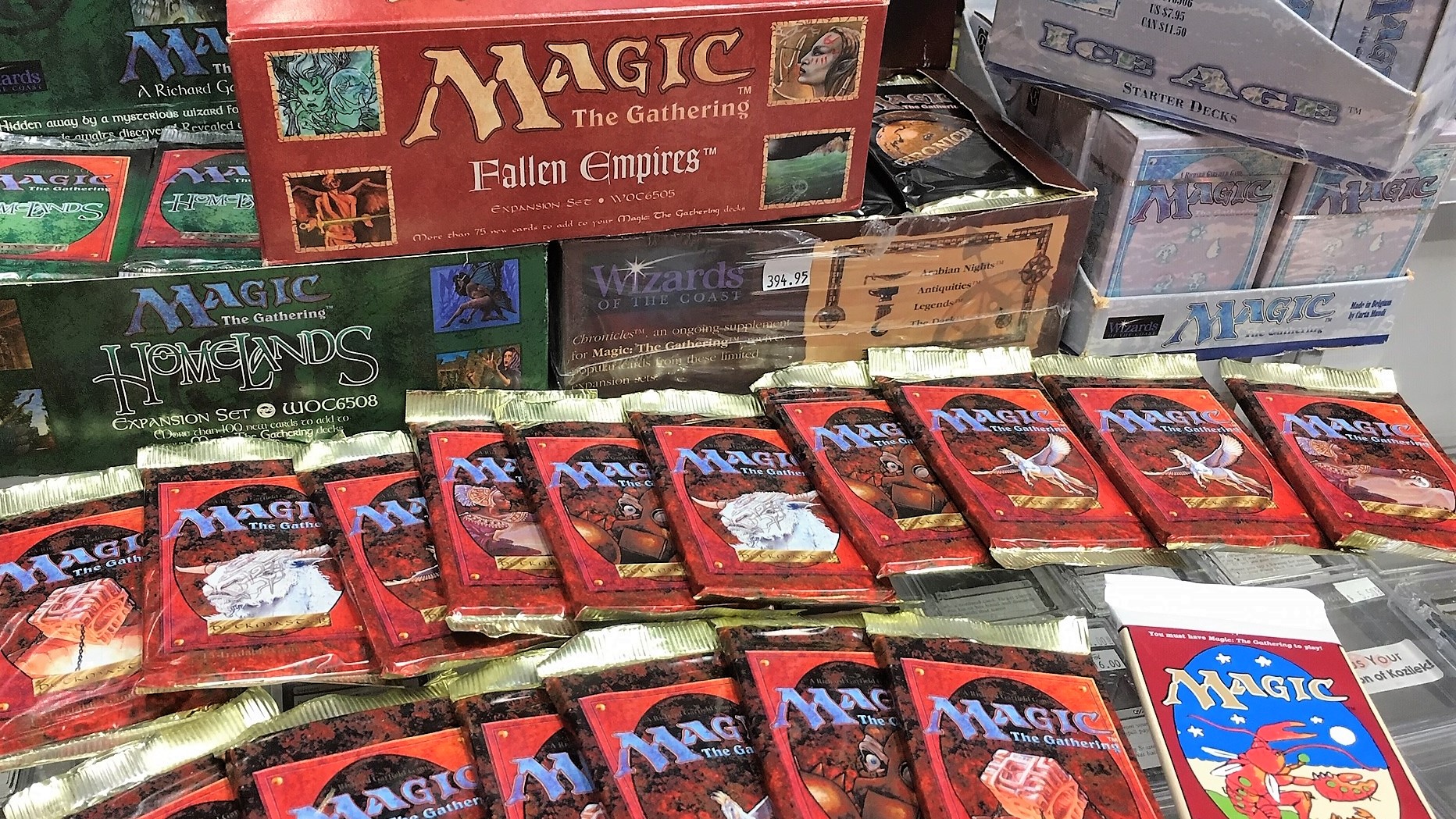 Event Theme
The Magic world today is very different from what it was in the halcyon days of 1993 to 1995. Limited Magic formats like Sealed and Draft didn't exist then as a we know them now. In fact, the first Sealed tournament of note was the Ice Age Pre-Release -- a regional event where each player got a single starter and booster each of Ice Age, and up to five of each addtional land(!). Draft didn't become to be a thing until later, during the Mirage-Visions. Though there were some larger scale competitive events, the vast majority of Magic players would buy a Starter deck of a set like Unlimited or 4th Edition, and a couple of boosters, which were most often 8 cards (the only early expansion to feature the now standard 15 card pack was Legends). Then, players would grow their decks (and meager collections) by playing games of Magic for ante, and trading with their friends. At this event we do not seek to retro-fit 93-95 Magic to the polished Draft format a player may expect today. Rather the theme of this event is to relive those glorious, if naive, days of opening a starter and a couple of boosters and swapping cards with friends in order to build a 40 card deck.
Early expansion sets were often developed in isolation from each other, making for awkward continuity in story arc, gameplay features, and power level. To some extent different design teams worked on Arabian Nights, Antiquities, The Dark, Fallen Empires, Ice Age, Homelands, and the unreleased set, Spectral Chaos. And of course, Dr. Richard Garfield spearheaded what would become Alpha/Beta/Unlimited/Revised/4th. While boosters of the earliest four expansions -- Arabian Nights, Antiquities, Legends, and the Dark are now extremely pricey, the "original Masters set," Chronicles represents many of the popular cards from them. Additonally, while ABUR Starters and boosters now each cost more than the cost of this event alone, 4th Edition features many powerful cards from the original Gathering set, as well as great addtions from the early expansions. Combined with creature-heavy Fallen Empires expansion and the Wintry-themed Ice Age and Homelands expansion, we are happy to have this entire spectrum of the early sets from 1993 to 1995 represented for the first time ever in one Limited Event!
Tournament Details
– Tournament start time is approximately 12:30 PM. (Venue opens at Noon; please arrive by early to sign prizes, purchase any last minute cards or sleeves, and help us get started promptly, as we will have several announcements to make).
– Tournament structure and length will be three Swiss 50 minute rounds of a unique Hybrid/Draft format we introducted to the world last year at the Back to the Past: Two-day 93/94 Weekend.
Each player will receive the following sealed items:

Ice Age Starter Deck
4th Edition Booster Pack
Chronicles Booster Pack
Fallen Empires Booster Pack
Homelands Booster Pack
– Deck Construction: We will treat the Ice Age starter as the basis for each player's deck. The Gathering will commence with each player opening their Starter deck. Players will have approximately 20 minutes to read and sort their cards and get an understanding of what playables they have in each color and what strategy they may be able to employ. Then, the draft of the Expansions will begin. Once all four boosters that each player is given are drafted, player's will be given an addtional 20 minutes to complete construction of a 40 card deck. Beautiful original basic lands from the era will be provided at no addtional cost (while supplies last).
– WARNING: Day 2 will play out more like raw '93 - '95 Magic. You know, the kind you used to play on the floor, the playground, or the kitchen table. No banned & restricted list. Minimimum deck size is 40 cards; your whole collection (the other cards from your pool) are your sideboard. This will be an wild, truly limited environment, if not goofy by today's standards. You may be forced to do the unthinkable and play grey ogres, aurochs, and dwarven soldiers. Incinerate and Dry Spell will once again be feared as tier 1 removal, and fatties like Personal Incarnation, Arcades Sabboth, Orgg, and Baron Sengir will be recognized as the bombs they once were. No on-rails draft archetypes involving Guilds or Shards will be there to hold your hand. You won't have a chance at cracking a mythic or a foil, and your neighbor will make you cringe when they bridge shuffle their Necropotence, Land Tax, Sylvan Library, Mana Vault, Blood Moon, or City of Brass with out sleeves. Mixed in with ancient ink and new but warped card stock, there will be enough white borders to make your precious Alpha 40 eyes bleed.
– Yes, Duelists are encouraged to play for ante, if both consent to it before the start of each match. If the price seems steep, keep in mind that not only the costs of hosting such an elaborate event, but also that these days, Ice Age Starters retail for $60-100, 4th edition boosters for $20-30, Chronicles boosters for $10-12, and Fallen Empires and Homelands boosters for $5 to $8 each, with prises rising steadily... In addition we will be throwing prize support in for free.
Special Guests, Bazaar of Singles, Decklists, Pairings, and Social Media
– We are inviting a couple of special guests that shaped the early days of Magic. First up is legendary original magic artist, Jeff Menges of Skaircrow Graphics! Jeff will be on-site to sign cards, commence alters, sell art reproductions and proofs, and generally be the cool guy that he is. Jeff is famous for powerful OS cards like Bazzar of Baghdad, Moat, Zombie Master, and Swords to plowshares, as well as more common staples like Grizzly Bears, Mon's Goblin Raiders, Merfolk of the Pearl Trident, Dwarven Lieutenant, and Bog Wraith. And, we will have a special playmat available for purchase that commemorates both days of the Old School Winter Ball -- a wintry take on StP that is an esclusive for this event!
– Next up is the un-sung hero of early Magic, in his first ever public event appearance related to Magic in 25 years, Barry Reich, the original Alpha play-tester, and designer of the unreleased set, Spectral Chaos -- which laid the foundations for Invasion / Planeshift / Apocalypse and Time Spiral block! Talk about the Oldest School of Old School players worldwide, Barry played the very first game of Magic ever, with Dr. Garfield when they were school buddies. Barry has the rare gift of Dr. Garfield's approval to alter the rules text of the Jeff Menges-penned card, Sea Serpent, due to Barry's eponymous use of the blue fattie in his early Blue/Red control decks. We will be honoring this all weekend. You may have seen Barry before in the recent Enter the Battlefield documentary, on the Alpha playtesters, here.
– Ancient Cardboard will be available to purchase on-site during both days from Dice City Games. The vaults are being cracked open for this event, so expect a virtual bazaar of Old School singles from dual lands and Power 9 to hard-to-find sideboard tech like Aeolipile.
– Decklists are encouraged for Sunday's event, and by decklists we mean a clear photo of your deck + any sideboard cards you want to highlight or ante cards you win. Please send all decklist photos to manager@dicecity.games BEFORE the end of Day 2.
– Pairings will be posted on the announcment pillar in-store.
– We will be filming and taking photos on the day. By attending you consent to having your deck, and/or your likeness photographed, videoed, and possibly presented on-line (though you can let us know if you don't consent to be tagged in social media as that is perfectly fine). We are working on having either a live stream of featured matches for this event, and/or YouTube videos shared of featured matches. The official event write-up will posted later in North American Old School Magic on facebook and beyond. Please use the hashtag #OSwinterball on social media.

Sunday (Constructed) Prizes
Prizes will be awarded from Dice City Games and may include singles from any Old School set, as well as rare collectibles from Magic's heyday. For example, one prize will be a "clipped/damaged" Collector's Edition Mox Sapphire! Prizes will be given out based on the following criteria:
Day 2 Trophy featuring the art of Necropotence will be awarded to the topped rank player.
Additonal prizes will be given to the Top 4.
Wanderlust prize will be awarded to the player who traveled furthest to attend. amount of cards from Fallen Empires with a winning record
Community Prizes will be awarded to each player in attendance to support the "everybody wins" notion of Old School. Please donate one Old School Constructed-playable card from your Limited Card Pool before the start of Round 2. These Prizes will be stamped, and signed by each player.
Commemorative Prizes will include a limited patch or pin that we are currently working on and look forward to announcing soon. Everyone who registers will get one as a memento of this event.
Tournament Site Logistics
– This event is a private tournament hosted at a one-of-a-kind LGS owned by Old School mainstay, Jimmy Cooney. For Day 2, the shop will be open to the public. Unlike Day 1, this is not a boozy event. We want you to drive to your Super Bowl party safely when it's all done.
– Dice City offers the ambiance of time-travel -- it's part part 90's game shop and part Old School Magic Gallery, featuring the world's largest Magic mosaic along with other art & effects from our favorite era.
– We promote inclusivity and an accessible environment where everyone can play. There will be people at this event who are new to Old School, and/or who are different from you in some way. Let's be mindful and build everyone up! Derogatory language and behavior is not welcome.
– DCG is is located twenty minutes from the nation's capitol, and is 2 blocks from the Wheaton Metro. It's accessible by Marc Train to Union Station D.C. or Silver Spring, with a transfer. Visit WMATA for public transportation travel planning. We are wheelchair friendly.
– Parking is free on-site in the busy main lot (out front and behind, with entrances on both Georgia Avenue and Grandview Road). Ample meters are available on Grandview, Blueridge, and other neighborhood streets, and are free on Sundays.
– DCG will have beverages for sale, including hot locally-roasted coffee. Thus, we ask you to refrain from bringing outside drinks in. The same policy will be in effect from our hosts if we move to the larger location. We will have some snacks available as well, but welcome out side food and have some great neighboring restaurants, including Methi (Indian), Wong Gee (Chinese), Limerick Pub (Irish), Saigonese (Pho & Bahn Mi), El Pollo Rico (Peruvian), and Moby Dick (Sushi), among others.