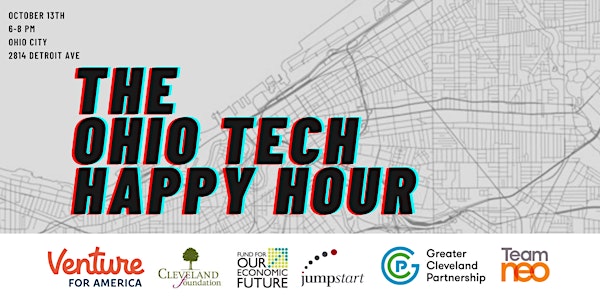 The Ohio Tech Happy Hour ~ October
This is a casual monthly happy hour for new and old Ohioans interested in connecting with fellow entrepreneurs, investors, and tech folks!
When and where
Location
COHatch Ohio City 2814 Detroit Ave Cleveland, OH 44113
About this event
This monthly traveling event is designed to take place in Cleveland, Columbus, Cincinnati, and other cities ~ more info to come!
If you are interested in sponsoring this event, please email hi@collaborateandelevate.com
Thanks to our Sponsors!
1) Venture For America - A national nonprofit and two-year Fellowship program that gives recent college graduates firsthand startup experiences that help them become leaders who make meaningful impacts with their careers, learn more on https://ventureforamerica.org/
2) JumpStart combines capital, services and connections to help entrepreneurs grow, researchers commercialize and corporations innovate. https://www.jumpstartinc.org/
3) Greater Cleveland Partnership (GCP) is the region's leading economic development organization and the largest metropolitan chamber of commerce in the nation with more than 12,000 members. https://greatercle.com/
4) Black Men Talk Tech - The Black Men Talk Tech Unicorn Ambition Conference will bring together entrepreneurs, investors and practitioners to share actionable, relevant and timely insights to help grow your business. #RSVP to their annual event on October 20 and 21 in Miami - https://www.blackmentalktech.com/
5) Team NEO - The Northeast Ohio Region has the business climate, people and affordability you need to achieve business growth and success. https://northeastohioregion.com/
6) Fund For Our Economic Future - The Fund for Our Economic Future is a creative space for philanthropic funders and civic leaders to explore what matters and implement what works to achieve equitable economic growth, emphasizing systemic, long-term change. https://www.thefundneo.org/
7) Cleveland Foundation - The Cleveland Foundation's mission is to enhance the lives of all residents of Greater Cleveland, now and for generations to come, by working together with our donors to build community endowment, address needs through grantmaking, and provide leadership on key community issues.https://www.clevelandfoundation.org/
Event organizers:
1) collaborateandelevate.com - Grow Your Business on Collaborate and Elevate! They add value to other marketing and advertising services, helping you achieve success quicker!
2) ignitewithlight.co - A diverse network building together, sharing resources, and strengthening our communities. We aim to connect, collaborator, and soar beyond structural and systematic barriers by directly investing in one another.
3) cohatch.com - COhatch is a new way to think about coworking and office space for flexible work close to home, with over 20 locations in Ohio! A noteable shout out to North High Brewing!
#ohiotech