The Official Oldschool Reunions SUMMER POP UP PARTY W/ KOOL DJ Red Alert
FOLLOW US ON INSTAGRAM @KING_ZAKAA_SAADIQ @THEOFFICIALOLDSCHOOLREUNIONS @KOOLDJREDALERT
About this event
WE'RE BACK... SAFE & SOUND!
The return of The BIGGEST event in NYC 11 years in a row is coming THIS Saturday July 24th 2021
MUSIC BY
WBLS LEGENDARY KOOL DJ RED ALERT
PLAYING THE BEST IN 80S 90S 2000S
TAKING YOU THERE!
HOST BY WHO ELSE.... CAPREE ONDERFUL GREEN!
FREE LIMITED ADVANCE TICKETS ARE COMPLETELY DONE! $20 ADVANCE ONLINE TICKETS ONLY UNTIL 9PM THIS SATURDAY! NO TICKETS WILL BE SOLD AT THE DOOR! ALL TICKETS WILL BE SCANNED!
DRESS CODE.. SHORTS , SNEAKERS, SHOES, SANDALS JUST COME OUT & DANCE!
LIMITED VIP BOTTLE/T!ABLE PACKAGES
5 OR 10 VIP BANDS
PRIVATE SECTION
ONE BOTTLE OF YOUR CHOICE CIROC OR GREY GOOSE
CALL (347)762-4575 FOR INFO
-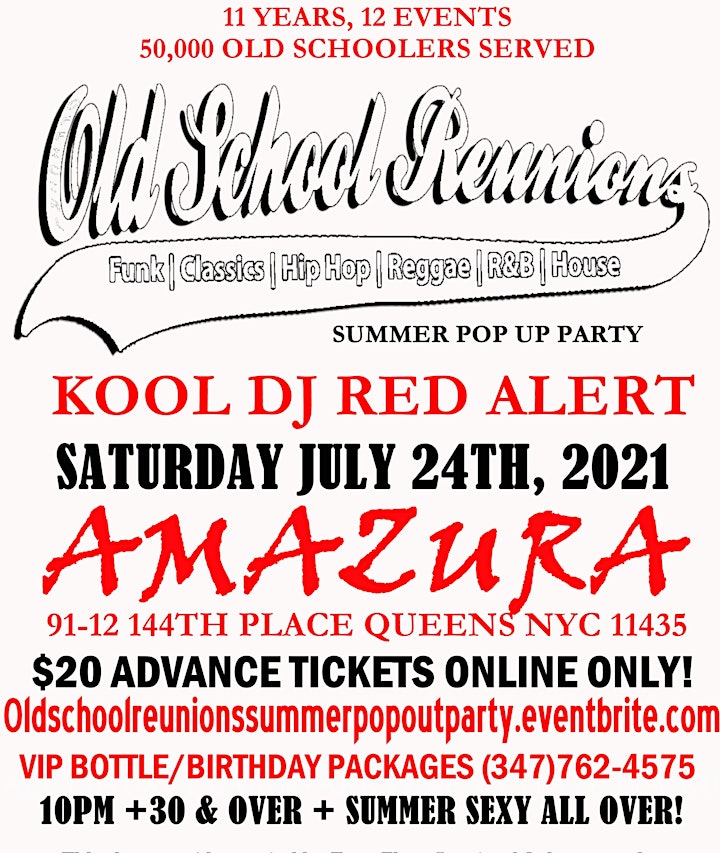 Organizer of The Official Oldschool Reunions SUMMER POP UP PARTY W/ KOOL DJ Red Alert