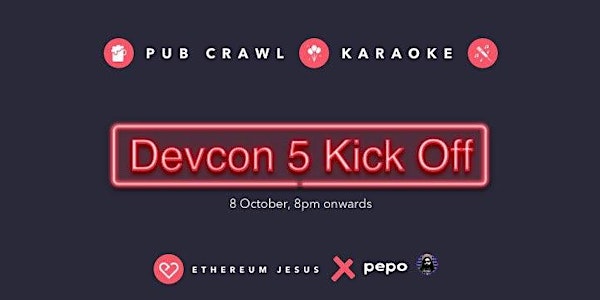 The Official Ethereum Jesus Osaka Pub Crawl & Karaoke: Sponsored by Pepo
The pub crawl route will be announced in the Ethereum Jesus Telegram (link below), stayed tuned! Make sure to download the Pepo app today!
When and where
Location
The Blarney Stone Shinsaibashi Japan, 〒542-0083 Osaka, Chuo Ward, Higashishinsaibashi, 2 Chome −5−27 幸田ビル Osaka, Osaka 542-0083 Japan
About this event
Pub Crawl Route:
1.) Blarney Stone Shinsaibashi: 8pm-8:30pm (Bar Crawl Pre-Game)
2.) Tonbori Base: 8:30pm-10:00pm (Bar Crawl Official Starting Point)
3.) Voyager Stand Osaka: 10:00pm-11:30pm
4.) Giraffe Osaka Night Club: 11:30pm-2am
Great news! Pepo is able to give you early access to Pepo before DevCon5.
Come join this years Ethereum Jesus pub crawl sponsor Pepo & Ethereum Jesus in Osaka, Japan for his yearly pub crawl gathering at DevConV with fellow Ethereum disciples as we take over the city in droves for Japan Blockchain Week! Drinks are free thanks to our amazing sponsor Pepo who graciously helped turn Ethereum Jesus' water into rice wine (sake), just make sure you follow the instructions below!
Instructions to drink for free at the Ethereum Jesus pub crawl:
1. Sign up for a ticket here on Eventbrite (Limited to the the first 200 guests). All attendees must have an Eventbrite ticket to get a wristband.
2. Get the Pepo App before DevCon. Download the app prior to make sure you have internet access!
Android: https://play.google.com/store/apps/details?id=com.pepo.v2.production
iOS: https://testflight.apple.com/join/obzi6g2N
3. Login using special invite code: ETHJESUS
4. On Pepo, Send Ethereum Jesus at least 1 Pepo Coin using the Pepo app, prior to the pub crawl. Find Ethereum Jesus and you will be granted an event bracelet to drink for free!
Follow my Twitter and Telegram Group for updates on the pub crawl route and karaoke spot as well as any additional changes. This will be a fun way to get to know this beautiful city as we drink our way through Osaka! Come and make new friends on the first night of DevCon5 Osaka and have a night to remember. If you have any questions, or need to find us on our journey, please message your Co-Host Ethereum Jesus on Twitter or Telegram. This will be an informal and traditional style pub crawl that ends at midnight, but be prepared to stay out later! I'll see you all there!
-Ethereum Jesus
Sponsor:
Pepo https://pepo.com/
Twitter:
https://twitter.com/ethereumjesus
Telegram Group:
https://t.me/joinchat/GLCOkVaXJtUeYvuX79S_PA
See a full list of all DevCon5 and Japan Blockchain Week events here:
https://docs.google.com/spreadsheets/d/1UQEs-FueNlbomS063xK00vRhiOqg9BqkPHf2MP7l2ks/edit?usp=sharing
What is Pepo?
Pepo is a new app launching around DevConV. Pepo is where the crypto community comes together, with short video updates and tokens of appreciation.
Whether you're a crypto developer, podcaster, analyst, blogger, or enthusiast, there's never been an easier way to showcase your work, earn appreciation, and connect with the community.
- Meet the people shaping the crypto movement
- Exclusive video updates, straight from the source
- Be the first to know about news and project updates
- Collect more than just likes
- Create your own videos
🎥 Exclusive short videos from the people shaping the crypto movement
🔥 The best crypto user experience ever made - blazing fast, easy to use, you won't believe it's crypto!
Pepo is so fast, so easy to use, you'll re-imagine what's possible with crypto.
Pepo is built on OST platform dev.ost.com (Ethereum layer-2, 4 years of development).
Pepo has spent 4 years working on the UX of crypto, and Pepo is their first big showcase. Pepo is live on Mainnet at ostwatch.com
Pepo is working with some amazing creators and makers in the Ethereum community already and they're focused on getting it right, so they do dozens of user interviews. Download Pepo today!