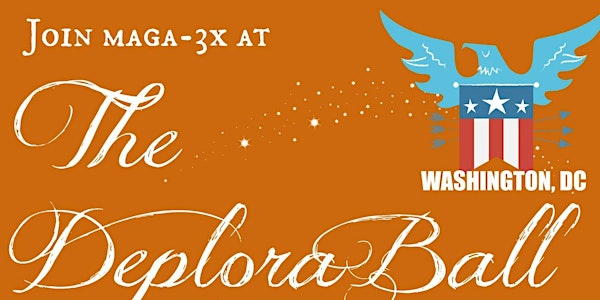 The Official Deploraball Party
When and where
Location
National Press Club 529 14th Street NW 13th Floor Washington, DC 20045
Refund Policy
Contact the organizer to request a refund.
Description
UPDATE: COMPLETELY SOLD OUT!
The Deploraball is completely sold out. We are humbled by the level of interest and support. Thank you! Please note - We will not reply to requests to buy tickets.
For press and sponsorship inquiries, email deploraball@protonmail.com. Click here for a media fact sheet.
IMPORTANT NOTES FOR TICKET HOLDERS!
For an event of this nature, we have to be strict about security and capacity issues.
Your name and ID must match your ticket, and you must be 21+ to enter. Any scalped, resold, or counterfeit tickets will not be honored.
If you already gave away your tickets, email the order number and new owner's name and email to deploraball@protonmail.com by 6pm ET Jan 14. The email must come from the original owner.
If you purchased more than one ticket and are bringing a friend or date, email their names to deploraball@protonmail.com by 6pm ET Jan 14 and we will add them to the notes associated with your ticket. (Many of you have already done this.)
If your plans have changed, you can request a refund through EventBrite's request refund feature or email deploraball@protonmail.com. We will honor all refund requests until 6pm ET on Monday the 16th.
We will not honor requests made after these deadlines. Thank you!
---------------------------------------------------
THIS IS OUR DAY, DEPLORABLES!
Look at what we have achieved by being ourselves and doing it our way. We worked hard to elect Trump over the last year. On January 19th we celebrate... and we're doing it our way.
JOIN US AT THE OFFICIAL ELECTION PARTY OF THE DEPLORABLES!
There will be many inaugural balls, but there will be nothing like our DEPLORABALL party — our massive, 1,000-person extravaganza to celebrate the Inauguration of President-Elect Trump. Attendees include Trump supporters of all backgrounds, ethnicities, and walks of life, from all over the country and world. This is a "big tent" event for Trump supporters.
The party will take place at 8pm on Thursday, January 19th at the National Press Club. Tickets get you in the door with open bar, light hors d'oevres, fun people, cool music, and great people of all backgrounds. We're deliberately keeping it scrappy to keep ticket prices reasonable. Would you expect anything less from les deplorables?
Dress is "black tie optional" - aka "fun formal" - aka no rules.
Our goal is to celebrate and honor people like YOU — the passionate citizens who worked social media, knocked on doors, and endured harassement to support our President-Elect. You deserve this.
ALL YOUR FAVORITE PEOPLE AT ONE PARTY.
Come have drinks with the biggest names of the season:
MIKE CERNOVICH

JACK POSOBIEC

LAUREN SOUTHERN

CASSANDRA FAIRBANKS

SHERIFF DAVID CLARKE

JAMES O'KEEFE

BILL MITCHELL

STEPHEN LIMBAUGH

JOE BIGGS

ROGER STONE

JIM HOFT

LUCIAN WINTRICH

GAVIN MCINNES

SCOTT ISBELL

Many more...
No one is taking themselves too seriously. This is a party by the people, for the people. Our objective is to have fun! At the same time, we want to make a show of force. We - Trumpists - are a new force in town and here to stay.
LIMIT: 1,000 CAPACITY TOTAL
Unfortunately we are already sold out. For those attending, we are excited to see you!
To those who missed tickets: You can be with us in spirit. We hope to live-stream the event on rsbn.tv. There's always 2021!
FOLLOW US!
Follow us on Twitter @MAGA3X for continued updates on the Deploraball.
—————————
FAQs
What's the dress? Black tie optional. Many will wear gowns and tuxes, others jeans and t-shirts. No rules!
Can I get there by Metro? Yes.
Take Metro to Metro Center.
Take the 13th Street Exit, take escalator to 13th Street; you should be at the corner of 13th and G Streets.
Walk one block south to F Street.
Turn right (West) and walk one block to 14th Street
Turn left and walk downhill to the National Press Building lobby.
Enter and take the elevators to the 13th Floor
The address is 529 14th St NW, 13th Floor, Washington DC.
Is it accessible by Uber or Lyft? Yes. The address is 529 14th St NW, 13th Floor, Washington DC. Please note that the Press Club is within the security perimeter for the Inauguration. Your driver may need to drop you off a block or two away.
Is there parking? Parking may be difficult during Inauguration Week. We recommend against it. If you still wish to park, visit the Press Club website for more information. The Club is within the security perimeter, so you will need to park several blocks away.
I'm under-21, can I attend? Unfortunately no. DC law requires people to be 21 or over where alcohol is served. And there will be lots of alcohol!
What are you doing about security? We take security issues seriously. So does the Press Club. Our contract includes a security team who will be at the event. Additionally, we will screen ticket holders at the Press Club entrance and possibly at the ground-floor lobby. If it looks like there will be significant protests, we will notify local police.
Are there any VIP options (special receptions etc)? We just added "contributor" and "host committee" ticket levels for those who want to help make this event possible. Click the "tickets" button at the top-right for details. (Note - contributor tickets are sold out.)
Is this an "Alt-Right" event? The answer is no. This is an event for Trump supporters from across the country, from all backgrounds, ethnicities, and walks of life. The term Deploraball is a play on "the deplorables" term Hillary Clinton used to denigrate Trump supporters. We playfully adopted it as a badge of honor. We will not tolerate any incendiary actions, remarks, or gestures that go against the fun, respectful, "open basket" spirit of the event.
Are guns (concealed weapons) allowed on site? The answer is no. Concealed carry is not allowed in DC. Additionally, the Press Club forbids weapons and will have a metal detector at the door. Please do not bring any guns or other weapons to the venue.
How can press register? Click here for a fact sheet. To apply for a press pass, email Jeff Giesea at deploraball@protonmail.com. Having sold out the event, we have fewer spaces for press than we'd like. We apologize in advance if we are not able to accommodate everyone.