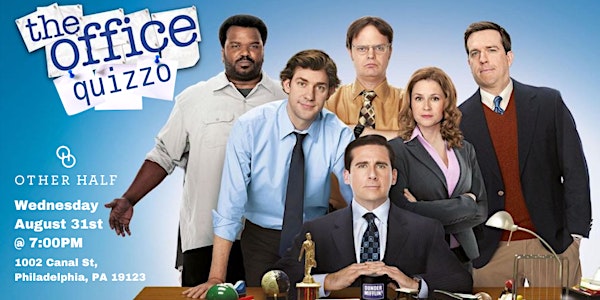 The Office Quizo at Other Half Brewing Philly
Fact. The Office Quizo at Other Half is the most fun you can have in Philly on Wednesday, August 31st, starting at 6:30pm!
When and where
Location
Other Half Brewing 1002 Canal Street Philadelphia, PA 19123
About this event
Take a break from being The World's Best Boss, your classes at art school, or beet farming to prove you know the most about the Dunder Mifflin family. Prizes will be awarded in lieu of Dundees, and you don't want to be left empty handed... that's what she said!
Reservations required: https://officeohb81722.eventbrite.com
MAX TEAM SIZE OF 6 - A CONFIRMATION EMAIL WILL BE SENT CLOSER TO THE EVENT, PLEASE NOTE TICKETS CONFIRMATION IS REQUIRED OR YOUR TICKETS MAY BE SUBJECT TO CANCELLATION.
PLEASE ONLY RESERVE SINGLE TICKETS IF YOU ARE PLAYING BY YOURSELF.
Bears. Beets. Battlestar Gallactica.
#DiversityTomorrow #theoffice #jimhalpert #michaelscott #dwightschrute #schrutefarms #dundermifflin #michaelscottpapercompany #creed #stanley #angela #oscar #phyllis #thatswhatshesaid #scanton #johnkrasinski #pambeesley #theofficeus #jimandpam #officepranks #triviatainment #pubtrivia#otherhalfbrewing #otherhalfphilly #philadelphia #philly #philadelphiatrivia #phillytrivia #pennsylvania #visitphilly #phillyphilly #whyilovephilly #instaphilly #phillysupportphilly #cityofbrotherlylove #westphilly #pa