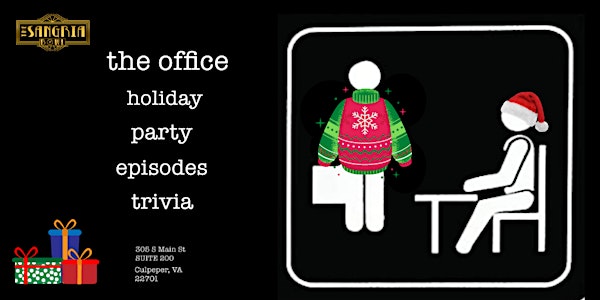 The Office Holiday Party Episodes Trivia at Sangria Bowl
"Well, happy birthday Jesus, sorry your party's so lame."
When and where
Location
The Sangria Bowl 305 South Main Street #SUITE 200 Culpeper, VA 22701
About this event
The Party Planning Committee would like to invite you to Sangria Bowl on Tuesday, November 30th starting at 7pm for five unique rounds of The Office Trivia: Christmas Party Episodes! Per the holiday season, we'll be highlighting Dunder Mifflin's legendary Christmas parties. So keep your eye on the iPod, don't get your Benihana waitresses confused, and be good for Belsnickel.
RSVP at; https://officeholidaypartysb113021.eventbrite.com
PLEASE ONLY RESERVE SINGLE TICKETS IF YOU ARE PLAYING BY YOURSELF.
MAX TEAM SIZE OF 6 - A CONFIRMATION EMAIL WILL BE SENT CLOSER TO THE EVENT, PLEASE NOTE TICKETS CONFIRMATION IS REQUIRED OR YOUR TICKETS MAY BE SUBJECT TO CANCELLATION.
#BurnUticaToTheGround #theoffice #office #officeholiday #christmas #pubtrivia #holiday #happyholidays #season #christmastree #christmastime #lights #holidayseason #xmas #love #merrychristmas #winter #santa #christmasdecor #santaclaus #christmasdecorations #holidays #december #christmasiscoming #gift #family #christmaslights #gifts #navidad #newyear #snow #christmasgift #triviatainment #sangria #culpeper #culpeperva #nightlife