The Odd Couple (Female Version) by Neil Simon

Multiple Dates
Event Details
Pearland Theatre Guild Proudly Presents Neil Simon's Classic with a Twist!
THE ODD COUPLE (female version)
June 22-July 8
at the Pearl Theater located at 14803 Park Almeda Dr., Texas 77047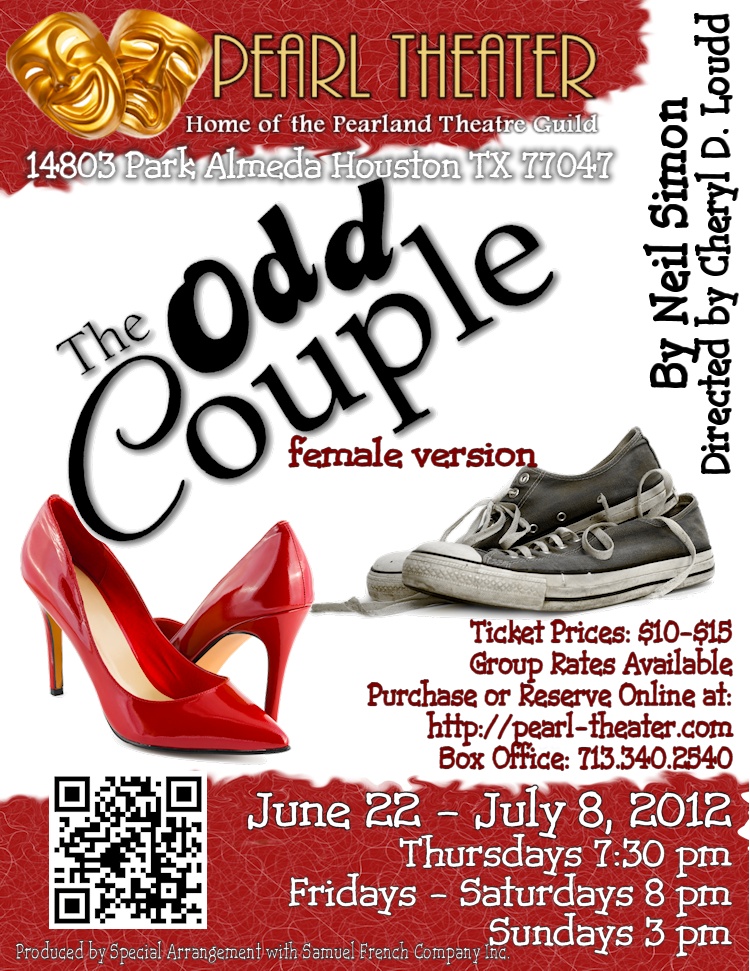 Neil Simon's famous update of his contemporary classic starts with a group of women friends playing their regular game of Trivial Pursuit. This week, the coterie is meeting at the apartment of Olive Madison, a divorcee who freely admits to being a slob: "I leave a mess when I read a book." Late to arrive is Florence Unger, a stickler for detail who would try the patience of a saint, and who has unfortunately just become separated from her husband. As life would have it, the slob and the fuss-budget decide to room together -- with hilarious results!
Within days, Florence's obsessive habits start taking their toll on Olive and their friends. The only remedy Olive can think of (a pair of brothers from Barcelona) disastrously backfires, and the two women are forced to agree on one thing -- even the best of friends sometimes make the worst of roommates.
Organizer
The mission of the Pearland Theatre Guild is to entertain, inform, inspire, and educate. In doing so, we seek to enrich the cultural life in the Pearland area. We will provide area residents the opportunity both to attend and to participate in a variety of quality theatrical works. We will also provide opportunities to adults and children in order to allow them to develop talents in all aspects of theatre arts.  We will incorporate non-traditional casting in order to draw upon the rich diversity of the Pearland community. 
Our focus is on giving the public a well-balanced theatrical season, and striving to meet with excellence all of the demands placed on a community theatre.