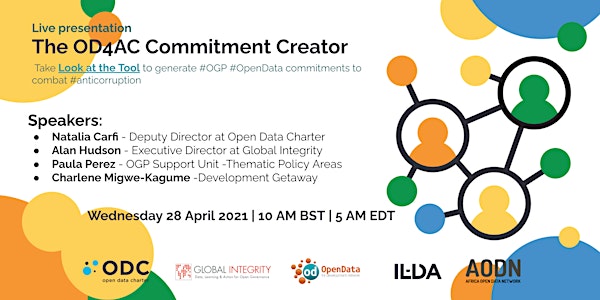 The OD4AC Commitment Creator
4 steps to generating OGP open data commitments to combat corruption
About this event
Global Integrity, the Open Data Charter, the African Open Data Network, Iniciativa Latinoamericana de Datos Abiertos, and the Open Data for Development Network, are launching a tool to support the co-creation of effective OGP commitments focused on the use of data to fight corruption.
This tool has been developed and tested in collaboration with national and local reformers in Africa and Latin America. Learn more about it during our live presentation (we will also record it).
Speakers:
Natalia Carfi - Deputy Director at Open Data Charter
Alan Hudson - Executive Director at Global Integrity
Paula Perez - OGP Support Unit -Thematic Policy Areas
Charlene Migwe-Kagume - Development Getaway
IMPORTANT NOTE
Please note that the original time of this event has changed to 10am BST (5am EDT) to accomodate speakers & audiences in Asia, Africa, and Europe.
We will record it for audiences located in North America who can't join at that early hour. Apologies for the inconvenience.
We will hold another session on the same day (Wed 4/28) at 12pm EDT in Spanish for the South American audiences. If you're interested, please register here: https://gint.info/OD4AC_event_espanol