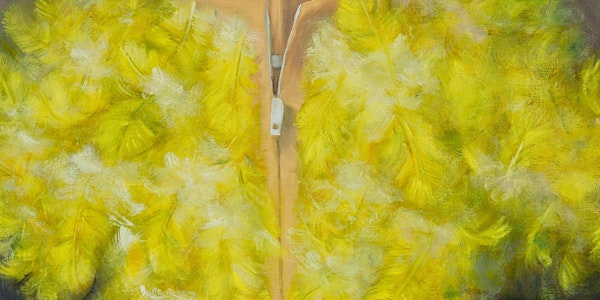 The Object Speaks
An Exhibition of Paintings by Mary Jo Vath
When and where
Location
Flatiron Project Space 133 West 21st Street New York, NY 10011
About this event
BFA Visual & Critical Studies presents "The Object Speaks," an exhibition of recent paintings by artist and SVA faculty member Mary Jo Vath in the SVA Flatiron Project Space from Thursday, November 3, to Thursday, December 1. The exhibition is curated by BFA Comics and BFA Illustration Chair Emeritus Thomas Woodruff.
The curator's statement follows:
"In Mary Jo Vath's idiosyncratic oeuvre, her 'still lives' are truly still, and conjured with an almost alien eye. Her subjects are painted as if they have never been seen before. The rendering is often off-kilter, the spaces charged yet inert. She uncannily pulls her images into the realm of allegory, if one looks closely enough, and reflects upon her quirky choices of inspiration.
"Vath's agenda is visually subversive, for at first glance they appear as just some pretty pictures of things. But then, almost like devotional icons, their meanings are strangely amplified. Unlike the traditional Dutch and Spanish parameters of the genre, usually made for clever displays of verisimilitude; or the modern conventions of still life, where apples and jugs are employed as raw material for formalistic exercises, Vath utilizes the power of the isolated image as poetic metaphor. Her enigmatic, wryly deadpan paintings never fail to burn a big ol' hole in my head.
"'Objects speak directly to me,' Mary Jo Vath writes. 'I don't always know exactly what is being said, but I adopt the thing, and bring it home to my studio and throw some light on it. The painting is our further conversation, where the actual reality of the object and my chaotic perceptions make friends. I am not interested in the facts, I am after the magic.'
"The results are indeed otherworldly: An inflatable pool toy swan can become decidedly menacing. A rubber cobra puppet is made mythic without its animating hand. A child's "Big Bird" costume transforms into an Aztec deity. A cheap purple wig attains a melancholic gravitas.
"Most of the recent works included in this 'cabinet of wonders' were created during a difficult time in the artist's life, during the long illness and then passing of her beloved husband. The serene surfaces with their golden orbs, silver shoes and gay Day of the Dead costumes have a pentimenti of grief hidden beneath. The paintings always reveal more than what one expects. The objects speak volumes."
Note: All Attendees must both have been vaccinated and have received the booster shot. They also need to register 24 hours in advance through this site. Attendees must bring with them both their vaccination card and a copy of their Eventbrite reservation, either digitally or printed, in order to attend.
The Flatiron Project Space, created and founded by BFA Visual & Critical Studies, is located on the ground floor of 133 West 21 Street. The gallery invites VCS students and guest curators, along with other departments at SVA, to realize curatorial projects that highlight our rapidly expanding visual culture. Shows are held monthly and include video, performance, painting and sculptural projects.