To access Live-ish, just head to The Oaklandside landing page: https://oaklandside.org/the-oaklandside-live-ish-2021/
About this event
*REGISTERING FOR ONE DAY WILL GRANT YOU VIRTUAL ACCESS TO ALL THREE DAYS*
CLICK HERE TO ACCESS THE VIRTUAL EVENT.
Tuesday, June 15, 2021 (all times in PT)
12pm - Equity in journalism
1pm - Music from Fantastic Negrito
1:20pm - Gun violence in Oakland
Wednesday, June 16, 2021 (all times in PT)
12pm - Youth leadership in a year of protest
12:30pm - Race, space, and Lake Merritt
1pm - Music from Caroline Chung
1:15pm - The pandemic and Oakland's housing crisis
Thursday, June 17, 2021 (all times in PT)
12pm - What's next for the arts in Oakland with music from Kev Choice
12:40pm - The Oaklandside: Behind the scenes
The Oaklandside is a small but mighty team of local journalists working for Oakland. We launched this newsroom in June 2020 to amplify community voices, share the power of real information, and investigate systems, not just symptoms.
Now, The Oaklandside is turning one! One year of stories that capture the energy, challenges, and possibilities of Oakland. One year of helping Oaklanders stay connected and informed through a crisis like no other. One year of innovative, inclusive journalism that reimagines what a local newsroom can do for its community. That calls for a celebration!
Oaklandside Live-ish will be a virtual dynamic event that's free to all, June 15 to June 17, digging deeper into some of the biggest stories from our first year through conversations with community members, experts, advocates, and the Oaklandside journalists who help you navigate it all.
Check out the schedule below—plus an exciting line-up of special performances by local artists and musicians including Fantastic Negrito, Caroline Chung, and Kev Choice—with more events and participants to be announced. Come join in the celebration, conversation, and future of The Oaklandside!
SCHEDULE
Tuesday, June 15, 12 to 2pm
Equity in journalism
Internationally acclaimed journalist (and former KRON East Bay bureau chief!) Soledad O'Brien, Maynard Institute director and former Oakland Tribune editor-in-chief Martin Reynolds, and The Oaklandside editor-in-chief and former NPR editor Tasneem Raja in conversation about what equity in journalism really means—and how local and national news organizations can avoid repeating mistakes of the past.
Gun violence in Oakland
A solutions-oriented conversation about why an ongoing spike in gun violence in our city isn't happening "in a vacuum," as violence-prevention advocate John Jones III wrote in a powerful essay for The Oaklandside. With our managing editor Jacob Simas.
Wednesday, June 16, 12 to 2pm
Youth leadership in a year of protest
Education equity reporter Ashley McBride talks with Denilson Garibo, a recent student director on the OUSD school board, Malia Liao, a student at Oakland Technical High School, and other youth leaders of movements and protests from the past year—including the push to allow Oakland students to vote for school board members, the end of campus police, and student marches against police brutality.
Race, space, and Lake Merritt
The Oaklandside's news editor Darwin BondGraham talks with City Council President Nikki Fortunato Bas about the hotly contested issues of space, identity, and belonging around the lake, followed by conversations about biodiversity and the rewilding of Oakland's central meeting place with Lake Merritt Institute Executive Director James Robinson, and lake experts Damon Tighe and Katie Noonan.
The pandemic and Oakland's housing crisis
The pandemic has prompted emergency policies and big thinking around housing and homelessness in our city and county. Housing reporter Natalie Orenstein talks to unhoused community advocate Mavin Carter Griffin, the county's homeless care director Kerry Abbott, housing advocate James Vann, and Oakland landlord Gina Baker about lessons learned and what's possible going forward.
Thursday, June 17, 12 to 2pm
What's next for the arts in Oakland?
Arts and community reporter Azucena Rasilla in conversation with multi-talented artist and educator Kev Choice and others about how the pandemic has impacted local culture-makers, what will be needed for recovery, and what it all means for Oakland's art and culture scene moving forward.
The Oaklandside: Behind the scenes
A live conversation with every member of The Oaklandside's eight-person award-winning newsroom that peels back the curtain on how we report, the choices we made in an unprecedented year, how we hold ourselves accountable to our mission, and the journalism we're gearing up to take on next. Moderated by Joaquin Alvarado, founder of Oakland's studiotobe and past CEO of the Center for Investigative Reporting/Reveal, with questions from you.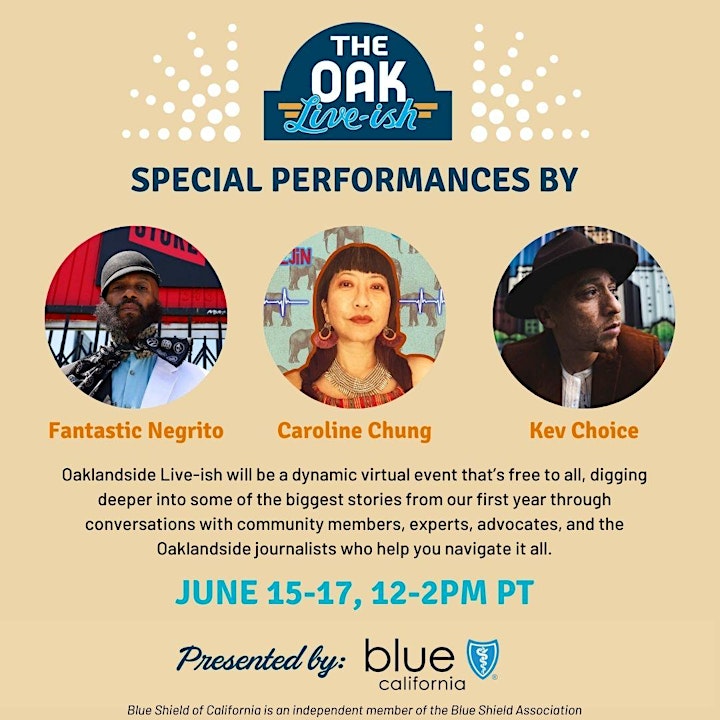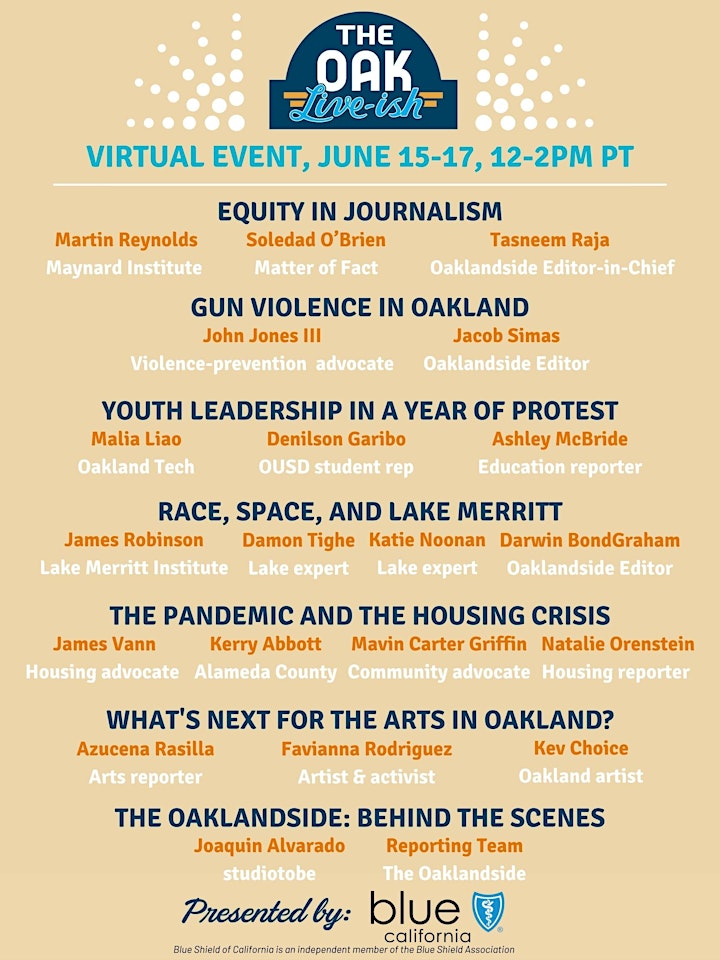 Organizer of The Oaklandside Live-ish