Description
OAKLAND PRIDE FUN RUN FAQs:
FREE! ♥

7:00am Registration with Ford Timing Begins + The Wellness Expo Opens

7:30am Welcome from Kin Folkz

8:00pm Warm-up with Radically Fit Gym

8:27am Irina Rivkin, Winner of the OutMusic Award will start our running chant

8:30am District 2 Councilmember Nikki Fortunato Bas blows the official start whistle!

10:00am The Medals are awarded to the first 400 who register and show up! If you have a ticket -PLEASE ARRIVE no later than 7:30am to increase the chances of receiving a medal.

11:00am The Queer Slam featuring cohosts, Kin Folkz, DJ Gray, Grammy + Academy Award-nominated comedian Sampson McCormick + comedian Daphne

Noon FREE-STYLE DANCE SESSION led Corey Action of NewStyle Motherlode + The Trans March party begins

1:00pm Ball LSS begins

4:30pm The Wellness Expo begins to wrap up

5:00pm The Ball ends!
• At the historic Oakland Lake Merritt Pergola
THE COLUMNS • (599 El Embarcadero, Oakland, CA 94610)
IS THERE A FEE TO JOIN MY COMMUNITY at THE OAKLAND PRIDE 5K FUN RUN, WALK + ROLL?
• NO. Nope. Nada. Na-unh. This is the 100% free registration Original Oakland Pride Fun Run community event. Haven't we paid enough?
WHO CAN JOIN THE COSTUMED FUN?
• ALL are welcome! You can even bring your furry family members!

WILL THERE BE SIGNS ALONG THE ROUTE?
YES! Signs and Rejuvenation Stations with people cheering you on and offering water, band-aids, support.
CAN I REGISTER AT THE RUN?
• YES!! WALK-UP REGISTRATIONS ARE WELCOME.
Simply check in and register at the Check-in Table.
WHEN DID THIS FABULOUS RUN BEGIN?
In 2012, when Monica Anderson aka Kin Folkz was on the board of Oakland Pride, Kin conceived The Oakland Pride Run and wrote out a full proposal for it - noting that it would be free and open to everyone! Kin began to save up her work earnings (it took 2 years) to fund the 1st run - which was launched in 2014. G.B.Blackmon, Wanda Smith, Paige Harris, Kenneth Smith, Neyra Rosa, Imani Smith, and Nkosi Smith joined Kin Folkz in 2015 to offer support for the community-led run. The day of the run over 20 more volunteers showed up to support this free run that benefits local organizations. Kin refers to them all as her co-founding members!
How can I contact the organizers?
Kin Folkz can be reached at 510-239-7197
• We will have trainers from Radically Fit leading our stretching exercise (8:00-8:20am)! After our run, you will be offered an after run cool down session with music provided by Hella Gay and moves by Papi's Queer Boxing Gym! We also have several LGBTQ+ community organizations that will be positioned around the route at Fun Run Rejuvenation Stations providing inspirational cheers, water, and basic first aid kit items.
HOW IS TRANSPORTATION + PARKING?
• Limited street parking is available - We recommend that you take Bart, public transportation, or rideshare.
HOW CAN I BECOME A SPONSOR?
HERE ARE SOME THE FOLKS WHO ARE BRINGING THEIR LGBTQIA + ALLY PRIDE TO THIS INCREDIBLE FUN RUN, WALK + ROLL (+ sit/cheer)!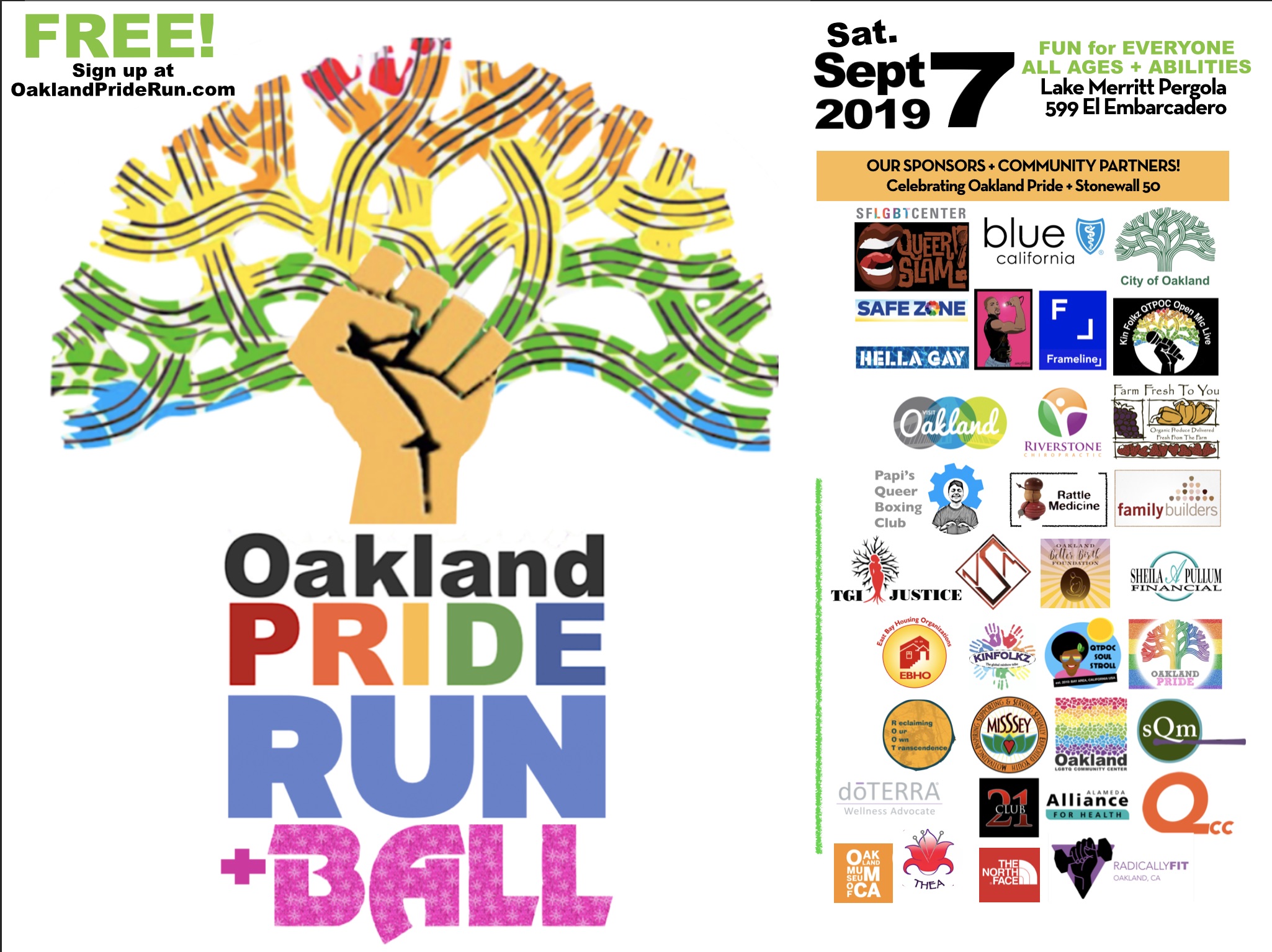 The Oakland Community of all genders, ages, abilities, ethnicities, sizes, and colors!
A wide and beautiful diversity of Folkz
Oakland LGBTQ Community Center
Oakland Pride
The Oakland Mayors Office
Hella Gay (the originals not the appropriative run)
FOUR Elements Fitness GYM
Laney College + Peralta Community College District
ACLU of Northern California
City of Refuge - United Church of Christ
San Francisco Lesbian/Gay Freedom Band
Center for Elders' Independence and Fund for Elders' Independence
APEB AIDS Project East Bay (the Testing Van will be at the Fun Run)
Alameda County Public Health Department
Sisters of Perpetual Indulgence, Inc.
MAP - BASIC








MAP - STREET DETAIL



AN IMPORTANT WELLNESS NOTE:
PLEASE NOTE: BY SECURING A FREE TICKET - ALL PARTICIPANTS IN The Oakland Pride Run ('Event') ARE REQUIRED TO ASSUME ALL RISK OF PARTICIPATION BY ACCEPTING THIS GENERAL RELEASE AGREEMENT:

In consideration of you accepting this entry, I, the participant, intending to be legally bound do hereby waive and forever release any and all right and claims for damages or injuries that I may have against Spectrum Queer Media, it's employees, race director, volunteers, timing company, the City of Oakland, Mayor and City Council, Department of Public Works, Recreation and Parks, as well as the offices, directors, agents, volunteers and employees of any of the preceding entities, in addition to all sponsors, their representatives and successors and all of their agents assisting with the event, for any and all injuries to me or my personal property. This release includes all injuries and/or damages suffered by me before, during or after the event. I recognize, intend and understand that this release is binding on my heirs, executors, administrators, or assignees.

I know that running a road race is a potentially hazardous activity. I should not enter and run unless I am medically able to do so and properly trained. I assume all risks associated with running in this event including, but not limited to: falls, contact with other participants, the effects of weather, traffic, and course conditions, and waive any and all claims which I might have based on any of those and other risks typically found in running a road race. I acknowledge all such risks are known and understood by me. I agree to abide by all decisions of any race official relative to my ability to safely complete the run. I certify as a material condition to my being permitted to enter this race that I am physically fit and sufficiently trained for the completion of this event and that a licensed Medical Doctor has verified my physical condition.

In the event of an illness, injury or medical emergency arising during the event I hereby authorize and give my consent to the Event Director to secure from any accredited hospital, clinic and/ or physician any treatment deemed necessary for my immediate care. I agree that I will be fully responsible for payment of any and all medical services and treatment rendered to me including but not limited to medical transport, medications, treatment, and hospitalization.

By submitting this entry, I acknowledge (or a parent or adult guardian for all children under 18 years) having read and agreed to the above release and waiver.

Further, I grant permission to all the foregoing to use my name, voice and images of myself in any photographs, motion pictures, results, publications or any other print, video-graphic or electronic recording of this event for legitimate purposes.

Refund Policy. I acknowledge that any fees are non-refundable, including if the race is canceled, and my entry is non-transferable.



Please feel free to share this event on Facebook and Twitter. We hope you can make it!
Cheers,
Spectrum Queer Media: Kin Folkz