Description
The Nyotron Experience: Partner Special Event
Join Us to Experience a LIVE Cyber Security Hack and Bypass Demonstration. See How Threat-Agnostic Defence Will Decrease Your Customer's Risk and Increase Their Security Posture.
Sign Up Today for Your Private 90 Minute Session and Bring Up to 10 Prospects
Nyotron is disrupting the entire security paradigm. Acting as the last line of defence, PARANOID proactively protects data and assets from even the most sophisticated cyber-attacks.
We help detect, prevent, analyze and respond to zero-day attacks, advanced persistent threats, ransomware, malware and unknown threats of the future.
Our threat-agnostic defence detects threats that other endpoint protection solutions cannot find, letting enterprises secure the data on their endpoints and critical systems. Providing ultimate defence and complete protection, Nyotron closes security gaps and gives peace of mind. Don't settle for ineffective endpoint solutions or next generation products that leave your customers exposed. Leverage our world class threat intelligence products and services to improve their security posture.
Speakers:
Ben Wheeler, Nyotron Sales Director, UK
Nir Shafrir, Nyotron Senior Director, Field Engineering
Join Ben and Nir as they introduce Threat-Agnostic Defence – a patented break-through approach to endpoint security to detect UNKNOWN UNKNOWN threats.
Overview of PARANOID's Threat-Agnostic Defence

Three Attacks: 3 Different Threats using 3 Different Vectors

Ransomware, Rubber Ducky and Newly Crafted APT

LIVE Nyotron War Room Demo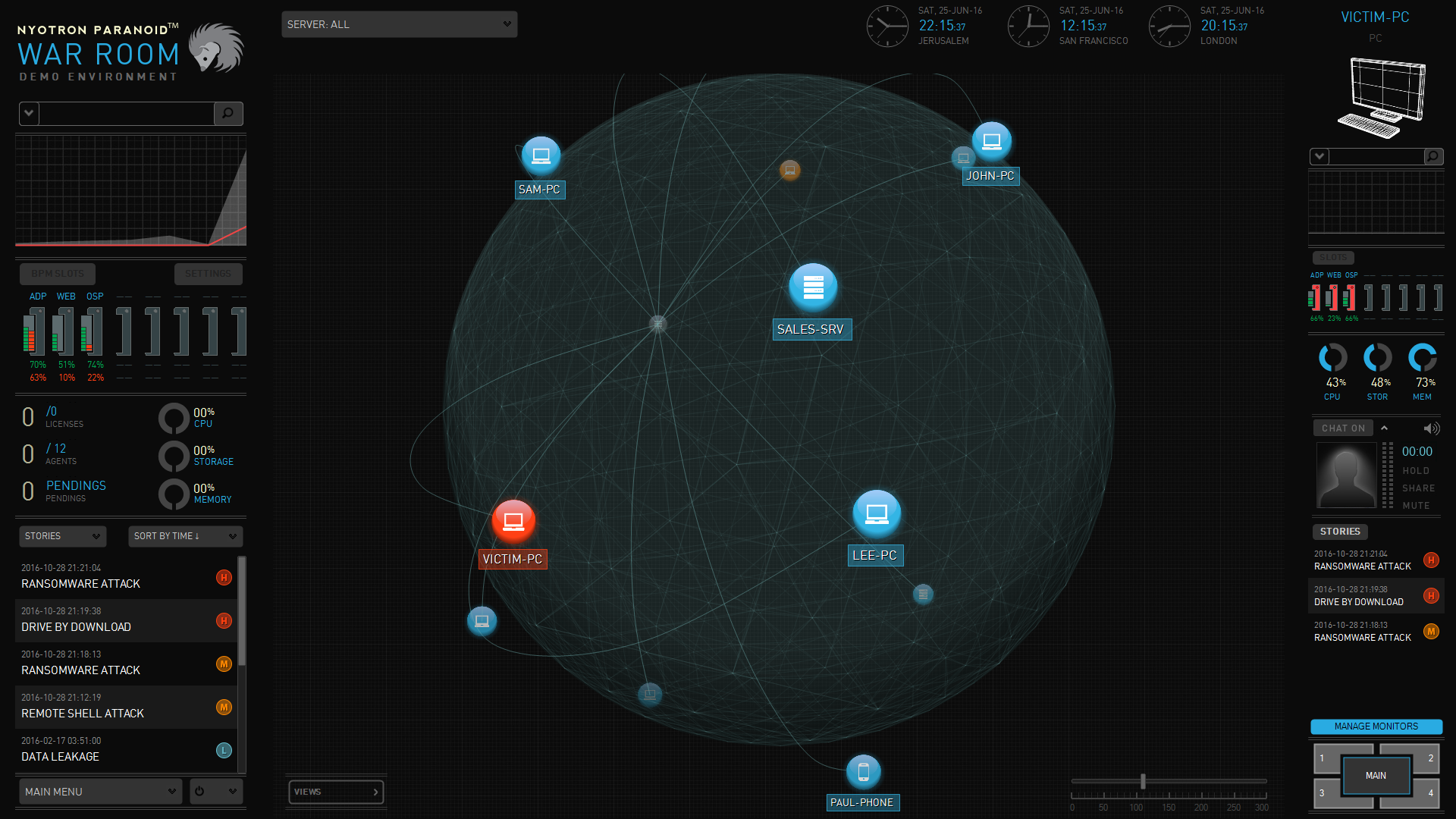 ** EACH PRIVATE 90 MINUTE SESSION LIMITED TO ONE PARTNER WHO CAN BRING UP TO 10 VIP ATTENDEES **
REGISTER NOW to Secure Your Session
Session #1: 9:00 to 10:30
Session #2: 11:00 to 12:30
Session #3: 1:30 to 3:00
Session #4: 3:30 to 5:00
About Nyotron
Nyotron is a privately held cyber security firm based in Silicon Valley with R&D in Israel that has developed a disruptive patented technology to cope with the biggest challenge facing today's CISO - the unknown threat.
PARANOID is the first-ever threat-agnostic defense technology and is designed to prevent the most sophisticated and advanced national-level cyber-attacks for the worlds agencies and organizations without any previous knowledge about the threat or its methodologies. Based on a unique last-line-of-defense approach, our technology is designed to mitigate threats that were able to outsmart all security layers.