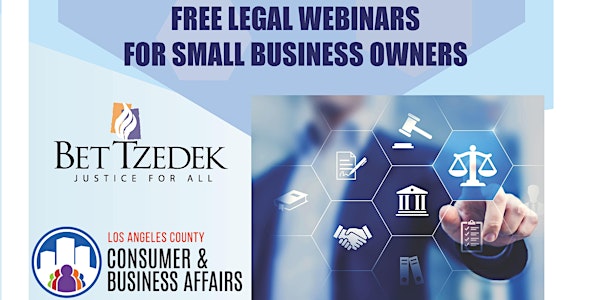 The Nuts & Bolts of Trademark Law
Learn about developing and protecting your trademarks
About this event
Our Small Business Legal Webinars are free events bringing together top lawyers to present on pertinent legal areas for LA's COVID-19 impacted small business community.
This webinar will provide an overview of trademark law and its application to small businesses; tips on how to access and utilize the resources and guidance available from the United State Patent & Trademark Office, including how to navigate the USPTO website; and nuts and bolts of conducting preliminary searches for business names and logos and other steps to take for purposes of developing and protecting your trademarks.
Attendees will also have the opportunity to sign up to be screened for pro bono legal representation and will be given information on applying to Bet Tzedek for free legal services related to the impact of COVID-19 on their small businesses.