The Nutcracker December 9th

Friday, December 9, 2016 from 7:00 PM to 10:00 PM (EST)
Event Details
Indiana Ballet Conservatory's 2016 Nutcracker will take place December 8th-11th at the Indianapolis Museum of Art! 
Come experience the magic of Indiana's premier Nutcracker tradition and enjoy the stellar dancing of Lasha Khozashvili, acclaimed principal dancer with Boston Ballet.
Children and adults of all ages will be transformed by this heartwarming tale of a young girl and her beloved Nutcracker as she battles evil and learns the value and resiliency of the human spirit. This version is closest to that of the original Nutcracker ballet that debuted over 100 years ago in Russia, so you won't want to miss this timeless and beloved holiday favorite!
Six shows at the Indianapolis Museum of Art's Tobias Theater from December 8th-11th. Staged by IBC Founding Artistic Director Alyona Yakovleva-Randall based on the 1934 choreography of Vasily Vainonen.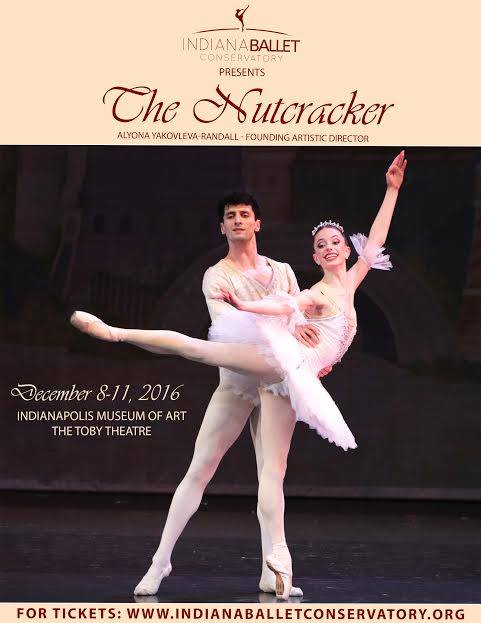 Venue map / Indianapolis Museum of Art The Toby
55645451
Handicap Seating
2
#ff8000
55807225
Balcony
5
#998ae6
55807226
Main Floor Back
4
#ff33aa
55807227
Main Floor Front
3
#ff4d4d
When & Where

Indianapolis Museum of Art The Toby
4000 Michigan Road
Indianapolis, IN 46208


Friday, December 9, 2016 from 7:00 PM to 10:00 PM (EST)
Add to my calendar
Organizer
Based on a 300-year legacy of excellence, The Vaganova curriculum that IBC employs provides ballet students with a structured, scientific dance methodology, and encompasses a holistic pedagogical approach that goes beyond basic technique. The educational depth of IBC's program not only provides for a broad exposure to many different dance forms including more contemporary styles built upon a classical base, but also inculcates a broader understanding and appreciation of art in general. Students will be educated in music, theater history, ballet history, and ballet theory. This kind of complete, comprehensive dance education is one that many other dance institutions do not offer, so students of IBC will have the rare advantage of participating in a conservatory-like approach to their overall ballet training.
Our Story
IBC is a pre-professional ballet school committed to providing the best classical ballet training to its students and launching the next generation of dancers unto the world stage. We have one of the largest gentlemen's programs in the Midwest and enroll more than 140 students; training students from around the country in our ballet programs.  IBC students continually place in top positions in national and international competitions and many pursue professional careers in dance around the world.
This sought-after training is provided by ballet notables: Alyona Yakovleva-Randall, Founding Artistic Director, Master Teacher, & Coach; Tatiana Pali, Day Program Director, Master Teacher, and Coach; Sergey Sergiev, Gentlemen's & Contemporary Instructor and Choreographer; and Hailey Agran, Administrative Director & Head of the Preparatory Division.
For more about IBC go to:  www.indianaballetconservatory.org