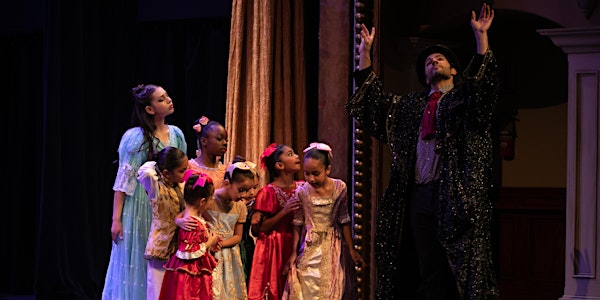 The Nutcracker 12/23 Evening
On Christmas Eve, Claire receives a strange gift from her Godfather that leads to a magical night she will never forget.
When and where
Location
Covina Center for the Performing Arts 104 North Citrus Avenue Covina, CA 91723
Refund Policy
Contact the organizer to request a refund.
Eventbrite's fee is nonrefundable.
About this event
Our tale begins Christmas Eve, 1892, in the workshop of a whimsical inventor and toymaker called Drosselmeyer.
Drosselmeyer is working on toys to take to his godchildren. He tinkers with two life sized dolls that he has created to entertain the children. He is also working on fairy tales to share with the children: the story of the Snow Queen, the story of the queen of flowers called Dew Drop Fairy, and the story of the Sugar Plum Fairy who reigns over the land of Sweets. He has made a doll to represent each character that he will gift to some of the girls at the party after story time.
Tonight, Drosselmeyer is also finishing up work on a Nutcracker doll. Although this Nutcracker doll does not represent a fairy tale character. While Drosselmeyer is loves to entertain his Godchildren, he mourns the decades past loss of his dear nephew. This Nutcracker doll is a fleeting image of the heroic soldier the young man could have grown to become.
Meanwhile, in the home of his godchildren, Mr. and Mrs. Stahlbaum are welcoming relatives to their Christmas Eve party. In our version of this tale, Claire Stahlbaum is reluctant to commit to a suitor brought to their home by distant relatives. Although her cousins are settling into their future as brides, Claire is dreaming of magic and true love on Christmas Eve. Drosselmeyer entertains the party with his imaginative toy creations. The children adore the life-sized dolls, and each girl is fascinated with his stories of princesses from far-away lands. However, Claire is finds herself drawn to the novelty and mystery of Drosselmeyer's Nutcracker. She requests an opportunity to look more closely at The Nutcracker. Honored and flattered by Claire's interest, Drosselmeyer gives it to her to keep. The doll fills her with a sense of wonder and she begins to dance happily. Claire is interrupted by the young man hoping to ask for her hand in marriage. Drosselmeyer, recognizes her hesitance. He responds by instigating support from her loving and silly younger brother, Fritz. Fritz cleverly helps Claire avoid the proposal until the night is finally over. Guests leave as the evening comes to a close. Later, Claire falls asleep only to find herself waking in a world of wonder where her Nutcracker is transformed into her companion, and the people in her life are just as magical as the content of her own heart.
About our Production:
This community ballet performance features local dancers of all ages. Our mission is to support ballet tradition in our community while providing accessible ballet training, and education. This performance benefits student learning and helps support our school's growth and development. The original libretto was adapted from the children's Christmas Fairy Tale, The Nutcracker and The Mouse King written by, ETA Hoffman. The original choreography was created by the great choreographic duo, Marius Petipa and Lev Ivanov. The music was created by Pyotr Illych Tchaikovsky, his only children's ballet. The show first premiered in St. Petersburg Russia in 1892. The show was not at instant success, but over the years it has grown into a both a classic and a massive Christmas tradition. We thank you for attending our own version and we hope you fully enjoy the show.