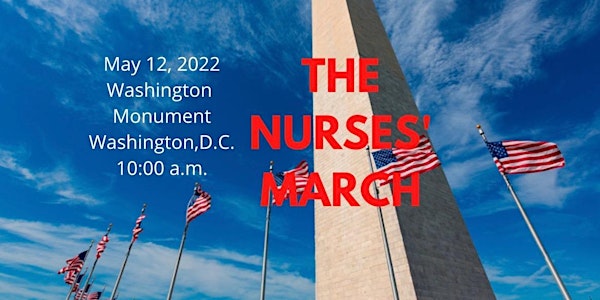 Event Information
Location
Washington Monument
2 15th Street Northwest
Washington, DC 20024
Our goal and focus is to unify every nurse across every healthcare setting to produce significant reform to our healthcare system.
About this event
Purpose Statement:
The Nurses' March was created for nurses, by nurses and healthcare workers to come together in solidarity to advocate for our patients and ourselves. Our 200-year anniversary of nursing was to happen in May 2020. Due to COVID, we got no support or commemoration. Nurses were needed. It was postponed again in 2021. Now here we are in 2022, and nothing was planned yet again.
Honor our fellow healthcare workers that were lost during this pandemic. We are finally able to come together and memorialize our friends and colleagues that we have lost. We need a space to grieve and celebrate them.
To "Change the Face of Healthcare," we want to see nurses and healthcare works be transformed from trauma to health. In order to do that we support:
*Safe workplaces, free from violence
*Workplaces that actively address the effects of racism in our profession and healthcare as a whole.
*Safe patient ratios so we may provide quality patient care and prevent burnout
*Pay that values the service we bring to the industry
We invite The National Nurses March, Nurses Take DC, Unions, and healthcare workers to join us in the moment.
For up-to-date information about the march: message The Nurses March on Facebook or www.thennursesmarch.org
Thank you, The Nurses' March
This IS a Call to Action for Change NOW!
May 12, 2022, 10:00am-2:00pm Washington Monument in Washington, DC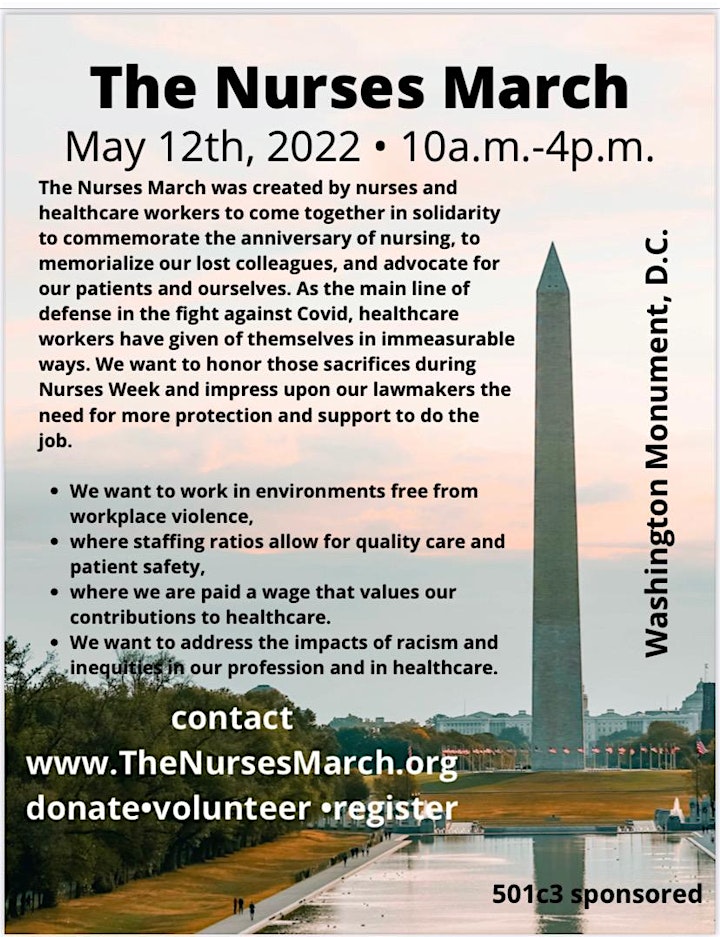 EVENT UPDATE!!!! The Nurses March: May 12 10:00 am (1000)-2:00 pm (1600) EST
We have secured the Washington Monument NE/NW sections. We are in process of finalizing details with our production crew. Project Manager Marla Barthen's, went to DC and has meet with big contracts while walking the grounds.
Please reach out if you would like to volunteer for the Event.
There is a GoFundMe account set up by Nurse Jessica Sites under The Nurses March to assist with the cost of the historical event.
Sponsorships are available!!
Event Updates:
We are very excited for The Nurses' March. We understand there is confusion with several different events all occurring during the same day. Let us clarify
Date: May 12th
Time: Start 10:00am End: 2:00pm
Where: Washington Monument
Dress Code: Anything you are comfortable in, bring sunscreen
Type: Standing Event, you may bring blankets and lawn chairs to sit in
We are the march that is having a memorial and speakers and a message from ZDogg
We are associated with Show me you Stethoscope, Nurses Take DC and The Pink Berets.
Don't forget your signs
For updated information please follow the Facebook group and page, as well as the website for up-to-date information.
www.thenursesmarch.org
Date and time
Location
Washington Monument
2 15th Street Northwest
Washington, DC 20024