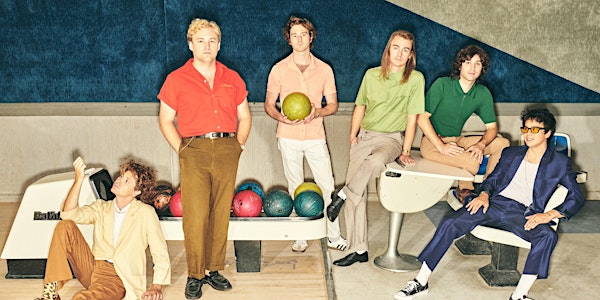 Event Information
Performers
Location
Race Street Live
114 Race St.
Holyoke, MA 01040
The Nude Party w/ special guest Habibi at Race Street Live in Holyoke, MA
About this event
For the safety of our artists, venue staff, and our community as a whole we are requiring proof of full vaccination against COVID-19 for admittance to all shows at Race Street Live until further notice. While mask-wearing is not required at this time, we still strongly encourage wearing a mask when not actively eating or drinking to protect yourself and others.
Results from a negative COVID test will NOT be accepted for entry.
Please bring your vaccination card, or a photo of it, along with a corresponding state or federal ID for entry.
The CDC defines "full vaccination" as 2 weeks after the final dose of a COVID-19 vaccine.
These policies are subject to change.
General admission standing room only.
Formed in a North Carolina dormitory in 2012, The Nude Party celebrates the clanging frat rock of the '60s. Working with early mentor and producer Oakley Munson of Black Lips, they debuted with the Hot Tub EP in 2016. The band's eponymous full-length debut arrived on New West Records in 2018, and their critically-acclaimed follow up album Midnight Manor was released in October 2020.
Originating as an extended group of childhood friends and step-siblings who decided to start a band and then began learning to play instruments, The Nude Party took root at Appalachian State University in Boone, NC. The band is comprised of lead vocalist/guitarist Patton Magee, vocalist/lead guitarist Shaun Couture, organist/pianist Don Merrill, bass player Alec Castillo, percussionist Austin Brose, and drummer Connor Mikita. Most members also sing backup. Soon after coming together, the sextet soon moved into a lake house and started a nightly ritual of jamming in the basement. It was at a regular gig as the house band at a certain Boone party locale that the group's practice of performing in the buff earned them a local reputation as "the naked party band." They adopted the moniker The Nude Party just in time to move onto bookings at local clubs and bars, where they had to perform clothed.
In 2014, the band met Black Lips' drummer Oakley Munson at a show in Charlotte. He took an interest in the group and recorded their first collection, Hot Tub EP, which they released in early 2016. As word of the EP's rawness and good-times spirit spread, the band relocated to Munson's base in the New York Catskills and began to perform regularly in Brooklyn and the surrounding region. New West signed the group for their Munson-produced full-length debut. The Nude Party was released in July of 2018 and was heralded by Rolling Stone as "equal parts 'I'm Waiting for the Man' Velvet Underground and Exile on Main Street Stones." In the year following it's release, the band opened for the likes of The Arctic Monkeys and Jack White.
Munson returned to produce their follow up full-length Midnight Manor, released in 2020. The album was met with critical acclaim, with The Line of Best Fit saying "It's an addictive and deeply satisfying exploration of the beauty and the pain, the agony and the ecstasy, and the rave up and the come down; all baked into the very grooves of every track on the album." They are currently making plans to tour both in the US and internationally.
As the world starts to re-emerge and awaken, the summer of 2021 proved to be a hot one and Habibi is ready to dance. After being coined by the New Yorker as having "the Colgate white glisten of sixties girl group pop combined with an uncensored edge" for their acclaimed debut album, Habibi broke boundaries by introducing Farsi-sung tunes on their EP 'Cardamom Garden' that "shed rigid definitions of what constitutes American music" (Pitchfork). In 2020, a month before the world drastically changed, 'Anywhere But Here', the group's prophetic sophomore album was released which led NPR's Robin Hilton to call them a "noir girl-group."
This fall, Habibi will release a two-song EP of original compositions, titled 'Somewhere' to inaugurate their signing to the legendary label Kill Rock Stars. The EP will move the unique four-piece's sound into the escapism of disco club era New York City, an expansion upon their Detroit-bred garage roots. Habibi knows it's time to cut loose and take you to the dance floor, enlisting producer Mike Stroud from Ratatat and Heba Kadry as mastering engineer. Fans of the Tom Tom Club and ESG will find here plenty to love.
Performers
Date and time
Location
Race Street Live
114 Race St.
Holyoke, MA 01040
Refund policy