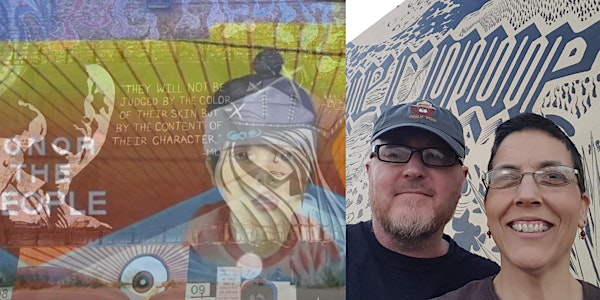 The Now of US: ACVilla, Thollem, and guest Erin Salazar
When and where
Location
Works/San José 365 South Market Street San Jose, CA 95113
Refund Policy
Refunds up to 7 days before event
Eventbrite's fee is nonrefundable.
Description
The Now Of US: The immediacy of present-day America through murals and collaborative music
An evening with filmmaker ACVilla and her new work The Now of US, keyboardist Tholem, and guest muralist Erin Salazar.
Musician/composer Thollem McDonas and video artist ACVilla are returning to their old tromping grounds with their newest work-in-progress, The Now Of US. Also known as Silver Ochre, the duo has launched their second multimedia experience of the U.S. after their 2016 48-state odyssey, Who Are US. This time, the focus is on the immediacy of present-day America through murals and collaborative music. Thollem and ACVilla will be presenting a 15 minute piece created during their residency this year in New Mexico along with a short interview with Albuquerque-based Nani Chacon, a Diné/Chicana muralist, and new raw footage.
Through The Now Of US, Thollem and ACVilla - in collaboration with guest muralist Erin Salazar and Works/San José - are offering an opportunity for us to gather, experience and talk about this country as we lead up to the 2020 elections. In past presentations, their work has inspired discussions around diversity, democracy, beauty, home, local issues, activism, universal symbols, borders and where each one of us fits in it all. Visit Silver Ochre's site to learn more about the artists: www.silverochre.com
Thollem will warm up the evening with a short Electric Confluence set (a teaser for his gig the following Wed. at Art Boutiki). Growing up in San José in the 70s and 80s, Thollem was exposed to the music of an incredible array of communities that influenced his development as a musician and person including cultures with roots from East Africa, Japan, China, Persia, Latin America, Ireland, Indonesia, Vietnam, Russia and The Balkans, as well as Jazz, Blues, Punk, Country, alongside his classical piano training and the Avant Garde. He has spent much of his adult life touring throughout N. America and Europe. "Thollem is a modern griot who has absorbed sounds from every place he has visited." (William Parker from Conversations II, Rogue Art).
Erin Salazar is an artist, idea machine, muralist, seamstress, community organizer and a public art curator. In 2015, Salazar was selected as K-880 Emerging City Champion fellowship, in 2016 was selected to represent the city of San José as a Creative Community Fellow with National Arts Strategies, and in 2017 was selected as KQED's Bay Brilliant: Women to Watch. Salazar is the 2018 recipient of State Senator Jim Beall's "Woman of the Year" award for creative enterprise. She is the Executive Director and Founder of the Exhibition District. Salazar has led many public art and advocacy projects including murals totaling 30,000 sf of vertical space and opened a 20,000 sf creative haven called Local Color in downtown San José. Her favorite color is black. Visit the Exhibition District site to learn more: www.exhibitiondistrict.com