Description

The Not-So-Silent Short Film Fest: Innovative Inventors & Wacky Inventions

July 6, 2019
7:00 p.m. -9:00 p.m.
$10.00 Creative Industry Professionals
$15.00 General Admission
$30.00 Full Festival Pass (Good for all 3 dates. Does not include "Backstage Pass")
$20.00 VIP "Backstage Pass" Pre-Show Wine Tasting by Baja Wine + Food (price per day)
Vanguard Culture and the La Jolla Historical Society present three interactive evenings of silent short films curated by award-winning multi-media curator and soundscape artist Scott Paulson. Paulson will present lively screenings of silent classics with his band, the Teeny-Tiny Pit Orchestra. Audiences are encouraged to grab sound makers ranging from exotic wooden birdcalls, to giant thunder-sheets, to old-school car horns to help underscore the films. Featuring craft cocktails and delicious gourmet popcorn varieties by Vanguard Culture's Culinary Director Chef Daniella de la Puente. Cost of ticket includes beer tasting by Cerveza Colibre, Tequila tasting by CaliFino Tequila, 1 bag of gourmet popcorn + 1 beverage.
Don't miss this wonderful evening of silent film magic in one of Downtown's best outdoor film venues: IDEA1 Apartments. Bring a friend that knows how to have fun. This is a family-friendly event!

FULL CALENDAR:
SAT 6/22 – Women Filmmakers: Pioneers of Cinema

SAT 7/6 – Innovative Inventors & Wacky Inventions
Includes a screening of the multi-award winning film short "A Good Ol' Chap" – A private investigator helps a woman who is on a search to find her long-lost mother. ***Winner*** Orson Welles Award (California Film) at The California Film Awards 2014; ***Winner*** Spirit of San Diego Award at the San Diego Film Awards 2015; 2014 San Diego 48 Hour Film Awards (Best Film, Best Actor, Best Director, Best Use of Prop – Marshmallow)

SAT 8/3 – Steampunk Celluloid Soiree. (Steampunk Costumes Encouraged but not required)
This event will also include a screening of the multi-Emmy Award winning film short Daisy Belle (2018), by director and writer William Wall. **National Academy of Television Arts & Sciences - Emmy Awards - (Best Director, Graphic Arts - Animation, Graphic Arts - Art Direction/Set Design, Musical Composition/Arrangement, Short Format Program, and Musical Composition/Arrangement); San Diego Film Awards (Narrative Short Film Category: Best Narrative Short Film, Best Production Design, Best Musical Score, Best Sound Design, Best Screenplay, Best Editing, Best Musical Score); San Diego International Film Festival (Best Local Film)**
Visit www.VanguardCulture.org for more information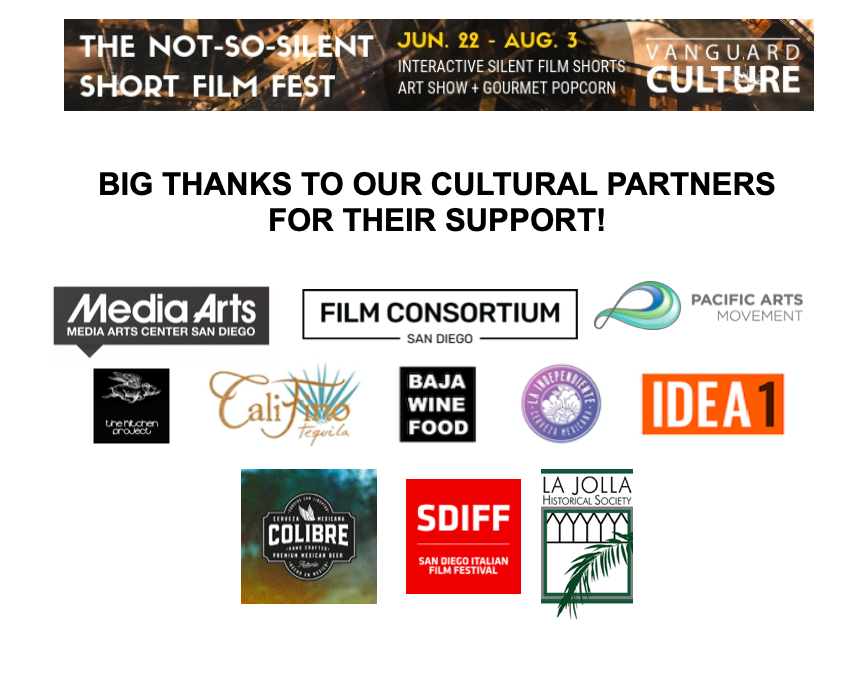 ----------------------------------------------------------------------------------
WHERE TO PARK: On most days there is plenty of street parking in this area. Many meters are free after 6pm in Downtown. Pay careful attention to street signs. We are not liable for any parking violations.
WHERE TO PARK DURING A PADRES GAME: Generally there is plenty of street parking around IDEA1 before 6:30pm on game nights. The Park it on Market parking structure (614 Market St, San Diego, CA 92101) is a 9 minute walk from IDEA1.
UBER or LYFT: Don't want to UBER/LYFT the entire distance? Park near Balboa Park and UBER/LYFT to IDEA1 (899 Park Blvd, San Diego, CA 92101).
TROLLEY: Take ORANGE or BLUE LINE to "City College Station" Trolley Stop. Walk two blocks South and make a left on F Street to Main entrance (4 minute walk) To view all of the transit stations with parking visit https://www.sdmts.com/rider-info/transit-station-parking ($2.50 each way).