The Not So Newlywed Comedy Show at the Irons in the Fire Event Center
Actions and Detail Panel
The Not So Newlywed Comedy Show at the Irons in the Fire Event Center
Fri, March 24, 2017, 6:00 PM – 9:00 PM CDT
Description
EVENT:
The NOT So Newlywed Comedy Show

DATE/TIME: Friday, March 24th from 6:00 PM to 9:00 PM

COST: $10/person - $150/Table of 8 - $200/Table of 10 by Fireplace
BYOBW: Bring your own Beer and Wine (ONLY)

DESCRIPTION:
Whether the couples have been married fifty years or JUST started dating, it's fun for everyone who's watching. The winning couple goes home with prizes, the losing couples still have to go home with each other. This is a show you do not want to miss!

According to the host's Amber Klear grandparents, the party doesn't start until the seventh year of marriage anyway. She's just helping you get prepared.

Questions will be asked, answers will be given, divorces won't happen because this game is ALL IN FUN. This game works just like any other relationship, it's as fun as the couples want to make it, although pitting them against each other can make for an interesting ninety minutes. WHAT WILL THE HUSBANDS SAY!?!?! Come to the show to find out!

PARTICIPANTS:
8 couples (TBA) take the stage to fill the evening with dirty laundry and FUN!

Are YOU in a relationship? YOU (and your significant other) can sign up to WIN! You can't win if you don't play. Sign up to compete! Simply come to the event and check in at the door! Two couples will be chosen online through Social Media and Two Couples who enter will be drawn from a hat mere MINUTES before the show.
About The Host - Amber Klear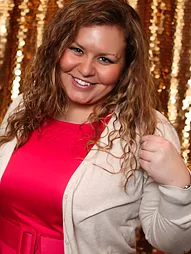 After realizing that her expressway to adulthood job was killing her (literally) she hopped on her motorcycle and rode across the US, well, after recovering from a blood clot on her brain. That's right, she traded her hospital gown for handlebars and leather. After settling back down in the Midwest, she started working with some real animals, in a real zoo. She's can't wait to tell you all about it, from gangs of bikers to swimming with sharks. Her exuberant comedy act has been featured in Thunder Roads Magazine and performing for the Fringe Festival. Imagine the energy of a tornado of sugared up kindergartners with the optimism of a dog, attention span of a chicken nugget, humor of a fifth grade boy, and the intelligence of a SIU graduate and you've got Amber! She recently found out that she was a celebrity when she was asked to be the celebrity judge in a chili cook off in Decatur, IL (the Hollywood of the Midwest). ​She was lucky enough to open (twice!) for Sammy Obeid on his record breaking 1,001 Nights of Comedy Tour, but most importantly she lived through performing at the world famous 75th Annual Sturgis Motocycle Rally.