Event Information
Refund policy
Refunds up to 7 days before event
LIHTC Income Averaging Minimum Set Aside Election Webinar with Amanda Gross - Updated! 3/2/22 --1-2:30 PM
About this event
In 2018 the Low-income Housing Tax Credit program introduced a significant change - the new "Income Averaging" Minimum Set-Aside election. While the addition of this new set-aside option was very exciting, the IRS did not address when a project would be considered in violation on the Average Income (AI)Test. The lack of clarity regarding the impact of AI violations resulted in differing opinions by industry professionals as to when the AI test is actually violated.
On October 30, 2020, the IRS issued a new proposed regulation (Proposed Treasury Regulation 1.42-19) to address some compliance issues regarding the AI test. The proposed regulation states that a single out-of-compliance unit could cause a 100% project to fail the minimum set-aside unless mitigating action is taken within 60 days after the end of the owner's taxable year.
In this webinar, Amanda Lee Gross breaks down the changes to Section 42 of the Internal Revenue Code relating to this new election and does so in an easy to understand format. Amanda Lee also highlights the benefits as well as the potential challenges owners may face with making this all-important election. Amanda Lee will also discuss the IRS proposed regulations , published October 30, 2020, and the severe implication noncompliance would have on a projects tax credits.
Topics include:
Overview of the LIHTC program's Minimum Set Aside (MSA) Requirements
Understanding the available options
Effect of the owner's multiple building election on the MSA
Method of Achieving the Average Income Set-Aside
Calculating income and rent limits based of the new set-asides
Complying with the Next Available Unit Rule at an Average Income project
Potential affects of Noncompliance at an Average Income Project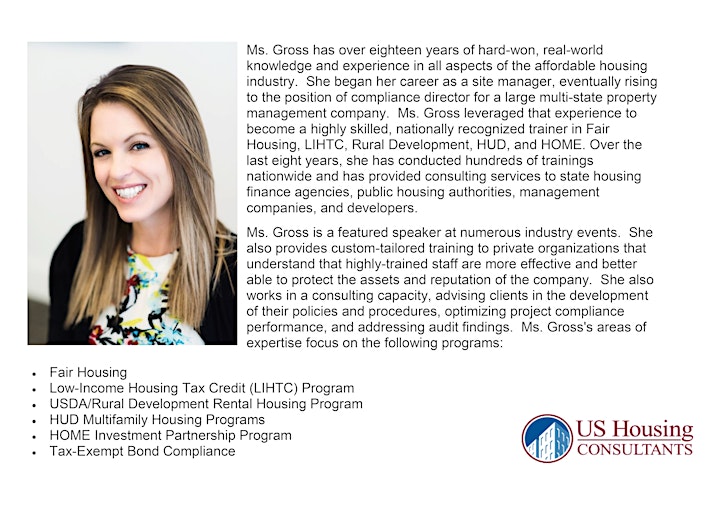 Date and time
Location
Refund policy
Refunds up to 7 days before event
Organizer of The Not-So Average LIHTC Income Average Minimum Set Aside Election 3/2/22