Multiple Dates
The Not-Creepy Gathering for People Who Want to Fall In Love -SEATTLE
Event Information
Refund policy
Refunds up to 7 days before event
This structured, participatory event is all about connection. It's fun. And surprising. And weird! And real.
About this event
"The Not-Creepy Gathering for People Who Want to Fall In Love"
ONLINE EVENT via Zoom - links/details emailed the day before the event
Curated & produced by Jenna Bean Veatch
http://www.thenotcreepygathering.com/
Drawings by @hands.words.robots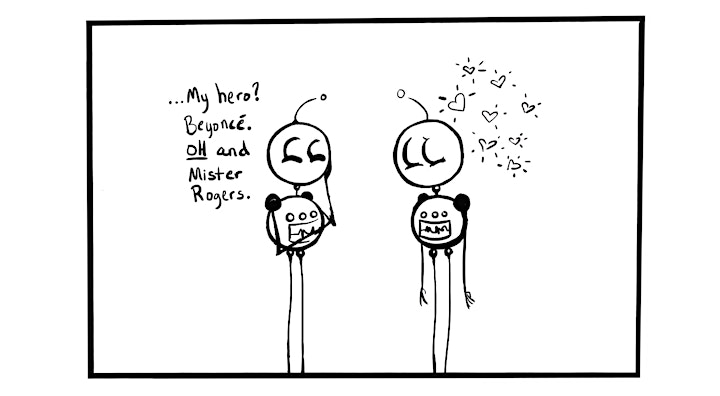 [As heard on KUOW & seen in The Evergray & Seattle Times ]
More Info
"Are you a nice person who just wants to meet another nice person?
This event is for you!
Wanna know what it would look like if an artist came up with an antidote to cruise-y bar scenes and soulless dating apps?
Come find out!
What if I'm gay?
That's great! This event is not just for straight people.
Aw, I do want love, but I'm too old.
No you're not!! This event draws adults of all ages.
Are you scared?
It's okay. Me, too. Let's be scared together.
I feel weird about looking for love when there's so much anti-racism work to do.
I feel that, too! AND,it turns out, practicing being brave by SHOWING UP as our whole, true selves, even when we're scared, is helpful for relationships and for social justice work. Actually, it's helpful for kind of everything.
* * *
This structured online event is not about scrolling and swiping and making snap decisions based solely on physical appearance. This event is about being open enough to see each other's humanity.
You might meet your new boo! Or you might not. You might meet your new bestie or protest buddy. Or you might just leave feeling more connected to your community and more connected to yourself.
Bring a notebook!"
-Jenna
Tickets
To support equitable access, tickets are sliding scale online.
Please pay what you can to support community events
$7 Discount (limited quantity), $16 Regular, $25 Awesome Supporter (thank you!)
(not including ticket fees)
21+
Event is limited to approx 50 people
We offer an online waiting list once tickets are sold out
Note: Your email will be shared with Jenna the event curator for followup purposes only and will not be sold. You may also be added to the Abbey Arts email list which has an easy single click opt-out option.
ABBEY ARTS EVENT INFO:
- Arts Connect provides free tickets for nonprofit workers, low income families, and veterans to attend concerts
- Volunteer opportunities are available for most shows (include free entry) www.fremontabbey.org/volunteer
- Attending Abbey Arts events indicates agreement to adhere to the Abbey Respect Policy. All are welcome. No hate speech, no weapons. www.abbeyarts.me/respect
-----------------------------------------------------------
ABBEY ARTS, SEATTLE | NONPROFIT 501C3, NON-RELIGIOUS, EST. 2005
Presenting welcoming music, arts & cultural experiences for people of all ages & incomes.
We support low income families, veterans, and humanitarian nonprofit workers with free event tickets. http://www.fremontabbey.org/artsconnect
Venue rental info & more: http://www.fremontabbey.org/rent
Concert & events calendar: http://www.abbeyarts.me
Home Venue: Fremont Abbey, 4272 Fremont Ave North, Seattle, WA 98103 / 206-414-8325
Ballard Homestead: 6541 Jones Ave NW, Seattle
All ticket sales are final unless noted.
Location
Refund policy
Refunds up to 7 days before event
Organizer of The Not-Creepy Gathering for People Who Want to Fall In Love -SEATTLE
COVID Safety Info:
All current state and local health guidelines must be followed
12+ windows open and lots of fresh air flowing
Very limited capacity
Per State Law, if not vaccinated masks are required for any indoor locations except when eating/drinking
Musicians will be distanced back on the stage when singing
Individual events may have additional safety measures in place
-----------------------
ABBEY ARTS, SEATTLE:
NONPROFIT 501C3, NON-RELIGIOUS, EST. 2005
Fremont Abbey | Ballard Homestead | South Park Hall | St Mark's Capitol Hill | The Auditorium @ UHeights |  & more
Independent nonprofit, non-religious, all ages/incomes. 
Low Fee Tickets! No hidden high fees like Ticktmstr. :-)
  (Note: Comedy shows may have different ticketing fees)
[ Click here to subscribe to our optional text messages. ]
[The views and opinions expressed at events are those of the artists and performers and do not necessarily reflect Abbey Arts. About Page | Respect Policy.]
Refunds may be available per event settings.
No refunds due to support act changes.
Tickets for rental events may be via their website.