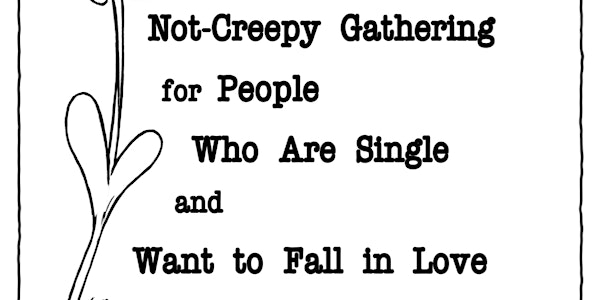 "The Not-Creepy Gathering for People Who Are Single and Want to Fall In Love" Ages 40s & Beyond! - SOLD OUT
When and where
Location
Fremont Abbey Arts Center 4272 Fremont Avenue North Seattle, WA 98103
Refund Policy
Refunds up to 7 days before event
Description
6/29 "The Not-Creepy Gathering for People Who Are Single and Want to Fall In Love" - for people age 40s and beyond - 1st floor Gallery - SOLD OUT
+ Artist Jen Towner pre show
+ Concert upstairs post show (Separately ticketed) with Jason Webley
[ As heard on KUOW | Seattle Times Article ] Not-Creepy Gathering website
Events curated by Jenna Bean Veatch
"While Veatch is hesitant to give away what exactly will be on the roster for those who show up with a desire to find a love connection—whether they're gay or straight, young or old, black or white, Democrat or Republican—she notes that it will be a structured event involving things like writing exercises, opportunities to talk one-on-one, and chances to present oneself to the entire group. (If you're coming, you should also be sure to bring along a notebook.)" - Cascadia Weekly
From past attendees:
"This is like benevolent counter-culture."
"You made a potentially awkward night super fun!"
"I left feeling more connected to my community and more connected to myself."
"I so appreciate you holding this space, and bringing depth, light-heartedness and hope to so many people."
"Thank you SO much for organizing the event. It was a lot of fun, and I even left to grab drinks after with a new friend!"
"A heart-felt thank you for the invitation and space to be safely me. Thanks to your helpful crew, too! Let's keep doing this good work--the world needs us!"


---------------------------------------
6/28: Specifically for people ages 20s-40s - SOLD OUT
with artist Steph Kese

6/29: Specifically for people ages 40's & Beyond - SOLD OUT
with artist Jen Towner

7/12: New Event added, all welcome (21+) - TICKETS ONLINE
with artist TBD
9/27: Specifically for people ages 40s & beyond
with artist TBD
9/28: Specifically for people ages 20s-40s
with artist TBD
---------------------------------------
6:00-8:00p event, 5:30p doors
To support equitable access, tickets are sliding scale online.
Please pay what you can to support community events

$5 Discount (limited), $12.50 Regular, $20 Awesome Supporter
(not including ticket fees)
21+, partly seated + standing room
cash/credit bar available (local beer, wine, cider)


-----------------------------------------------------------
ABBEY ARTS EVENT INFO:
- Fremont Abbey is ADA accessible on either level.
- We have a mix of normal chairs, some tall chairs, and standing room in back.
- Arts Connect provides free tickets for nonprofit workers, low income families, and veterans to attend concerts
- Volunteer opportunities are available for most shows (include free entry) www.fremontabbey.org/volunteer
- Entering the venue indicates agreement to adhere to the Abbey Respect Policy. All are welcome. No hate speach, no weapons. www.abbeyarts.me/respect
-----------------------------------------------------------
ABBEY ARTS, SEATTLE | NONPROFIT 501C3, NON-RELIGIOUS, EST. 2005
Presenting welcoming music, arts & cultural experiences for people of all ages & incomes.
We support low income families, veterans, and humanitarian nonprofit workers with free event tickets. http://www.fremontabbey.org/artsconnect
Venue rental info & more: http://www.fremontabbey.org/rent
Concert & events calendar: http://www.abbeyarts.me
Home Venue: Fremont Abbey, 4272 Fremont Ave North, Seattle, WA 98103 / 206-414-8325
Ballard Homestead: 6541 Jones Ave NW, Seattle
All ticket sales are final unless noted.