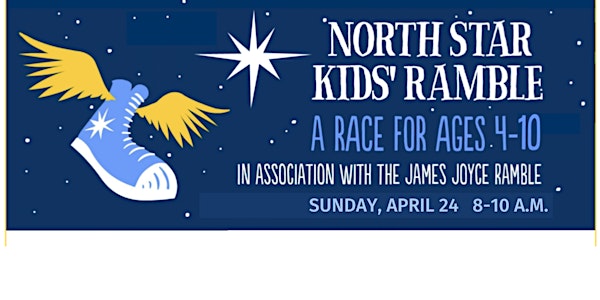 The North Star Kids Ramble 2022
The North Star Kids' Ramble is a fun run for kids and their families on Sunday April 24, 2022, with registration beginning at 8 a.m.
When and where
Location
The Endicott Estate 656 East Street Dedham, MA 02026
About this event
North Star Kids' Ramble has been a fun run for kids preceding the iconic James Joyce 10K Ramble in Dedham for more than two decades. The Kids' Ramble, a one-of-a-kind literacy-themed fitness event for kids, will take place on Sunday, April 24, rain or shine, at Dedham's historic Endicott Estate.
The children's races are held in the field adjacent to the greenhouse on the corner of Walnut and Mount Vernon Streets.
Free registration begins on-site at 8:00 a.m. with the races scheduled from 9 am to 10:00 am. While children are waiting for the races to begin, they are invited to enjoy other activities.
8 am: Registration and Activities begin.
9 am: for family groups to run together - 1 K Family Fun Run (5 laps around our course).
9:20 am: Pre-K / age 4 and under - 50 meter dash.
9:30 am: Grades K and 1 / ages 5-6 - 100 meter dash.
9:40 am: Grade 2 and 3 / ages 7-8 - 200 meters (1 lap around course)
9:50 am: Grades 4 and 5 / ages 9-10 - 500 meters (2.5 laps)
NOTE: You may register for both the Family Fun Run and for the individual kids' races.
The Kids' Ramble features age-specific races ranging from the 50-yard dash to 500-yard dash, as well as a Dedham Family Fun Run around the perimeter of the kids' field. Any child wearing an official registration number who crosses the finish line will get a ribbon and a free book, donated by The Blue Bunny and several associated children's publishing houses. Co-sponsored by the The Blue Bunny Bookstore and its non-profit partner, the Reynolds Center for Teaching, Learning and Creativity, as well as the Dedham Library Innovation Team, the kids' ramble typically draws between 200-300 children and their families from Dedham and surrounding towns, and all are invited to participate at no charge.
NOTE: The Dedham Library Innovation Team will be hosting a spice donation table for the Dedham Food Pantry at this event. Participating families and other members of the community are invited to bring new unopened spices and non-perishable sauces and international foods to donate. The collection is inspired by a similar program being sponsored by the Boston Public Library this year to help those in need of help from food pantries maintain their cultural identity and family traditions.