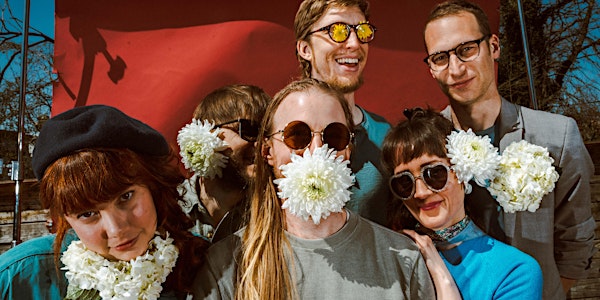 The North Country ALBUM RELEASE
Performers
The North Country
Toebow, The House You Grew Up In
Location
DC9 Nightclub
1940 9th St NW
Washington, DC 20001
with Toebow, The House You Grew Up In
About this event
Proof of Vaccination REQUIRED
DC9 will require proof of vaccination for entry. Physical card or digital photo will be accepted. Proof of vaccination must match name on photo ID and will be checked at the door.
You can find more information HERE.
Things change quickly and we are all in the same boat trying to navigate and do our best to keep our concerts and communities safe. We appreciate your patience and understanding with our staff as we navigate this together. Thank you for your cooperation & continued support!
This is an ever changing situation and we reserve the right to change these policies at any time.
The North Country

WEBSITE | FACEBOOK | INSTAGRAM | TWITTER | SPOTIFY

Andrew Grossman—bandleader, guitarist and lead vocalist for DC's The North Country—documents his search for widespread subjective truth through expressive, narrative-based songwriting, providing both context and personal color on the trials, tribulations and tiny victories of 21st-century adulthood. Blending polyphonic psychedelia, classic American songwritership and soulful indie-rock compositions, The North Country is a band with a distinct message and broad appeal. Think about a deep songwriting session between Elvis Costello, Andrew Bird and Jeff Lynne, mix in Songs in the Key of Life-esque horn arrangements, St. Vincent's otherworldly progressions, and you're on your way to understanding The North Country.

Toebow

WEBSITE | FACEBOOK | INSTAGRAM | TWITTER | SPOTIFY | BANDCAMP | SOUNDCLOUD

Toebow was born in Brooklyn in 2013 as a duo, evolving and expanding over the years into a formidable 5-piece band. Described by one reviewer as "a nice dose of shapeshifting, complex art pop" (Brooklyn Vegan), the music of Toebow shimmers with fluttering guitar lines, colorfully layered percussion and bass, tight vocal harmonies, lush synth lines, and the occasional drum machine to tie the gentle chaos neatly together. Wacky by nature but severe in execution, Toebow "artfully straddles the border between sincerity and goofiness" (ThrdCoast) yet their songs often confront the more stoic and somber realms of experience.

The House You Grew Up In

WEBSITE | FACEBOOK | INSTAGRAM | SPOTIFY | BANDCAMP

The House You Grew Up In, abbreviated THYGUI, is a 5 piece psychedelic indie rock band from Washington DC. THYGUI blends the sound and feel of late-60s-era psychedelic rock with the abstract lyrics and humor of indie bands of the 90s and 2000s like Pavement and The Unicorns. In recent years, THYGUI's sound has begun to include more churning basslines and dreamy melodies reminiscent of The Brian Jonestown Massacre, Beck, and The B-52s. Formed in 2010 as the solo project of Jordan Brown, the band's songwriter, lead singer, and guitarist, THYGUI changed size and composition several times before settling into its current lineup. Drummer Raymond O'Mara and guitarist Damon Effingham joined Brown in 2014 and were joined shortly after in 2015 by their childhood friend and bass player, James Howard. Cait Hone joined THYGUI as an additional vocalist in early 2019.