Description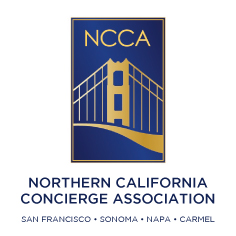 YOU'RE CORDIALLY INVITED!!
The Ninth Biennial Concierge Trade Show
Date: April 17th, 2017
12:00 pm to 5:00 pm
At
The San Francisco Hilton Union Square
333 O'Farrell and Taylor
At the Golden Gate Ballroom-Level 2
WHO'S INVITED?
NCCA Members, Hotel General Managers and their Sales and Marketing, Catering and Events, Food and Beverage Managers, Concierge and Guest Services Residential, Corporate and Affiliate Concierges
Board of Directors from California Concierge Associations Tour Guild Members, Press, Media and Public Relations; Select City Officials
We offer you an exceptional opportunity to meet over 100 partners in the hospitality industry including restaurants, catering services, wineries, theaters, tour and transportation operators, attractions, retail and personal service providers from all over Northern California.
Come see new trends or visit with old friends as they showcase what Northern California and the Greater Bay Area has to offer for our guest!
There is absolutely no cost for admission but you must register prior to the event to gain admittance.
Date and Time
Location
hhoteSan Francisco Hilton Union Square
333 O'Farrell Street- cross street Taylor
San Francisco, CA 94102