Legends of Blues and Roots Rock
About this event
SATURDAY, SEPTEMBER 4
DOORS, BAR, & KITCHEN OPEN at 7PM
SHOW at 8PM
TICKETS
GENERAL ADMISSION: $15 + admission tax & processing fee
DOOR: $18 + admission tax
Advance ticket sales end at 6PM the day of the show. If tickets are not sold out by this time they will be available for purchase when the doors open.
ALL TICKET SALES ARE FINAL
IMPORTANT INFO
This is an all-seated event in the theater
GENERAL ADMISSION - arrive early for best choice of seating
All ages
FULL MENU AVAILABLE - save room for dessert!
________________________________________________________
THE NIGHTHAWKS
The Nighthawks current line up is:
Mark Wenner: Vocals, Harmonica
Mark Stutso: Drums, Vocals
Paul Pisciotta: Bass
Dan Hovey: Guitar, Vocals
When Mark Stutso, master of the deep groove, joined The Nighthawks at the beginning of 2010, the 21st-century version of the legendary American roots band was complete. With Paul Bell and Johnny Castle in the band for nearly a decade, and founding father Mark Wenner the remaining original, this team outshines all previous incarnations.
The Nighthawks was an idea in Mark Wenner's brain long before he was able to implement it. The musical product of pre-1958 radio in Washington, D.C., he did not know there were rules against mixing blues, R&B, honky-tonk country, doo-wop, gospel and rockabilly into one delicious stew.
In 1972, Mark, then 23, returned to his hometown after a New York City band apprenticeship eager to start a real, work-every-night band based on American roots music. He found a receptive local scene. Washington has long been a musical melting-pot of the kind that made Memphis the source point for the evolution of American music in the second half of the 20th century. It just never had a Stax or Sun record label to tell the world. As the city exploded with an influx of people from all the surrounding states during the Great Depression and World War II, Washington became a hotbed of musical cross-fertilization. When Bill Haley first brought his wacky Pennsylvania mix of hillbilly music and rhythm and blues to D.C. in 1952, people got it. And white kids like Mark found the Howard Theater – now recently restored and part of the historic top tier of the Chitlin' Circuit that included Baltimore's Royal, Chicago's Regal and New York's Apollo – just a 25-cent bus ride away from the suburbs.
The Founding Quartet:
The original Nighthawks lineup solidified in mid-1974. Bringing together frontmen Mark Wenner and the young Jimmy Thackery with a veteran rhythm section, Jan Zukowski on bass and Pete Ragusa on drums, the quartet ruled the highways and honky-tonks until Jimmy's departure in 1986 to pursue a solo career. The band opened many doors and forged many touring routes for their contemporaries, including the Fabulous Thunderbirds, Stevie Ray Vaughan and Robert Cray, and played with as many Blues and Rockabilly legends as they could. They opened show after show for Muddy Waters, James Cotton and Carl Perkins, and backed up and recorded with John Hammond and Pinetop Perkins.
The first years after Jimmy's departure were a bit under the radar. Mark, Jan and Pete soldiered on, taking on such roles as Elvin Bishop's East Coast band (from Halifax, Nova Scotia, to Key West) and becoming the backing band of choice for the Rosebud Agency's showcase tours with John Lee Hooker, Elvin Bishop, John Hammond and Pinetop Perkins. After a series of guitarists of the month that included Warren Haynes and Steuart Smith, a collaboration with Wet Willie frontman Jimmy Hall led to several years with a solid quintet that also included guitarist Jimmy Nalls (Sea Level, D.C. Dog). That version of the band never released any recordings, although if you order Jimmy Nalls' CD from his website he will include a free live show of the Nighthawks from New York's Bottom Line during that era.
The next iteration of the group saw a young Bob Margolin protégé from Chapel Hill, Danny Morris, step in as guitarist with the original three members, bringing the band back to a quartet. Morris stayed four years before leaving to pursue his love of surf guitar. He was followed in that role by Upstate New Yorker Pete Kanaras. Nine years later, Pete Kanaras left, and Jan Zukowski signed on with the Fabulous Hubcaps, a popular East Coast oldies show band. Pete Ragusa stayed until 2010, opting to work closer to home as a freelance player and producer.
A Team of Veteran Players:
The current members bring decades of varied experience to the stage and studio. Paul Bell has played in many influential bands around the Nation's Capital and is the consummate D.C. guitarist, capable of soul scratching or country picking. Paul was less familiar with the classic Robert Lockwood/Louis Myers styles of Chicago blues playing than some of his predecessors, but it didn't take long for him to add those to his bag of tricks. When he plays a slow blues solo, you can hear a little of late D.C. picker Roy Buchanan, but without the tortured hysterics. Paul spent 10 years working with legendary blue-eyed soul man and keyboardist Tommy Lepson, who subbed for Mark Wenner on a number of dates this year while Mark recovered from open-heart surgery.
Johnny Castle started his D.C. career with Crank, popular early hard-rockers who opened for Jimi Hendrix. He spent journeyman time with Eddie and Martha Adcock in the heyday of D.C. Bluegrass, mixing comfortably with legends such as Bill Monroe and Ralph Stanley at festivals. After a stint with funk in an outfit called Spatz, he came through Tex Rabinowitz's Bad Boys at the height of the Rockabilly revival, splitting off to form the psycho-billy band Switchblade. In 1984, Mark Wenner developed a repertoire of material with Switchblade and together they recorded Mark's Fugitive – a project that mixed hard rocking country classics with electric blues instrumentation (think Kentucky Headhunters). Live versions of some of those tunes can be heard on Mark's compilation, Runs Good, Needs Paint. Before joining the Nighthawks, Johnny spent a decade recording and touring with diesel-billy legend Bill Kirchen.
Mark Stutso spent nearly two decades with former Nighthawk Jimmy Thackery. Before that he played in a number of big and small-time rock bands, including Ruffryder – a spin-off of Black Oak Arkansas – and Virginia Beach-based Trix. Originally from deep in West Virginia and Southwest Virginia, Mark put in five years in the coal mines before escaping into his drum kit. He lives in Pittsburgh and has collaborated with the late Glenn Pavone and Norman Nardini. His vocals are a force to be reckoned with.
Blues Music Award:
In 2009, Sirius XM's Bill Wax, having heard that The Nighthawks were playing some acoustic shows, invited the band to record some live tracks for his "B.B. King's Bluesville" channel. In less than two hours, the band cut almost a dozen tunes. A week later, Bill handed them a mixed version with permission to release. After Bill Wolf's magic-touch in the mastering, Last Train to Bluesville was released on RipBang Records. With the able assistance of publicist Mark Pucci and radio promoter Todd Glazer, the CD won Acoustic Album of the Year at the Blues Foundation's Blues Music Awards in Memphis in May 2011.
BE SURE TO BRING YOUR APPETITE!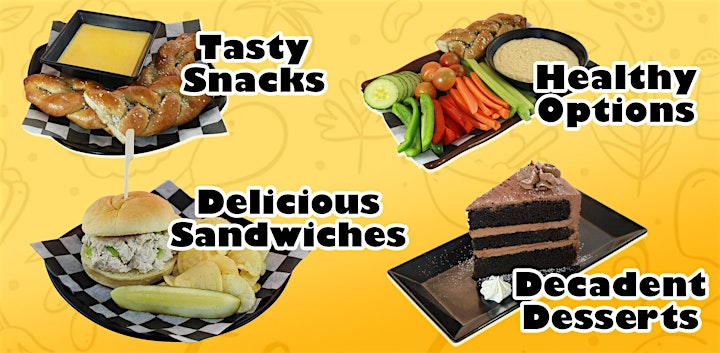 FAQs:
Is there lodging nearby?
There are lots of great and affordable lodging options — from hotels and motels to camp grounds and bed & breakfast spots — just minutes away from Bright Box. Right around the block is the elegant George Washington Hotel, and Courtyard Marriott is quick drive and within a stones throw to the beautiful (and highly recommended) Shenandoah Valley Museum. Check out these websites to explore your options and discover all the wonderful opportunities in Winchester:
• http://www.visitwinchesterva.com/lodging/hotels-and-motels
• http://oldtownwinchesterva.com
Where do I park?
Bright Box is located at 15 N. Loudoun St. on the beautiful pedestrian mall in Old Town Winchester. The nearest parking is the Braddock Auto Park at 30 N Braddock St. This is about a block away from the venue. The parking garage does have several handicap parking spaces available.
Once you've parked in the garage you'll exit toward the pedestrian mall. Once you hit N. Loudoun you'll make a right and Bright Box will be on your right a few storefronts up, directly across from the Old Court House Civil War Museum
More information about the garage can be found here: https://www.winchesterva.gov/parking/garage-information
Is Bright Box handicap accessible?
Absolutely. The venue is handicap accessible and ADA compliant. The infrastructure in Old Town Winchester is friendly toward those with physical challenges or in wheelchairs. Park in one of the close-by parking garages and come to the main door at 15 N. Loudoun St. (the walking mall). We ask that you arrive when doors open, and we will be happy to escort you to a place best suited to your needs in the theater or to take you to the elevator to access the upstairs Out of the Box room.
Performers
Date and time
Location
Refund policy
Organizer of The Nighthawks