The Night Rutter - a 40 or 20 mile Challenge walk for #teamgeorge
Actions and Detail Panel
The Night Rutter - a 40 or 20 mile Challenge walk for #teamgeorge
Fri, 16 Jun 2017, 23:59 – Sat, 17 Jun 2017, 16:00 BST
Description
It's nightime, the sky is clear, the stars are out and cause is worthy....are you ready to go?
The #teamgeorge team have put together a challenge that is local, unique and will test your resolve.
You're going to need to train, to have the right kit and be ready to face a real challenge. For those that want to, this challenge will also give you a chance to experience the local countryside in a way you've never seen it before - in the dark!
Welcome to the Rutter, a 20 and 40 mile challenging hike that takes you through the wilds of the Rutland Round whilst raising money for this fantastic local cause - #teamgeorge
Which challenge are you ready to take?
The Full Rutter is a tough 40 mile hike that starts at midnight in Uppingham. It's going to be mentally and physically tough. The terrain could well be wet, muddy and it will potentially break you. It's a serious challenge, but it's also going to be fun and if you complete it your achievement will be amazing.

The Half Rutter is everything that the Full Rutter offers, just half the distance at 20 miles and it starts at 7am in Normanton to join in with the Full Rutter teams at the halfway point...no speeding off as they will have tired legs!
If you want to take part in this great local challenge and help support #teamgeorge, you need to assemble your team, register for your chosen Rutter and start your training!
Welcome to the #teamgeorge 'Rutter squad'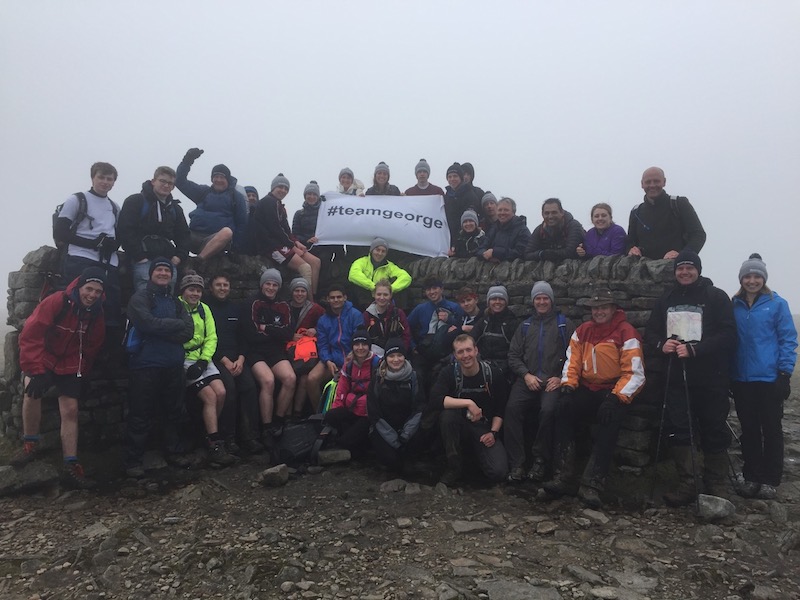 The above is a previous #teamgeorge challenage event on the top of the Yorkshire 3 peaks
To register:
This is a team based event, so you need to find some willing teammates first (min of 3 and a max of 6). Once you have done that, click on the Register button to register your group name or join an existing group, select your Rutter ticket type and then get yourself and your team registered. You will need key personal information for each team member, so ask each member to register themselves under your group name. Registration is £32.45 per person and includes all fee's, breakfast and a celebration BBQ after the event.
Participants must be 18 and over. Participants aged 16 and 17 can take part, but must be accompanied by a responsible adult.
Each team member has to raise as close to £250 as they can....but if you raise more we will love you for it and might even clean your boots at the end!
Once registered a more detailed information sheet will be mailed out to you covering key information and instructions for the event and support for raising money for the #teamgeorge trust.