Location
Cape Fear Community College Union Station | Auditorium
502 N. Front Street
Wilmington, NC 28401
Refund policy
Contact the organizer to request a refund.
Eventbrite's fee is nonrefundable.
Equity & Inclusion Summit is recommended for individuals who work in human relations, outreach, community relations, government, and more.
About this event
Summit Summary
Since the death of George Floyd, communities across this country continue working towards a new level of diversity, equity, and inclusion, however the workable strategies to do with work remain under daily construction. The Equity and Inclusion Summit was created to help promote productive strategies and discussions that are working in communities across this region.
Our expert panel of presenters will introduce you to their experiences and efforts during this two-day summit. Our topics will explore how we can create inclusive communities, exploring the language barriers that exist as we navigate life's processes, to how we tolerate diversity in our own lives. Join us as brilliant and diverse minds discuss and unpack the pressing issues of our cultural differences and how we embrace them and celebrate diversity.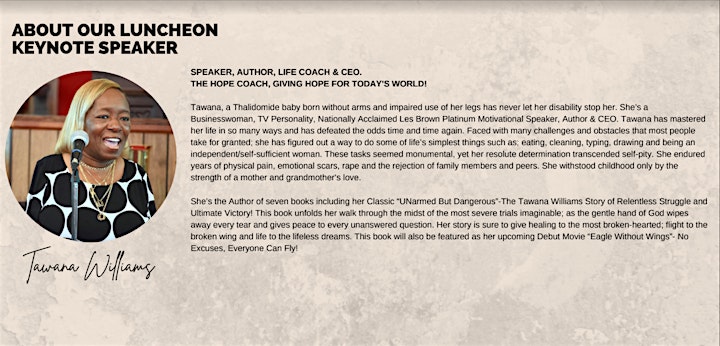 Summit Schedule
September 8th
8:00 a.m. - 9:00 a.m. | Registration & Check-in, Welcome Breakfast
9:10 a.m. | Welcome & Why We Are Here
9:30 a.m. | Creating an Inclusive Community
10:45 a.m. | The Intersection of Race, Place & Poverty
12:00 p.m. | Lunch - Keynote: Tawana Williams
1:30 p.m. | Creating Language Access in Your Community
2:45 p.m. | Generation Z Bias Panel Discussion
4:00 p.m. | Implementing DE&I In Your Space
September 9th
8:00 a.m. - 9:00 a.m. | Breakfast & Card Swap Networking
9:15 a.m. | Necessary Conversations
10:30 a.m. | Creating an Inclusive Community for LGBTQIA+
11:45 a.m. | LUNCH ON YOUR OWN
1:00 p.m. | Creating a Space for Restorative Justice in Your Community
2:30 p.m. | Short Fil & Discussion: "Hello" (1st Place in the Nikon Cinema Z Film Fest 2019)
3:30 p.m. | Close out Session - What's Next?
Presenters
Zedrick Applin, Head of Diversity, Equity, Inclusion & Community, nCino
Dr. Kimberly Cook, Restorative Justice Facilitator, New Hanover County
Joseph "Joe" Conway, Chief Equity & Inclusion Officer, City of Wilmington
Travis Corpening, Diversity and Equity Specialist, New Hanover County
L.S. Bo Dean, Jr., Senior HR Analyst for Training and Development, New Hanover County
Emmanuel D. Harris II, Ph.D., Professor, University of North Carolina Wilmington
Velva Jenkins, Chief Executive Officer, YWCA Lower Cape Fear
Marimer McKenzie, Outreach Coordinator, NHC Office of Diversity and Equity
Caroline Morin, Executive Director, LGBTQ Center of the Cape Fear Coast
Danya Perry, Director of Diversity, Equity & Inclusion, Wake County
Dr. Donyell Roseboro, Chief Diversity Officer, University of North Carolina Wilmington
Linda Rawley Thompson, Chief Diversity and Equity Officer, New Hanover County
Keryn Vickers, Ed.D., Inaugural Director of Student Advising, University of North Carolina Wilmington Watson College of Education Office of Student Advising
Daisy Wooten, Deaf Services Specialist, NC DHHS