The NFL Alumni SoCal 3rd Annual Toys For Tots Charity Red Carpet Holiday To...
Description
ARE YOU READY FOR SOME FOOTBALL FOR A GOOD CAUSE?
This is the third and LAST event of our three event NFL Alumni SoCal Charity Event Series 2018 and we're teaming up with the Marines and Toys For Tots once again.
Thank you to all who supported our Breast Cancer Awareness and Canned Food Drive events this past October and November.

Pictures from both the Breast Cancer Awareness Event and Canned Food Event can be viewed at https://admpevents.com/NFL-alumnisocal-events-2018/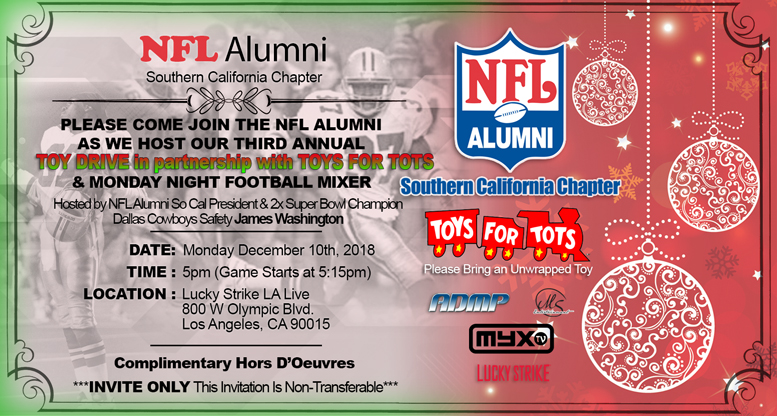 ---

As in years past, this is a PRIVATE event with former and current NFL Players, as well as esteemed guests, with the focus of bringing awareness to various charitable causes.
Event Details:
- Hosted by the NFL Alumni Southern California
- Doors Open at 5:00pm
- Red Carpet Opens at 5:15pm
- Game Starts at 5:15pm
- Monday Night Football Viewing
- Complementary Bowling & Pool
- Cocktail Reception Attire (No Baseball Caps or Shorts)
These are FUN events, for a good CAUSE. So come out and show your support for the NFL Alumni So Cal and these Charitable Events.