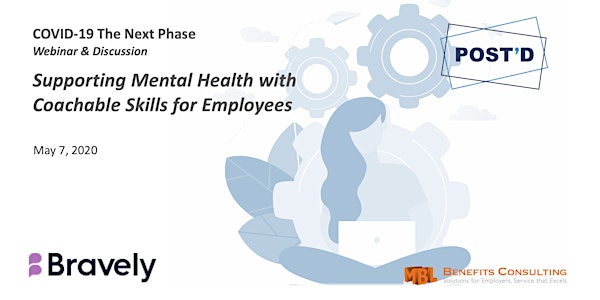 The Next Phase: Supporting Mental Health w/ Coachable Skills for Employees
Now that the initial shock and novelty of coronavirus is passing this webinar will address what employees will need in the next phase.
About this event
Now that the initial shock and novelty of coronavirus is passing, this webinar presented from the team at Bravely, will address what employees need in this next phase.
The webinar, will cover the critical skills to support mental health in the workplace through the COVID-19 pandemic addressing:
Resilience
Agility
Vulnerability
Tactical strategies to coach employees through this unprecedented time
This webinar will be led by Sarah Sheehan, President and Co-Founder of Bravely, on-demand professional coaching platform, and is being sponsored by MBL Benefits Consulting.
The presentation will be followed by a Q&A session.
____________
About Sarah Sheehan:
Sarah Sheehan is the Co-Founder and President of Bravely. Her diverse background in HR and as a sales leader made her passionate about helping companies build healthy cultures. Prior to Bravely, Sarah was an executive at Gilt City, serving as the Head of Sales and leading a 65-person sales team, after spending over a decade working in various HR roles at at SiriusXM, Coach, and Gilt Groupe.
About Bravely (www.workbravely.com):
Bravely connects employees to on-demand professional coaching in the key moments that define the employee experience, making it possible for companies to foster a culture that attracts and retains talent.
By scaling equitable access to confidential guidance and timely skill development, Bravely empowers employees at every level to do their best work and thrive in their roles.
About the Post'd People Group:
‍The Post'd People Group is a national HR network founded by a group of women who have built their careers in people operations. The group meets over casual dinners or breakfasts to discuss timely and relevant industry topics. www.keepmepostd.com #postdpeople #humansfirst #comingtogether