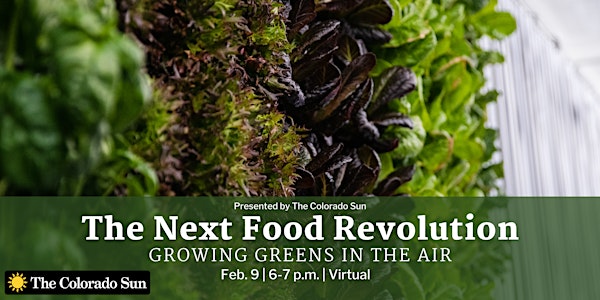 The Next Food Revolution: Growing Greens in the Air
The Colorado Sun presents The Next Food Revolution: Growing Greens in the Air with moderator environment writer Michael Booth.
About this event
The Next Food Revolution: Growing Greens in the Air is Saving Water and Transforming Colorado Culture. Thriving indoor farms pop up in Denver's industrial neighborhoods. Three entrepreneurs quit their jobs and grow crops in shipping containers on a used car lot. CU Boulder grows cafeteria greens in a sunroom on campus. How a revolution in vertical indoor farming is changing the environment, business and food culture across Colorado. And how it might affect your home gardening.
The moderator for the event is Colorado Sun Environment Writer Michael Booth.
Speakers include:
Sally Herbert, founder of Altius Farms
Nick Millisor, co-founder, Ullr's Garden
Alex Macmillan, Farm Manager, Housing & Dining Services, University of Colorado Boulder
Stay tuned for more speakers!
Special Bonus for Sun viewers: During our discussion, take a live video tour of a modern shipping container urban farm.
Can't make the event? Register today for free to receive a recording after the event.
The Colorado Sun is an award-winning news outlet based in Denver, covering all of Colorado so that our state — our community — can better understand itself. We are committed to fact-based, in-depth, nonpartisan journalism. We report on a wide variety of topics and issues, including politics, culture, the outdoor industry and education. As a public benefit corporation, our goal is to produce the best possible journalism without a paywall.