Description
Don't miss your chance to join policy-makers from the European Commission along with experts from leading mobile companies, app developers and entrepreneurs to discuss the state of the mobile economy in Europe.
The regulatory landscape, both at the national and international level, has a great influence on the potential of growth of the global App Economy. Policy can and should create the right conditions to allow innovators to easily start and scale mobile businesses and remove barriers for an efficient and non-fragmented global market.
Through an evening of panel discussions and presentations, industry experts will discuss their vision on the role of government in the app marketplace, share predictions on the future of mobile technology, and explore the state of competition in Europe. Following the sessions, speakers and attendees will mingle over drinks and canapés during the networking reception.


---
SPEAKERS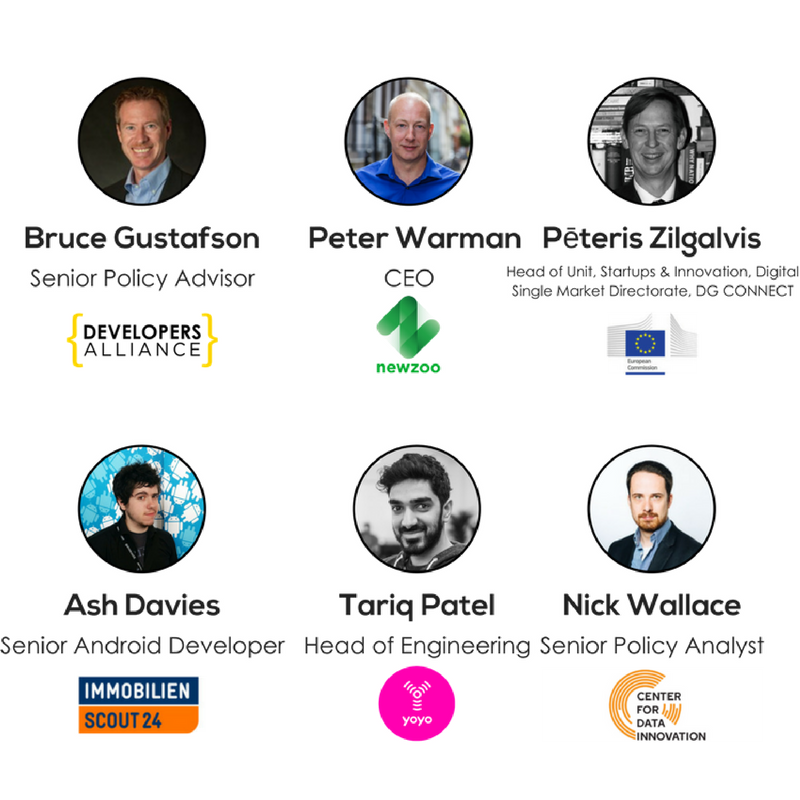 AGENDA
5.00PM Registration
Arrive early to get a good seat and enjoy refreshments before the program kicks-off.
5.30PM Welcoming Remarks: The Importance of Government Promoting & Rewarding Innovation
As the mobile ecosystem continues to thrive, it has never been more important for policy-makers to create an environment that promotes and rewards innovation. Learn about how the Developers Alliance is supporting global industry growth.
Bruce Gustafson Senior Policy Advisor, Developers Alliance

5.35PM Keynote Presentation: State of the Mobile Economy
Join Peter Warman as he explores the global mobile landscape with facts, figures, and use cases. Hear his thoughts on the future of tech while he shares new insights, sparks discussion and sets the stage for the rest of the event.
Peter Warman CEO, Newzoo

5.45PM Presentation: The Mobile Ecosystem for Developers
It's impossible to examine the ecosystem for mobile developers without a close inspection of the App Stores. Tariq Patel walks us through the state of App Stores globally as he explores their size and revenue, and outlines the scale of competition for developers to earn their share.
Tariq Patel Head of Engineering, Yoyo Wallet

5.55PM Presentation: The Highs & Lows of Developing for a Digital Europe
Mobile development has boomed in recent years creating an abundance of new, exciting and innovative services. From first-hand experience, Ash Davies will explore the challenges of developing in Europe and focus on what can be done to improve the market conditions.
Ash Davies Senior Android Developer, Immobilien Scout 24

6.05PM Panel Discussion: The Role of Government in the Global App Economy
Hear industry leaders candidly discuss the role of government in the app economy. These experts will share their thoughts on the future of mobile app technology and discuss the state of competition in Europe.
Nick Wallace Senior Policy Analyst, Center for Data Innovation
Pēteris Zilgalvis Head of Unit, Startups & Innovation, Digital Single Market Directorate, DG CONNECT
Ash Davies Senior Android Developer, ImmobilienScout24
Tariq Patel Head of Engineering, Yoyo Wallet
6.45PM Closing Remarks
6.50PM Networking Reception
Mingle with speakers and attendees over an open-bar and canapés.
---
VENUE
Radisson RED Hotel | Events & Games Studio 3
Rue d'Idalie 35, 1050 Ixelles, Belgium (map)