Description
We warmly invite you to join us at the Newport Beach Private Equity Conference.
This is a Premier gathering of sophisticated private equity Investors, Institutional Investors, Angel Investors, VC's, Family Offices, Wealth managers, and other Investment professionals gathering to discover High Quality & Cutting edge early and later stage growth oriented companies.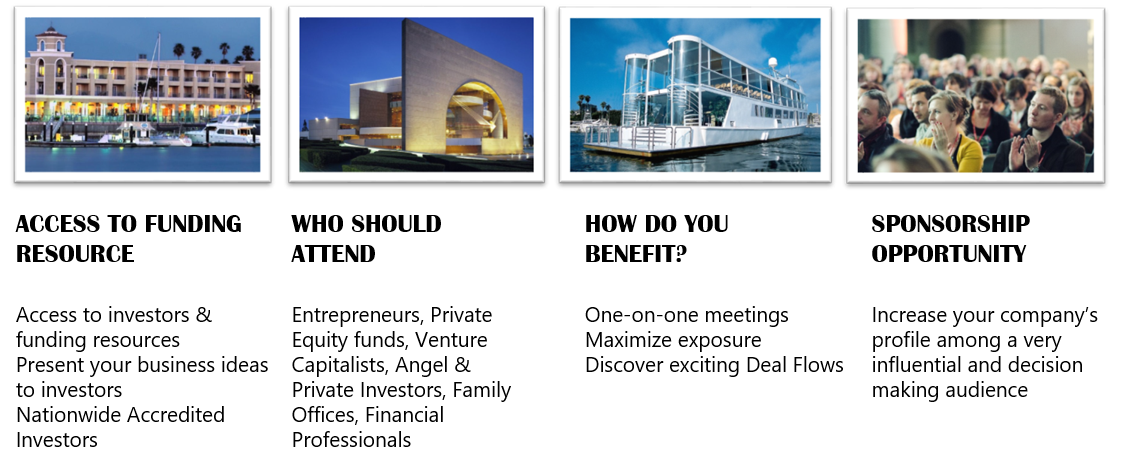 ICFO Capital for nearly a decade has been a successful catalyst in providing quality monthly Investment Conferences, connecting companies with investors and investment community, to some of the most dynamic, under-followed, early & later stage companies across multiple industries, while also bringing together all sides of the investment community for quality deal flow, and peer-to-peer networking.
THIS CONFERENCE WILL FEATURE

Pre-arranged one-on-one meetings for presenting companies and investment professionals

Networking Breaks

Company Presentations, by CEO's of Growth, Early & Later Stage Companies

Deal flow sourcing networking

A full agenda of Presenting Companies

PRESENTING COMPANY BENEFITS
Private Equity funds, Venture Capitalists, Angel Investors, Family Office Managers, Wealth Managers, among others.

One-on-one meetings with selected investment professionals

Save Substantial Time Finding and Reaching Qualified Investors.

Maximize exposure, feedback, guidance, and potential funding!

Get Valuable Input from Partners of Foremost Investment Groups.

Improve your Leverage with Investors for Better Deal Terms

Discover New Investors and Partnership Opportunities to Build your Company.

Build Personal relationships with investors and investment professionals

VIP Networking Reception for maximum exposure

Your company summary printed in our conference material to be handed out to conference attendees.
SPONSORSHIP OPPORTUNITY
Would you like to increase your Company's Profile and become a Sponsor at the upcoming Private Equity-Growth Capital & Deal Flow Summit in Newport Beach! This Summit presents an ideal opportunity to boost your company's profile among a very influential and decision making audience.
TO SECURE YOUR SPONSORSHIP OR INQUIRE ABOUT OTHER SPONSORSHIP OPPORTUNITIES, PLEASE CONTACT US TODAY.


GUEST SPEAKER(S)
Karas Partners - Focused on real estate investments, early stage technology, corporate finance, and aviation services.

Tech Cost Angels - Catalyst in helping to build Southern California's economy.

Morgan Stanley - Partnering with the best technology startups and entrepreneurs.

(Additional guest speaker will be announced)
COMPANY PRESENTERS
(Presenting companies will be announced)

If you are interested in attending, please register in a timely manner, as it is anticipated attendee seating will fill up quickly. Thank you

Featuring quality, growth oriented, disruptive technology companies across multiple industries.

Early stage, Mid stage, and Later Stage, Private & Public Companies



SPONSORS & STRATEGIC PARTNERS
New conference partners and sponsors are working closely with iCFO Capital in 2017 to bring added value to our clients and members. Contact iCFO Capital to be personally introduced to our sponsoring organizations.

VIP COCKTAIL RECEPTION
GRAB A DRINK AND EXCHANGE CARDS WITH LIKEMINDED INVESTORS
Orange County curates sophisticated and stimulating nightlife spaces for guests to mix.
YOU'RE INVITED TO A VIP COCKTAIL RECEPTION!
Join us at the Bistango Bar & Lounge 7:00pm to 8:00pm
CONTACT US
SAN DIEGO OFFICE​
10620 Treena Street, Suite 230 | San Diego, CA 92131
Khris Thetsy | (619) 502-9388 x104 | kthetsy@myicfos.com
Richard Copeland, CPA | (619) 502-9388 x101 | rcopeland@myicfos.com
Matthew Joy | (619) 502-9388 x108 | mjoy@myicfos.com
Elaine Yarbrough | (619) 981-5019 | eyarbrough@myicfos.com
LOS ANGELES OFFICE​​
HOWARD HUGHES CENTER​
6080 Center Drive, Suite 600 | Los Angeles, CA 90045
Micheal Lerma | (619) 502-9388 x118 | mlerma@myicfos.com
Office: (619) 502-9388 | Toll Free: (888) 935-8228

iCFO Distribution, LLC. (Mexico)
Robert Ruiz | Mex 044-664-674-5738 | rruiz@myicfos.com
Gabriel Hernandez | Mex 044 664-321-0308 | ghernandez@myicfos.com
For more information about our annual summit visit our website at: www.icfocapital.com/private-equity