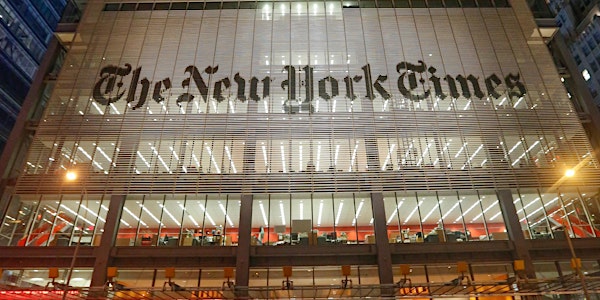 The New York Times inEducation: 2017 Student Newspaper Editors' Workshop
By The New York Times inEducation
Date and time
Friday, April 7, 2017 · 10am - 3:30pm EDT
Location
The New York Times Building 620 Eighth Avenue 15th Floor New York, NY 10018
Description
PROFESSORS, as this is a STUDENT event, please forward this invitation to your student representatives so that they can register themselves.
*********************
The New York Times is pleased to announce our 10th annual "Student Newspaper Editors' Workshop" will take place Friday, April 7th at The New York Times headquarters. This full-day workshop is for newspaper editors who attend colleges and universities that integrate Times' content.
Program Description
Student newspaper editors will have the opportunity to work directly with Times' editors and reporters to explore the role of a newspaper in contemporary society, develop their journalistic skills, and discuss the various aspects of the newspaper from the newsroom and editorial to advertising. They also will participate in a workshop on the editing process. Finally, there will be time to interact with other student editors from around the country.
Participants
While it is preferred that student newspapers send the current editor and the incoming editor, campuses may invite the two most appropriate student representatives. There is no registration fee, although participants must pay their own travel and accommodation expenses.
Logistics
PROFESSORS, please forward this invitation to your student representatives so that they can register themselves.

STUDENTS, please register to this event with your school email address.

Two students MAX per school; additional registrants will be put on a Wait List.


Students should arrive no later than 9:45 a.m. to check in.

Lunch will be provided.

Please note that due to heightened security at The Times, luggage is not permitted in the building—students must make alternative arrangements for storing their luggage. Backpacks are acceptable.
For more information, please contact: Thomas.Glieden@nytimes.com
Hotels
Reasonably priced hotels near the Times include:
Additional New York City accommodations can be found on Hotels.com.
About the organizer
The New York Times Company (NYSE:NYT) is a global media organization dedicated to enhancing society by creating, collecting and distributing high-quality news and information.  Each day hundreds of colleges and universities around the globe bring our content into the academic setting.