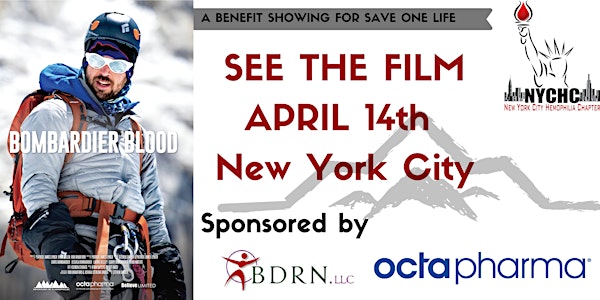 The New York City Hemophilia Chapter, Save One Life and Octapharma Present:...
Location
AMC Empire 25
234 West 42nd Street
New York, NY 10036
Description
In celebration of World Hemophilia Day (April 17th), The New York City Hemophilia Chapter (NYCHC) has partnered with Save One Life and Octapharma to present a special screening of the documentary Bombardier Blood at the AMC Empire 25 movie theater in Times Square! This event will feature an exclusive movie screening, auction, and meet-and-greet reception.
In 2017, Colorado-based mountaineer Chris Bombardier partnered with hemophiliac filmmaker Patrick James Lynch and his award-winning production team at Believe Limited to film his journey through Nepal to summit the world's tallest peak, Mount Everest. The film tells the story of Chris and his goal of becoming the first person with hemophilia to climb the Seven Summits!
Chris is now the executive director at Save One Life and is excited to continue his journey to help those with bleeding disorders in developing countries! Your donations will go a long way in helping them fulfill their mission!
Save One Life is an international nonprofit that has been serving people with bleeding disorders for almost 20 years. Over 75% of the world's population with hemophilia lack access to care and medicine; 50% with hemophilia pass away before age 10. Living in poverty compounds the lack of access to care. Save One Life's mission addresses these challenges at the grass-roots level. Its flagship sponsorship program provides direct financial assistance that ensures families will meet the minimum daily economic needs to raise a child with a bleeding disorder in these conditions.
Save One Life works in 13 developing countries to provide direct financial assistance, and sometimes life-saving medicine, to people living in challenging conditions.
With assistance from Save One Life, people with a bleeding disorder or their families, can improve their future by having a better quality of life, start or grow a small business, access to higher education, and attend summer camps.
For more information visit these sites:
This event is generously sponsored by Octapharma and would not be possible without their dedication to the bleeding disorder community.