The New Workplace: People, Tools, Spaces
When and where
Location
MRY 11 West 19th Street New York, NY 10011
Description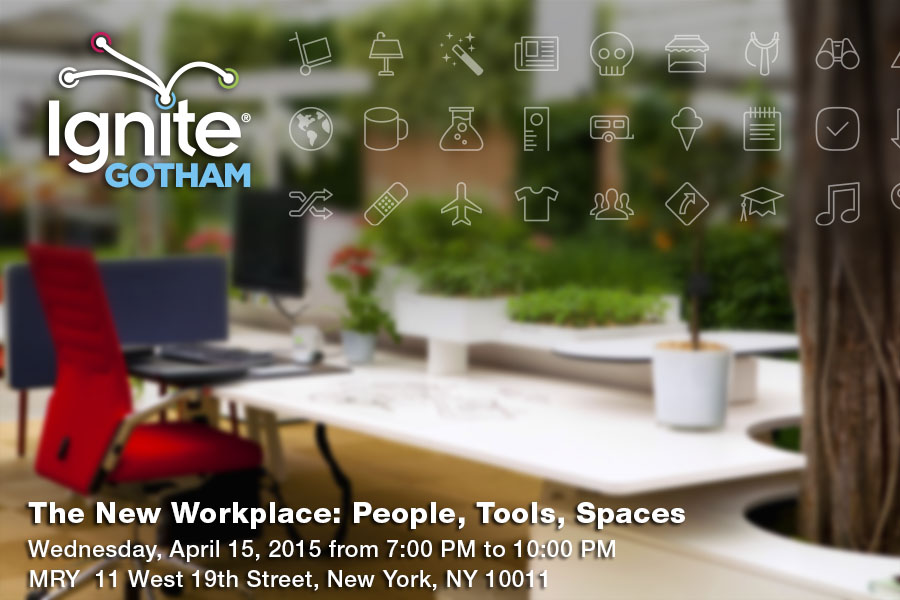 53 million Americans are independent workers, and 70% of US offices have no or low partitions. Fortune 500s are experimenting with innovation labs to access new talent, change culture and develop new products. As remote workers spend less time in the office, they log more hours working.
So, what does this mean for the modern worker, the organizations they're employed by, the tools they use, and their spaces? How does this affect the average worker's mindset?
Join Ignite Gotham on April 15, 2015 at MRY while we explore these questions and maybe have a few free drinks, courtesy of Copacabana Rum.
There will be a live demonstration from Double Robotics – yup, THERE WILL BE A ROBOT!
We are also looking for volunteers for this event. Volunteers will assist the producers and attend for free. Drinks will be provided.
If you'd like to apply to volunteer, please email team@firebugproductions.com.
---

Our Speakers:
Danielle Arps, Interior Designer who focuses on Startup Spaces @daniarps
Consider the Introvert
The way an office is designed has a huge impact on it's culture. Dani is one of those culture impacters. Many startups are right in line with the 'new workplace' that entails a mostly open office plan. She will discuss the importance of creating an environment where diverse personality types can thrive, not just outgoing but the introverted developers/coders/engineers. To be honest most people have both sides to their personality and function differently and in different areas.
Sandra Davila, Professor of UX at Pratt @sandraxi
Homebase

"What happens when you accomplish your dreams and goals in ""the big city""? What's next? Do you go back to your hometown? Do you construct a new homebase? Do you stay? Sandra will explore the lives of designers and innovators that are building alternative homebases. She explores how they integrate friends and family while balancing alternative jobs.
Colette Ellis, Author, Coach & Speaker @coach_colette
Don't Leave Culture to Chance!

Work relationships are challenging! When there is team conflict or a lack of rapport, we tend to get judgmental. We begin to presume things about our team members. Instead of remaining open minded, we tend to close ourselves to their perspective. What if, instead, you viewed team conflict or lack of rapport as an OPPORTUNITY to see things differently? How much more could you create and innovate with that mindset? Coach Colette will share tips on how you can increase cooperation and overcome differences on your team.
Mike Fraietta, Senior Social Media Strategist and Adjunct Professor at NYU @mikefraietta
The Control Scale
Mike has built around 40 internal online communities over the past years ranging from tiny startups to massive corporations. Many of them have fascinating uses of unusual digital workplace communications, but all companies end up trying to control their online community. This might not be the best approach. Mike will explore.
Jared Hatch,Connector at Thoughtworks and organizer of PechaKucha Brooklyn @Jared_Hatch
Thoughtworks Culture
Jared will shared stories and practices at Thoughtworks, one of the most innovative workplaces out there. You will quite likely learn about a practice that you will want applied at your workplace.
Amanda Hirsch, Founder of Good Things Consulting @amanda_hirsch
Telling Your Story: It's a Life Skill
In today's workforce, an impressive list of accomplishments is nearly useless if you don't know how to tell the story of those accomplishments in a compelling way. The rise of social media and a culture infused with all things Internet opens up great opportunities for individuals seeking to set themselves apart; at the same time, it creates a daunting to-do list for those shy about self-promotion. Amanda will inspire you to figure out the story you want to tell about yourself, and give you ideas about how to tell it in compelling ways.
Allison Kunz, Founder of Talent Buildr and Organizer of Data Divas @talentbuildr
Evolving Education
What does "education" mean in The New Workplace? The traditional degree has given way to the portfolio as a credential, and independent workers are constantly updating and evolving their skill sets to remain competitive. MOOCs, e-learning platforms, bootcamp programs, and other alternative education resources are attempting to meet these new needs. However, their value in the eyes of employers has yet to be determined. What might lifelong learning look like going forward?
Jesse Poe, Innovator, Strategist, Musician @jessepoe
New Work New Steps
Jesse will share his own spatial history as the son of an architect, a lover of space, follower of Blanchard seminal work "Poetics of Space", and experience learning and working in every type of space imaginable in various states and on various continents. He will discuss the need for Architectural Acoustics in the New Work Place, drawing from my experience working in recording studios as an engineer and a musician. He will I will be taking about simple cultural shifts that could be implemented to improve the New Work Space, that would have massive positive impact of quality of work relationships and united goals, while alleviating many of the pain points that workers and leadership share in a work place.
Jason Shen, Product Manager at Percolate and blogger on the Art of Asskicking! @JasonShen
Feedback is a Gift
The changing work environment means you do mostly projects, your manager might not even know everything you are working on. How do you improve? Annual reviews are way too infrequent. Jason asks all his peers for feedback using the start stop continue model. He will talk about the concept of feedback and will share his experience with it.
Patrycja Slawuta, Founder of Self Hackathon @Patrycja_NYC
Hacking EQ: A Psychologist's Guide to Human Interactions

Despite the widespread of virtual connectivity, research shows that 40% of American feel LONELY at any point in time. Moreover, most of the businesses are still made person-to-person.
Whether it's pitching an idea, talking to investors or motivating the team. Vast psychological research shows that smart brains (high IQ) does not necessarily translate into success. High emotional intelligence (EQ) does. Understanding human psychology and interpersonal dynamics more and more often becomes the winning card in both on- and off-line business and deal making.
RJ Wafer, Head of Business Development for Double Robotics @rojoroach
Work from Anywhere
I live in Brooklyn, NY. I work in Sunnyvale, CA. I commute there everyday using a robot. I help others do the same when they are ill, on vacation, living remotely or taking care of the kids. Geography should no longer limit your talent pool or your workplace.
Tiffany Yu,Director of Business Development at REVOLT and leader of Diversability @ImTiffanyYu
The New Normal
Tiffany will share her journey as a Millennial in the workplace. We are no longer spending our careers at one place; we are multi-passionate. What does that mean for how we craft our stories? She also pull from her experiences as someone with disabilities in the workplace, which she got from a car accident when she was young. That accident did not (and should not) impact the things she wanted to accomplish. She is leading the human rights movement Diversability, which aims to get more people talking and thinking about disability.
Eddie Zaneski, Developer Evangelist for SendGrid @eddiezane
Remote Isolation and How to Cope

Eddie works for a remote office and will be sharing what it is like to be so separated from the rest of the workforce and how he has learned to cope with what can feel like isolation.
---
Thank you to our sponsors!
Thank you to our graphic recorders: